Driver aggressiveness detection via multisensory data fusion
EURASIP Journal on Image and Video Processing
2016
2016:5
Received: 5 May 2015
Accepted: 19 January 2016
Published: 27 January 2016
Abstract
Detection of driver aggressiveness is a significant method in terms of safe driving. Every year, a vast number of traffic accidents occur due to aggressive driving behaviour. These traffic accidents cause fatalities, severe disorders and huge economical cost. Therefore, detection of driver aggressiveness could help in reducing the number of traffic accidents by warning related authorities to take necessary precautions. In this work, a novel method is introduced in order to detect driver aggressiveness on vehicle. The proposed method is based on the fusion of visual and sensor features to characterize related driving session and to decide whether the session involves aggressive driving behaviour. Visual information is used to detect road lines and vehicle images, whereas sensor information provides data such as vehicle speed and engine speed. Both information is used to obtain feature vectors which represent a driving session. These feature vectors are obtained by modelling time series data by Gaussian distributions. An SVM classifier is utilized to classify the feature vectors in order for aggressiveness decision. The proposed system is tested by real traffic data, and it achieved an aggressive driving detection rate of 93.1 %.
Keywords
Driver aggressivenessDriving behaviourRoad safetyRoad line detectionLane detectionVehicle detection
1 Introduction
Traffic accidents has become an important problem in the last few decades due to increasing number of vehicles on the roads. Every year, 1.24 million fatalities occur due to traffic accidents globally [1]. Some of these traffic accidents are caused by physical reasons such as road and vehicle conditions. However, mostly, human factor is effective in the occurrence of traffic accidents. Among the human factors, aggressive driving behaviour constitutes a huge portion of traffic accident reasons. According to a report of the American Automobile Association Foundation for Traffic Safety, published in 2009, 56 % of traffic accidents occur due to aggressive driving behaviour [2]. Moreover, traffic accidents brings about billions of dollars of economical cost for people, governments and companies [1]. For these reasons, reduction of the number of traffic accidents is an important issue. Considering human factors, detection of aggressive driving behaviour could help in reducing the number of traffic accidents by giving necessary warnings to drivers and related authorities.
Aggressive driving behaviour is defined as an action "when individuals commit a combination of moving traffic offences so as to endanger other persons or property" by the National Highway Traffic Safety Administration (NHTSA) [3]. Aggressive driving behaviour is a psychological concept that does not have a quantitative measure. However, there exist some certain behaviours associated with aggressive driving such as excess and dangerous speed, following the vehicle in front too closely, in other words tailgating, erratic or unsafe lane changes, improperly signalling lane changes and failure to obey traffic control devices (stop signs, yield signs, traffic signals, etc.) [3]. Also, in [4], it is stated that lane changing and acceleration are the characteristics of driving behaviours that define driving style. Therefore, detecting these behaviours and constituting features from these information can yield quantitative information about the driving style of the driver.
Although these behaviours are indication of driver aggressiveness, detection of these behaviours in real time is a challenging task. Existing methods in the literature mostly based on driving simulator data which do not work for real-time aggressive driving behaviour detection and do not fully reflect the real-world conditions [5]. There also exist sensor platform-based methods in literature; however, these methods do not consider vehicle following distance and lane following pattern which are very significant for indicating driver aggressiveness. The proposed system enables detection of driver aggressiveness in real time by considering a wide range of aggressiveness-associated driving behaviours.
In this paper, we proposed an automated aggressive driving behaviour detection system that works in real time. The system performs robust operation with simple and low complexity algorithm in order to be able to work efficiently in real time. Multisensory information is used by this system in order to extract features that characterize the related driving session. The system collects data about lane following, vehicle following, speed and engine speed patterns which are important for aggressive driving detection since aggressive driving behaviour is associated with sudden lane changes, tailgating and abrupt acceleration/deceleration. Features that are extracted utilizing these data are used to train an SVM classifier. The classifier is trained with annotated data so that aggressiveness decision can be modelled regarding the subjective point of view, that is, aggressive driving behaviour, which is a subjective and psychological phenomenon, can be modelled quantitatively. The system uses different types of features and feature extraction methods that works in real time; therefore, the system can create a decision at the end of each session. Session length is a design parameter which will be discussed in test results.
The organization of this paper is as follows: The next part describes the related work about aggressive driving behaviour detection. It is followed by the proposed method description and its advantages and novelty. Then, the test results are presented and concluding remarks are given.
2 Related work
Aggressive driving behaviour detection has been examined via different approaches in recent years [5]. The simplest method for detecting aggressive driving behaviour is to conduct surveys about the driving experience or psychological mood. In literature, there exist some methods that are based on observing the behaviours of subjects in the simulator environment. In [4], subjects are requested to drive via a simulator with different scenarios which contain events such as traffic light existence, intersection crossing and frustrating environment. Then, the findings are illustrated by probabilistic models. Similarly Danaf et al. [6] use a simulator environment to collect data about driving behaviour and expresses anger (or aggressiveness) as a dynamic variable. Hamdar et al. [7] define and develop a quantitative aggressiveness propensity index in order to model driving behaviour by testing its proposal with a driving simulator. The main drawback of these works is that they are using a synthetic environment to measure the driving behaviour. Therefore, they do not fully reflect the real-world conditions and reactions of driver in real traffic environment.
In order to acquire real world data, Gonzalez et al. [5] propose a sensor platform-based system to detect driver aggressiveness. Their method monitors external driving signals such as lateral and longitudinal accelerations and speed and models aggressiveness as a linear filter operating on these signals [5]. Johnson and Trivedi [8] use sensor data which is obtained by a smart phone in order to characterize the driving style. Kang [9] examines driver drowsiness and distraction by collecting visual information such as eye gaze and yawning and physiological data such as ECG signals.
Satzoda and Trivedi [10] use multisensory information in order to analyse the drive and certain driving events such as lane changes, mean speed, etc. However, no interpretation is given about the aggressiveness of driver. Jian-Qiang and Yi-Ying [11] present a dangerous driving behaviour detection scheme using a CCD camera to acquire visual information about driving behaviour and identifies dangerous driving style. Nevertheless, the system uses only visual information and tries to identify the driving with a few features. The work presented in [12] exploits a sensor and a camera platform to detect independent driving events such as lane departure, acceleration, zig-zag driving, etc. Then, it uses a fuzzy technique to indicate whether the driving is dangerous. Although the system shows good results for identifying different driving events, the presented work focuses on dangerous driving rather than aggressiveness and does not propose any technique to verify aggressiveness with subjective observations.
Besides the systems that are specialized on detecting driver aggressiveness, there also exist advanced driving assistance systems (ADAS) in literature. ADAS are very popular in recent years and used in order to provide assistance to the driver about the current driving conditions such as lane departure or forward collision possibility [13]. They are used for collecting data about the driving and for warning the driver by giving feedback about the driving behaviour. However, ADAS do not interpret the driving data to reach an aggressiveness conclusion.
3 Proposed method
As indicated in [
3
] and [
4
], aggressive driving is associated with certain behaviour such as sudden lane changes, tailgating behaviour, speed and acceleration basically. Therefore, aggressive driving behaviour can be identified by observing these events. In order to obtain quantitative measures of these events, lane following, vehicle following, speed and engine speed patterns of a driving session is collected and processed automatically. As a result of the process, four different feature types are obtained to represent the related driving session. Lane deviation and forward car distance are extracted as visual information and vehicle and engine speed as sensor information. Since the operation of the system is in real time, robust and algorithmically simple methods are used for extraction of the related information. These information are collected and feature vectors are retrieved. Obtained feature vectors are given to a pre-trained classifier to detect aggressive driving behaviour. The overall system flow can be seen in Fig.
1
.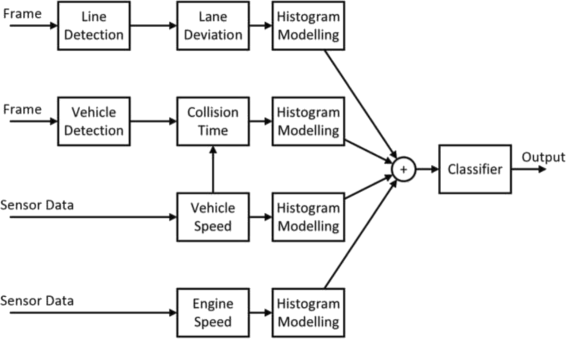 4 Experimental results
Utilizing this set up, real traffic data is collected at different times of the day so that different traffic conditions are included in the dataset. The dataset also includes different road conditions with occlusions, shadows and different illumination. Whole dataset contains driving sessions of six different drivers. During driving, three different observers annotated the last 40 s as aggressive or smooth. The majority voting of the observers are recorded as the ground truth of the related driving session.
One important parameter that effects the performance of the proposed method is the duration of the driving session. In other words, how long multisensory data is required in order to efficiently determine if that driving session is aggressive? In order to answer this question, the collected data is tested with driving sessions with lengths 40, 80, and 120 s. From the whole collected dataset, a total of 83 driving sessions including 41 aggressive and 42 smooth sessions having a duration of 40 s, 51 driving sessions including 22 aggressive 29 smooth sessions having a duration of 80 s and 22 driving sessions including 11 aggressive 11 smooth sessions having a duration of 120 s are tested according to proposed algorithm.
According to the test results, it is observed that the proposed method achieved 91, 94 and 82.2 % detection rate for 40-, 80- and 120-s-long samples, respectively. As can be inferred from these results, 80-s-long driving sessions are more efficiently representing the driving characteristics while 40-s samples may not allocate enough data or 120-s samples may contain confusing data.
5 Conclusions
In this paper, a driver aggressiveness detection method is presented. The proposed method utilizes multisensory information to conceive feature vectors, and using these, feature vectors classify the driving session as aggressive or smooth. The aggressiveness classifier is trained with data annotated by observers and performs classification using data collected in real-world conditions. The paper also studies the required driving session duration that can be efficiently decided if it involves aggressive driving behaviour. According to test results the proposed system performs good results in terms of detecting driver aggressiveness since it considers different driving behaviours in a real time operation. As a future work, the proposed system will be tested with more data to observe its performance with different classifiers. The system will be improved in order to provide a rate for driver aggressiveness in a granular approach. In other words, the measurement of aggressiveness level will be provided quantitatively.
Declarations
Acknowledgements
The authors would like to thank to ISSD Informatics and Electronics for providing hardware and equipments to realize the experiments.
Open Access This article is distributed under the terms of the Creative Commons Attribution 4.0 International License(http://creativecommons.org/licenses/by/4.0/), which permits unrestricted use, distribution, and reproduction in any medium, provided you give appropriate credit to the original author(s) and the source, provide a link to the Creative Commons license, and indicate if changes were made.
Authors' Affiliations
(1)
Department of Electrical and Electronics Engineering, Middle East Technical University, Ankara, Turkey
(2)
ISSD Electronics, METU Technopolis, Ankara, Turkey
References
World Health Organization. Violence and Iznjury Prevention and World Health Organization, Global Status Report on Road Safety 2013: Supporting a Decade of Action (World Health Organization, Geneve, 2013).Google Scholar
Aggressive driving: Research update. Technical report, AAA Foundation for Traffic Safety, Washington DC (2009).Google Scholar
Aggressive Driving Enforcement: Strategies for Implementing Best Practices. Technical Report, US Dept of Transportation National Highway Traffic Safety Administration, Washington DC (March 2000).Google Scholar
T Toledo, HN Koutsopoulos, M Ben-Akiva, Integrated driving behavior modeling. Transp. Res. C Emerg. Technol. 15(2), 96–112 (2007).View ArticleGoogle Scholar
ABR Gonzalez, MR Wilby, JJV Diaz, CS Avila, Modeling and detecting aggressiveness from driving signals. Intell. Transp. Syst.15(4), 1419–1428 (2014).View ArticleGoogle Scholar
M Danaf, M Abou-Zeid, I Kaysi, Modeling anger and aggressive driving behavior in a dynamic choice—latent variable model. Accid. Anal. Prev.75(0), 105–118 (2015).View ArticleGoogle Scholar
SH Hamdar, HS Mahmassani, RB Chen, Aggressiveness propensity index for driving behavior at signalized intersections. Accid. Anal. Prev.40(1), 315–326 (2008).View ArticleGoogle Scholar
DA Johnson, MM Trivedi, in Intelligent Transportation Systems (ITSC), 2011 14th International IEEE Conference On. Driving Style Recognition Using a Smartphone as a Sensor Platform (Washington, DC, 2011), pp. 1609–1615.Google Scholar
H-B Kang, in Computer Vision Workshops (ICCVW), 2013 IEEE International Conference On. Various Approaches for Driver and Driving Behavior Monitoring: A Review (Sydney, NSW, 2013), pp. 616–623.Google Scholar
RK Satzoda, MM Trivedi, Drive analysis using vehicle dynamics and vision-based lane semantics. IEEE Trans. Intell. Transp. Syst. 16(1), 9–18 (2015).View ArticleGoogle Scholar
G Jian-Qiang, W Yi-Ying, in Intelligent Systems Design and Engineering Applications (ISDEA), 2014 Fifth International Conference On. Research on Online Identification Algorithm of Dangerous Driving Behavior (Hunan, 2014), pp. 821–824.Google Scholar
B-F Wu, Y-H Chen, C-H Yeh, in ITS Telecommunications (ITST), 2012 12th International Conference On. Fuzzy Logic Based Driving Behavior Monitoring Using Hidden Markov Models (Taipei, 2012), pp. 447–451.Google Scholar
M Rezaei, M Sarshar, MM Sanaatiyan, in Computer and Automation Engineering (ICCAE), 2010 The 2nd International Conference On, 4. Toward Next Generation of Driver Assistance Systems: A Multimodal Sensor-Based Platform (Singapore, 2010), pp. 62–67.Google Scholar
M Nieto, L Salgado, F Jaureguizar, J Arrospide, in Image Processing, 2008. ICIP 2008. 15th IEEE International Conference On. Robust Multiple Lane Road Modeling Based on Perspective Analysis (San Diego, CA, 2008), pp. 2396–2399.Google Scholar
G Somasundaram, Kavitha, K. I Ramachandran, in Computer Science and Information Technologies CSIT, Computer Science Conference Proceedings (CSCP), ed. by DC Wyld. Lane Change Detection and Tracking for a Safe Lane Approach in Real Time Vision Based Navigation Systems (Chennai, India, 2011). July 15 - 17, 2011.Google Scholar
M-G Chen, C-L Ting, R-I Chang, Safe driving assistance by lane-change detecting and tracking for intelligent transportation system. Int. J. Inform. Process. Manag. 4(7), 31–38 (2013).Google Scholar
M Oussalah, A Zaatri, H Van Brussel, Kalman filter approach for lane extraction and following. J. Intell. Robotics Syst. 34(2), 195–218 (2002).View ArticleMATHGoogle Scholar
C Nuthong, T Charoenpong, in Image and Signal Processing (CISP), 2010 3rd International Congress On, 2. Lane Detection Using Smoothing Spline (Yantai, 2010), pp. 989–993.Google Scholar
C-F Wu, C-J Lin, C-Y Lee, Applying a functional neurofuzzy network to real-time lane detection and front-vehicle distance measurement. IEEE Trans. Syst. Man Cybern. C. 42(4), 577–589 (2012).View ArticleGoogle Scholar
M Beyeler, F Mirus, A Verl, in Robotics and Automation (ICRA), 2014 IEEE International Conference On. Vision-Based Robust Road Lane Detection in Urban Environments (Hong Kong, 2014), pp. 4920–4925.Google Scholar
A Borkar, M Hayes, MT Smith, A novel lane detection system with efficient ground truth generation. IEEE Trans. Intell. Transp. Syst. 13(1), 365–374 (2012).View ArticleGoogle Scholar
S Jung, J Youn, S Sull, Efficient lane detection based on spatiotemporal images. IEEE Trans. Intell. Transp. Syst. PP(99), 1–7 (2015).Google Scholar
V Gaikwad, S Lokhande, Lane departure identification for advanced driver assistance. IEEE Trans. Intell. Transp. Syst. 16(2), 910–918 (2015).Google Scholar
C Tu, BJ van Wyk, Y Hamam, K Djouani, S Du, Vehicle Position Monitoring Using Hough Transform. {IERI} Procedia. 4(0), 316–322 (2013). 2013 International Conference on Electronic Engineering and Computer Science (EECS 2013).View ArticleGoogle Scholar
Y Wang, EK Teoh, D Shen, Lane detection and tracking using b-snake. Image Vis. Comput. 22(4), 269–280 (2004).View ArticleGoogle Scholar
J-G Wang, C-J Lin, S-M Chen, Applying fuzzy method to vision-based lane detection and departure warning system. Expert Syst. Appl. 37(1), 113–126 (2010).View ArticleGoogle Scholar
C Mu, X Ma, Lane detection based on object segmentation and piecewise fitting. TELKOMNIKA Indones. J. Electr. Eng. TELKOMNIKA. 12(5), 3491–3500 (2014).Google Scholar
N Otsu, A threshold selection method from gray-level histograms. IEEE Trans. Syst. Man Cybern.9(1), 62–66 (1979).MathSciNetView ArticleGoogle Scholar
S Thrun, W Burgard, D Fox, Probabilistic Robotics (Intelligent Robotics and Autonomous Agents) (The MIT Press, Cambridge, 2005).MATHGoogle Scholar
R Danescu, F Oniga, S Nedevschi, Modeling and tracking the driving environment with a particle-based occupancy grid. IEEE Trans. Intell. Transp. Syst. 12(4), 1331–1342 (2011).View ArticleGoogle Scholar
Y-C Hsieh, F-L Lian, C-M Hsu, in Intelligent Transportation Systems Conference, 2007. ITSC 2007. IEEE. Optimal Multi-Sensor Selection for Driver Assistance Systems Under Dynamical Driving Environment (Seattle, WA, 2007), pp. 696–701.Google Scholar
M Satake, T Hasegawa, in Vehicular Electronics and Safety, 2008. ICVES 2008. IEEE International Conference On. Effects of Measurement Errors on Driving Assistance System Using On-Board Sensors (Columbus, OH, 2008), pp. 303–308.Google Scholar
Y Wei, H Meng, H Zhang, X Wang, in Intelligent Transportation Systems Conference, 2007. ITSC 2007. IEEE. Vehicle Frontal Collision Warning System Based on Improved Target Tracking and Threat Assessment, (2007), pp. 167–172.Google Scholar
S Kim, S-y Oh, J Kang, Y Ryu, K Kim, S-C Park, K Park, in Intelligent Robots and Systems, 2005. (IROS 2005). 2005 IEEE/RSJ International Conference On. Front and Rear Vehicle Detection and Tracking in the Day and Night Times Using Vision and Sonar Sensor Fusion (Alberta Canada, 2005), pp. 2173–2178.Google Scholar
S Sivaraman, MM Trivedi, A general active-learning framework for on-road vehicle recognition and tracking. IEEE Trans. Intell. Transp. Syst. 11(2), 267–276 (2010).View ArticleGoogle Scholar
M Miyama, Y Matsuda, in Signal and Image Processing Applications (ICSIPA), 2011 IEEE International Conference On. Vehicle Detection and Tracking with Affine Motion Segmentation in Stereo Video (Kuala Lumpur, 2011), pp. 271–276.Google Scholar
T Kowsari, SS Beauchemin, J Cho, in Intelligent Transportation Systems (ITSC), 2011 14th International IEEE Conference On. Real-Time Vehicle Detection and Tracking Using Stereo Vision and Multi-View AdaBoost (Washington, DC, 2011), pp. 1255–1260.Google Scholar
D Seo, H Park, K Jo, K Eom, S Yang, T Kim, in Industrial Electronics Society, IECON 2013—39th Annual Conference of the IEEE. Omnidirectional Stereo Vision Based Vehicle Detection and Distance Measurement for Driver Assistance System (Vienna, 2013), pp. 5507–5511.Google Scholar
P Viola, M Jones, in Computer Vision and Pattern Recognition, 2001. CVPR 2001. Proceedings of the 2001 IEEE Computer Society Conference On, 1. Rapid Object Detection Using a Boosted Cascade of Simple Features (Kauai, HI, 2001).Google Scholar
A Wahab, C Quek, CK Tan, K Takeda, Driving profile modeling and recognition based on soft computing approach. IEEE Trans. Neural Netw. 20(4), 563–582 (2009).View ArticleGoogle Scholar
C Cortes, V Vapnik, Support-vector networks. Mach. Learn. 20(3), 273–297 (1995).MATHGoogle Scholar
VL Neale, TA Dingus, SG Klauer, J Sudweeks, M Goodman, An overview of the 100-car naturalistic study and findings. National Highway Traffic Safety Administration, Paper 05-0400 (2005).Google Scholar