Structure-based level set method for automatic retinal vasculature segmentation
EURASIP Journal on Image and Video Processing
2014
2014:39
Received: 27 February 2014
Accepted: 30 July 2014
Published: 11 August 2014
Abstract
Segmentation of vasculature in retinal fundus image by level set methods employing classical edge detection methodologies is a tedious task. In this study, a revised level set-based retinal vasculature segmentation approach is proposed. During preprocessing, intensity inhomogeneity on the green channel of input image is corrected by utilizing all image channels, generating more efficient results compared to methods utilizing only one (green) channel. A structure-based level set method employing a modified phase map is introduced to obtain accurate skeletonization and segmentation of the retinal vasculature. The seed points around vessels are selected and the level sets are initialized automatically. Furthermore, the proposed method introduces an improved zero-level contour regularization term which is more appropriate than the ones introduced by other methods for vasculature structures. We conducted the experiments on our own dataset, as well as two publicly available datasets. The results show that the proposed method segments retinal vessels accurately and its performance is comparable to state-of-the-art supervised/unsupervised segmentation techniques.
Keywords
Color retinal fundus imagesPhase mapSegmentation of retinal vasculatureStructure and texture parts of retinal fundus imageStructure-based level set method
1 Introduction
Published ophthalmology studies reveal that there are often significant differences in clinical diagnosis of retinal diseases among medical experts[1]. Some of these approaches involve tedious processes. Manual segmentation has become more and more time consuming with the increasing amount of patient data. An automatic retinal vasculature segmentation method may become an integral part of a computer-based image analysis and diagnosis systems with improved accuracy and consistency[2].
Considering the conducted research, literature is full of examples[3–10] on vasculature segmentation, detection, and other kinds of analysis employing especially supervised/unsupervised classification of pixels in retinal fundus images[11–19]. Marin et al.[14] and Soares et al.[15] presented two different supervised methods for segmentation of retinal vasculature by using moment invariant-based features and 2-D Gabor filters, respectively. Staal et al.[16] proposed a retinal vasculature segmentation method using centerlines of a vessel base that are extracted by using image ridges. Budai et al.[17] presented an improved approach using Frangi's method[18]. Other studies have employed centerline tracing methods and principal curves[19, 20]. The reader may refer to[21] for more related studies in the literature.
Level set-based methods have been widely used for image segmentation[22–34]. In general, these methods can be classified under two categories: (i) edge-based[22–30] and (ii) region-based[31–34] methods. However, level set-based methods have not been extensively employed in retinal vasculature segmentation. To the best of our knowledge, there have been only a few studies in the literature proposing methods based on level sets to trace vasculature in retinal fundus images. This is due to challenges of vessel shapes in level set-based image segmentation methods[24]. Major challenges posed by the very thin and elongated structure of retinal vessels are further compounded by poor contrast in regions of interest for level set-based segmentation methods. In one of those studies[24], the level set-based method is applied only on a selected region of images by implementing a non-automatic initialization of zero-level contours. These regions do not have any non-uniform intensity values. The method in[24] also employs edge information based on phase map and uses a re-initialization process to regularize the level set function, which is a problem in level set-based framework[25]. Moreover, this process requires complex discretization especially for re-initialization of the level set function. In addition, the method employs fixed filter coefficients to generate image features such as edges by using the log-Gabor filter, which does not generate a proper output to trace extremely thin retinal vessels in fundus images smoothly. The level set segmentation method[26] proposed by Pang et al. requires the selection of initial contour in the form of long strips in the vertical direction, and this is not an optimal selection. This selection leads to an increase in the number of iterations to generate the results. According to the accuracy metric, the method produces poor results quantitatively on a non-pathological fundus image. Although they claim to present a fully automated method, the system requires mask images from the user. There are other level set approaches[27–29, 31–34] that focus on segmenting other vasculature structures in different image modalities such as ultrasound images and magnetic resonance images (MRIs). However, these region-based methods[32, 33] cannot be used extensively in segmentation of retinal fundus images due to the form of vascular structures. Another method presented for retinal vessel segmentation[34] employs region-based level sets and region growing approaches, simultaneously.
In this paper, we present an improved and automatic level set-based method for retinal vasculature segmentation. The presented method utilizes a robust phase map to determine image structures and seed points around the vessels in the initialization of the level set function. The performed tests on pathological and non-pathological fundus images demonstrate that the proposed method performs better than the existing approaches based on level sets.
The organization of the paper is structured as follows. 'Section 2' introduces the general information about retinal fundus images and level set-based methods developed for segmentation. 'Section 3' explains the proposed method and compares it with the existing approaches in the literature. Experimental results are given in 'Section 4.' Finally, 'Section 5' presents a conclusion and possible future work in the field.
2 Background
Let I: Ω → ℝ3 be a color image defined on domain Ω → ℝ2, and let I i : Ω → ℝ represent the i th color channel of the image I. Let p = (x, y) ∈ Ω, denote any point in Ω. Digital images have two additive components: structure part and texture part. These can be visualized as the cartoon version with sharp edges and noisy/textured version of the original image, respectively[35–37].
2.1 Characteristics of retinal fundus images
Retinal fundus images can be generated in color or grayscale format in digital media. The pixels of a retinal fundus image are represented as color values in
RGB
color space as seen in Figure
1
a,b. In terms of representation of retinal vessels, these images have mostly structure information but also a texture part (noise, defects, etc.). The retinal fundus images can be split into two categories, namely the pathological retinal fundus images and the non-pathological ones. The aim of segmentation methods for retinal fundus images is to separate vasculatures from other regions as can be seen in Figure
1
c,d. However, due to the structure of the optic disk and macula, segmentation of blood vessels of retinal images is difficult. These regions have a more prominent intensity inhomogeneity compared to other parts of retinal images. Furthermore, pathological images may contain defects and disorders such as drusen, geographic atrophy (GA), and non-uniform intensities. Such disorders also make the process of segmentation complicated.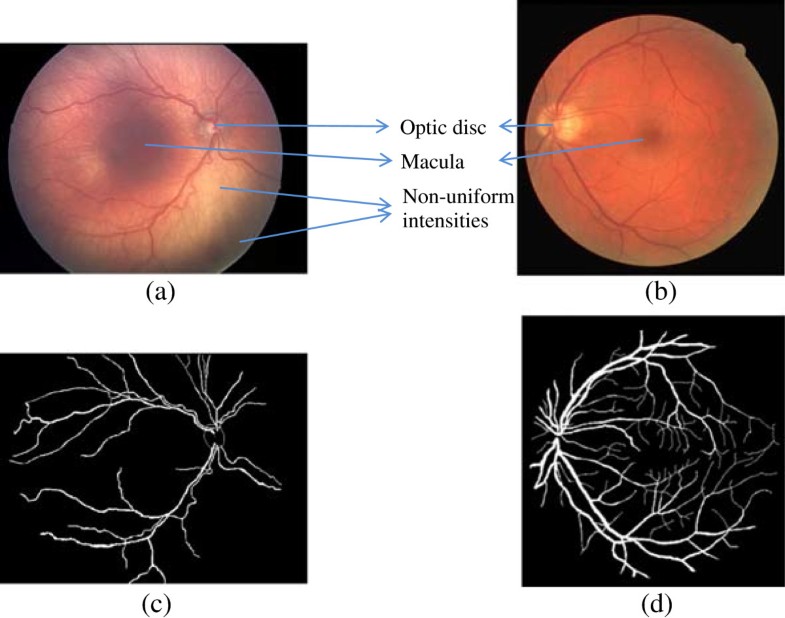 As shown in Figure
2
, each color channel in
RGB
color space can be separated and treated as an independent grayscale image. Considering those channels, the green channel component of the retinal image gives the best structure information to be processed[
15
,
19
] even though some regions such as the optic disk and macula in this channel component have non-uniform intensity levels. Let us use
I
instead of
I
2
to represent the green channel component of the given image. In this case, the model would be as in
I
 = 
bJ
 + noise (defects)[
33
], where
bJ
and noise are considered as the structure component and the texture component, respectively. The green channel of the given image has some noises but no defects such as drusen, GA, etc.; the noise can be reduced using a convolution with a Gaussian filter
G
σ
of standard deviation
σ
. In the above equation,
J
is the true image, which consists of almost all constant values in an image region such as the optic disk, and
b
is referred to as the intensity inhomogeneity (shading artifact), which changes slowly throughout that image region.

2.2 Edge-based level set segmentation approach
In this section, we give brief information about segmentation of object and background using edge-based level set methods. Let
C
be a closed subset of Ω, that is, the union of a finite set of smooth Jordan curves
C
i
. Let Ω
i
be the connected regions of Ω\
C
bounded by
C
i
.
C
can be expressed as the zero-level contour of some scalar Lipschitz continuous function Φ: Ω → 
ℝ
[
22
]. The level set evolution equation of the curve
C
with the speed function
F
is as given in Equation
1
:
Iterations of level set evolution are adversely affected by numerical errors and other factors that cause irregularities. Therefore, a frequent re-initialization process, formulated as ∂Φ/∂t = sign(Φ0) (1 - ||∇Φ||), could be included to restore the regularity of the level set function, establishing a stable level set evolution. Here, Φ0 is the level set function to be re-initialized and sign(.) stands for signum function. Re-initialization is performed by interrupting the evolution periodically and correcting irregularities of the level set function using a signed distance function. Even with a re-initialization process, in most of the level set methods such as the geodesic active counters (GAC) model[23], irregularities can still emerge[25]. Therefore, Li et al. introduced a new energy term called level set function regularization[25].
Image segmentation based on level set methods typically consists of two additively combined energy terms, which are the length regularization term and the speed term related to the weighted area. The model is defined as
E
(Φ) = 
μR
(Φ) + 
ϑL
(Φ) + 
αA
(Φ), where
R
(.),
L
(.), and
A
(.) are the level set function regularization term, the zero-level contour regularization term, and the term adjusting the speed of motion to zero-level contour, respectively. Here,
μ
,
ϑ
, and
α
are weighting parameters.The level set function can be initialized in three different ways. In order to demonstrate the effect to the segmentation results, instead of a retinal fundus image, we employ a synthetic image that comprises artificially similar vessels and defects (Figure
3
).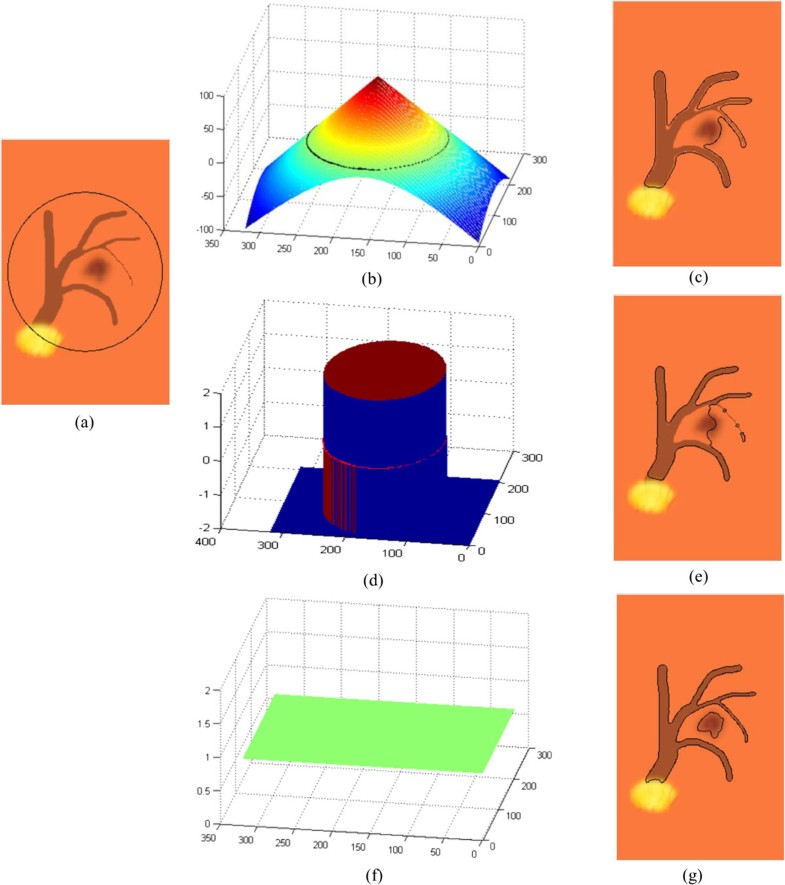 1.

2.

Initialization with a binary function (distance regularized level set evolution (DRLSE) model [25]) (Figure 3a,d,e): , where c 0 is a small valued constant.
Edge-based level set methods have some drawbacks. Sometimes, a global minimum cannot be found and the methods tend to be slower than other segmentation methods. The global minimum can be correctly obtained if the initial contour is set properly. Level set-based methods also run faster when a narrow band approach is employed in the segmentation process.
3 The proposed method
Our method can be considered in three main steps as outlined in Figure
4
: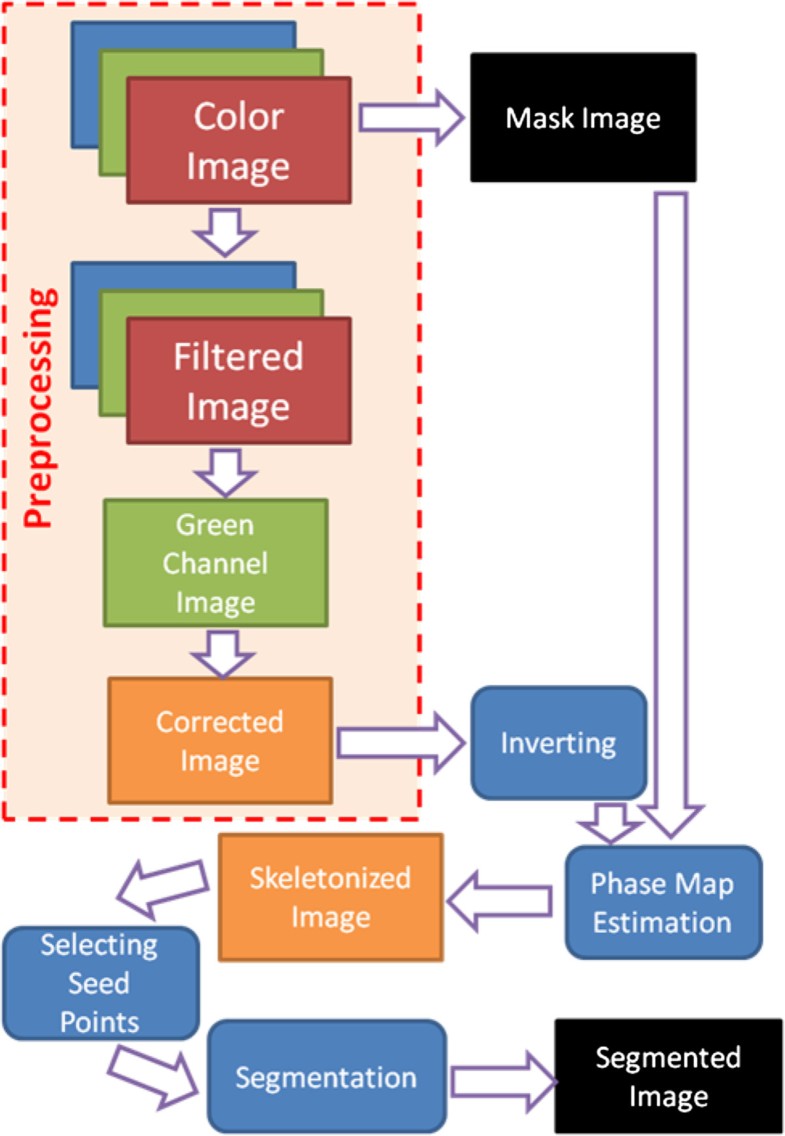 1.

2.

Modified phase map estimation

3.

Structure-based level set segmentation
More details about these steps are given in the following subsections of 3.1, 3.2, and 3.3.
5 Conclusions
We present a structure-based level set method with automatic seed point selection for segmentation of retinal vasculature in fundus images. Extensive experiments employing the proposed algorithms using datasets indicate that the algorithm performs well and favorably compared to the already existing level set-based methods in the literature. Developing strategies to improve inconsistencies in clinical diagnosis is an important challenge in ophthalmology. The segmentation methods described in this study may provide a basis for the development of computer-based image analysis algorithms. Future work will involve quantitative feature extraction from segmented retinal vessels, followed by implementation of these image analysis algorithms for image-based diagnostic assistance.
We plan to extend the study in order to improve the results especially for pathological regions such as drusen, GA, etc. Moreover, we will investigate how to use all color channels of the given image interactively in an efficient manner in order to trace retinal vasculature more properly. In addition to this, we plan to do a narrow band implementation in order to accelerate the run time of the proposed method.
Declarations
Acknowledgements
This work is partially supported by grants from TUBITAK (grant no. 1059B191000548), NSF, and NIH.
Authors' Affiliations
(1)
Department of Computer Engineering, Karadeniz Technical University, Trabzon, Turkey
(2)
Cognitive Systems Laboratory, Northeastern University, Boston, USA
(3)
Martinos Imaging Center, Massachusetts General Hospital, Boston, USA
(4)
Department of Ophthalmology, Oregon Health & Science University, Portland, USA
(5)
Department of Medical Informatics, Oregon Health & Science University, Portland, USA
Copyright
© Dizdaroğlu et al.; licensee Springer. 2014
This article is published under license to BioMed Central Ltd. This is an Open Access article distributed under the terms of the Creative Commons Attribution License (http://creativecommons.org/licenses/by/4.0), which permits unrestricted use, distribution, and reproduction in any medium, provided the original work is properly credited.