Biometric quality: a review of fingerprint, iris, and face
EURASIP Journal on Image and Video Processing
2014
2014:34
Received: 14 November 2013
Accepted: 12 April 2014
Published: 2 July 2014
Abstract
Biometric systems encounter variability in data that influence capture, treatment, and u-sage of a biometric sample. It is imperative to first analyze the data and incorporate this understanding within the recognition system, making assessment of biometric quality an important aspect of biometrics. Though several interpretations and definitions of quality exist, sometimes of a conflicting nature, a holistic definition of quality is indistinct. This paper presents a survey of different concepts and interpretations of biometric quality so that a clear picture of the current state and future directions can be presented. Several factors that cause different types of degradations of biometric samples, including image features that attribute to the effects of these degradations, are discussed. Evaluation schemes are presented to test the performance of quality metrics for various applications. A survey of the features, strengths, and limitations of existing quality assessment techniques in fingerprint, iris, and face biometric are also presented. Finally, a representative set of quality metrics from these three modalities are evaluated on a multimodal database consisting of 2D images, to understand their behavior with respect to match scores obtained from the state-of-the-art recognition systems. The analysis of the characteristic function of quality and match scores shows that a careful selection of complimentary set of quality metrics can provide more benefit to various applications of biometric quality.
Keywords
Biometric quality assessmentFaceFingerprintIris
1 Introduction
Biometrics, as an integral component in identification science, is being utilized in large-scale biometrics deployments such as the US Visitor and Immigration Status Indicator Technology (VISIT), UK Iris Recognition Immigration System (IRIS) project, UAE iris-based airport security system, and India's Aadhaar project. These far-reaching and inclusive delivery systems not only provide a platform to assist and enhance civilization but also offer new research directions. An important research challenge among them is the measurement of
quality
of a biometric sample. Biometric systems, like other applications of pattern recognition and machine learning, are affected by the quality of input data. Therefore, it is important to quantitatively evaluate the quality of a sample that is indicative of its ability to function as a biometric. In our opinion, quality of a biometric is beyond measuring the quality of the image itself. While a sample's quality is susceptible to irregularities during capture or storage, it may also have low quality by its very nature. For instance, as shown in Figure
1
, an input biometric sample may possess a wide range of
quality
.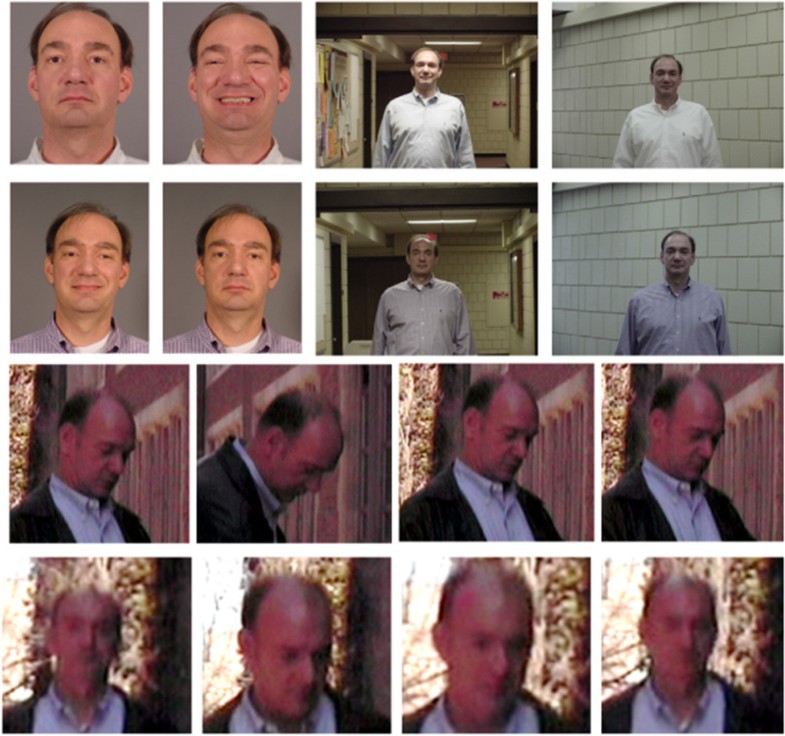 Quality assessment (QA) of an
image
measures its degradation during acquisition, compression, transmission, processing, and reproduction. Several QA algorithms exist in image processing literature, which pursue different philosophies, performance, and applications. A majority of these methods are motivated towards accurate
perceptual
image quality i.e., quality as perceived by the sophisticated human visual system (HVS). These approaches require an in depth understanding of the anatomy and psychophysical functioning of the human cognitive system. Several perceptual quality metrics are surveyed by Wang and Bovik[
1
] and Lin and Kuo[
2
]. On the other hand, the quality of a biometric sample is interpreted differently throughout literature[
3
–
10
]. A summary of these interpretations is provided in Table
1
. In general, biometric quality is defined as an indicator of the
usefulness
of the biometric sample for recognition, as illustrated in Figure
2
. It is well established that environmental distortions such as noise, blur, and adverse illumination, affect the performance of state-of-the-art recognition algorithms. However, existing image quality metrics that measure such degradations encode only a part of the information that can measure the overall quality of a biometric sample. Hence, a clear distinction must be made between perceptual image quality assessment (PIQA) and biometric quality assessment (BQA). PIQA research attempts to understand why human subjects prefer some images to others[
11
,
12
]. The task is complex and involves multiple disciplines, including an understanding of the HVS. On the other hand, BQA provides an initial estimate of the ability of a sample to function as a biometric. We therefore define biometric quality as
Table 1
Different interpretations of quality in biometrics from literature
| Reference | Modality | Interpretation of quality in biometrics |
| --- | --- | --- |
| Chen et al.[3] | Fingerprint | A global measure of the strength of ridges |
| Grother and Tabassi[4] | Fingerprint | Suitability for automatic matching |
| Youmaran and Adler[5] | Face | The decrease in uncertainty of identity due to a given sample |
| Kryszczuk et al.[6] | Face | Conditionally relevant class predictors |
| Beveridge et al.[7] | Face | A measurable and actionable predictor of performance |
| ISO/IEC standards[13] | Face | Biometric data that adheres to best capture practices |
| Kalka et al.[8] | Iris | The measurement of various degradations known to affect iris recognition |
| Kumar and Zhang[9] | Knuckles | Confidence of generating reliable matching scores from the user templates |
| Poh and Kittler[10] | General framework | Degree of extractability of recognition features |
| BioAPI[14] | General framework | Biometric data that provides good performance for the intended purpose |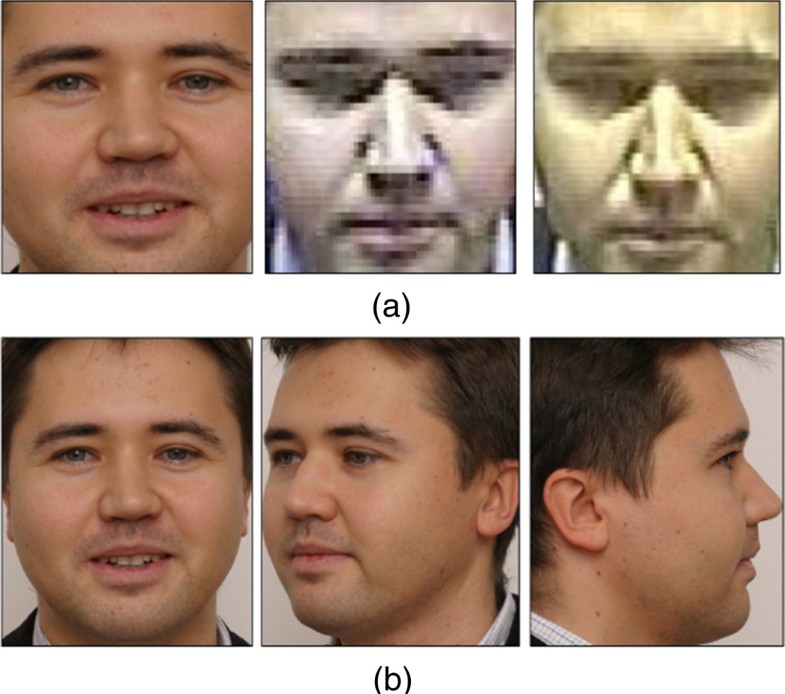 Quality of a biometric sample is a measure of its efficiency in aiding recognition of an individual, ideally, irrespective of the recognition system in use.
In literature, quality assessment metrics are widely used in the formulation of biometric techniques. As illustrated in Figure
3
, quality metrics can be used at various stages of the recognition pipeline to improve performance and usability of biometrics in challenging conditions. The application of quality metrics can be during both enrolment and recognition phases. Since enrolment phase is the best opportunity to re-capture a sample to maintain the overall quality of the gallery set, the quality of input sample is an important consideration. On the other hand, the quality of a probe sample during recognition phase is utilized in different methodologies to improve the recognition performance. Some important applications and evaluation metrics of quality assessment techniques in biometric systems are described here.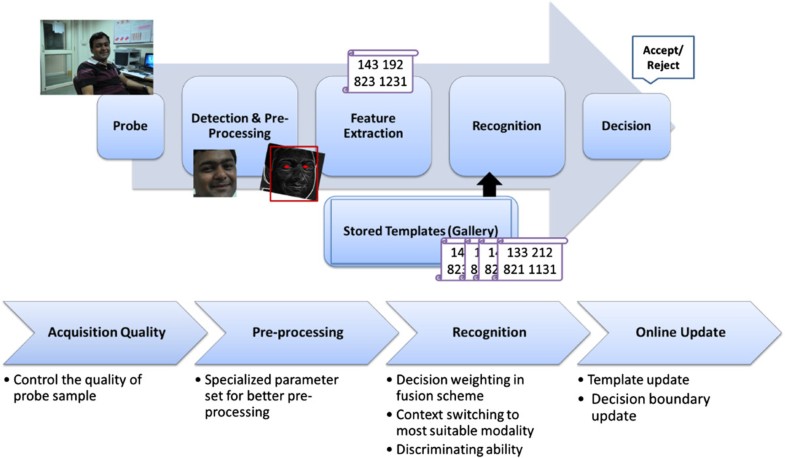 1.1 Quality assessment during enrolment
Quality feedback during enrolment is critical in collecting high-quality gallery data. It is common, especially in large-scale biometric systems, to have a supervised enrolment process as in the case of the India's Aadhaar project. An active quality feedback enables the collection officer to evaluate and maintain quality standards during the enrolment process[15]. It can also be a performance measure for the collection apparatus and procedure employed for data capture[16]. Aggregated quality may also be used to create timeline along with historical or geographical meta-data for other analysis.
1.2 Quality assessment during recognition
Quality assessment and feedback during verification can help mitigate false alarms. A verification system can choose not to perform matching if the quality score is below a threshold, depending on the computation time of matching and the overhead of re-acquisition of data. Most modern fingerprint and iris sensors are now bundled with active quality-control mechanisms. Identification is inherently a computationally expensive process, hence, it is a good idea to use quality assessment (computationally less expensive) to improve system usability. For example, quality can be used in negative identification, where it is in the interest of the subject to provide a poor quality sample. The subject may then be persuaded to provide better quality samples without having to wait for misleading and incorrect identification result from the system. Further, in the recognition pipeline, quality is used at different stages/levels of a biometric system:
Preprocessing A probe sample may contain degradations due to environmental conditions, incorrect use of sensors, or transmission error. The performance of recognition systems severely depletes in such cases. Image restoration techniques can improve image quality, provided that the correct parameters are used[17]. Quality-assessment-based selection of parameters for image enhancement shows marked improvement in the recognition performance of the resultant biometric sample, when compared to using generic parameters. Also, biometric images obtained from different uncorrelated or orthogonal bands of the spectrum can provide different amounts of information, as demonstrated by Vatsa et al.[18] with the face and iris[19]. An illustration of a quality-assessment-based image enhancement framework is presented in Figure4a.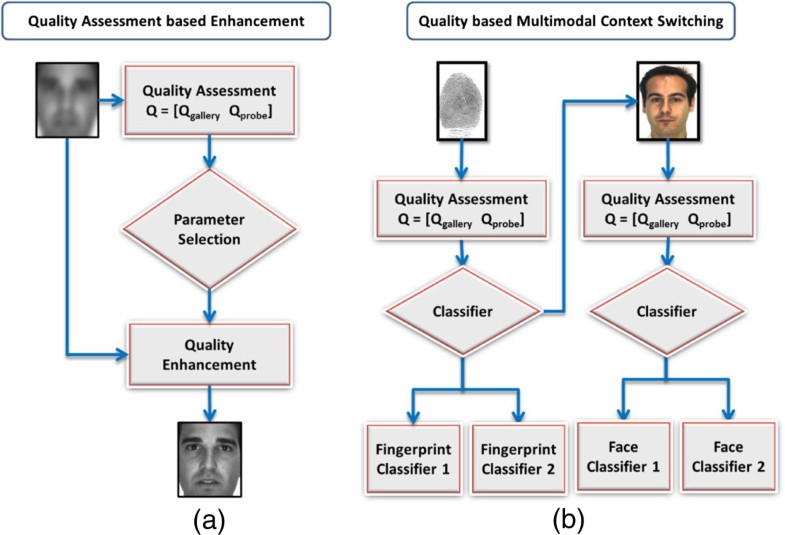 Recognition Poh et al.[20], Kryszczuk et al.[6, 21], and Poh and Kittler[10] have shown that while quality assessment scores are used for perceptual understanding of the sample or performance prediction, they also possess some discriminating ability. Their experiments show that incorporating quality assessment values as additional features can improve the recognition performance. Similarly, quality-augmented product of likelihood ratio fusion scheme has shown to improve the performance[22]. Grother and Tabassi[4] have studied the relationship between quality and recognition accuracy in fingerprints and suggested that quality scores can help in predicting the similarity scores.

Context switching Context-switching frameworks dynamically select classifiers and/or distance metrics based on the quality of the sample. A serial framework for quality-based context switching is illustrated in Figure4b. Recent literature[23–27] demonstrates the advantages of context switching of a biometric recognition pipeline based on the feedback from quality assessment algorithms. Vatsa et al.[23] propose a parallel context switching framework that uses energy in sub-bands, activity level, and pose angle for selecting the appropriate uni-modal classifier or fusion algorithm. Sellahewa and Jassim[25] present a simple thresholding-based adaptive fusion approach on illumination estimation from first-order statistics. Bhatt et al.[26] propose a serial framework of quality-based classifier selection using both image quality and biometric-specific quality metrics. Alonso-Fernandez et al.[28] present a quality-based context switching framework to improve sensor inter-operability in fingerprint biometric. Poh and Kittler[10] propose a unified framework for fusion of biometric classifiers at match score level by incorporating quality measures. This framework is based on a Bayesian perspective and can be used both as a generative and discriminative classifier.

Decision Quality assessment scores can also aid decision-level fusion. By providing quality priors to maximize selective or cumulative combination of decision, the notion of strong or weak classifiers can become subject specific. Hence, the primary concern of using decision-level fusion schemes, discussed in[29], can also be eliminated. For rank-level fusion, Abaza and Ross[30] propose a weighted variant of boda count rank aggregation technique using quality assessment scores. An empirical evaluation[31] shows the applicability of nonlinear rank-level fusion as well, particularly in palmprint biometrics.

Sample update or replacement Another interesting application of quality scores is in the replacement or addition of a confirmed probe sample to the gallery based on its quality. While this procedure has the risk of gallery contamination, it can elevate important concerns of temporal variations of biometric data, such as facial aging.

Decision update Researchers are exploring the use of online or incremental learning approaches to improve the decision boundary of the classifiers even in deployment phase[32, 33]. A major concern in such systems is to select suitable samples to learn incrementally. For instance, modifying decision boundary based on all the incoming samples may be computationally expensive. Further, online learning on outlier samples can adversely affect the system performance. One area of focus is towards using quality of the sample to determine whether the sample is suitable for classifier update.
The applications show that active involvement of quality assessment beyond the capture stage of the biometric pipeline encourages the formulation of complex and accurate biometric quality assessment. Hence, BQA is an important aspect of biometrics research that can lead towards robust and user-friendly biometric recognition systems. The aim of this survey paper is to collate different directions of quality assessment in biometrics towards a unified framework with respect to three primary modalities, viz., iris, fingerprint, and face. Section 2 discusses various factors and degradations that influence quality in biometrics. Image features used in quality assessment to evaluate the effect of those degradations are also presented along with a general quality framework. Section 3 presents a review of recent literature in biometric quality assessment pertaining to fingerprint, iris, and face modalities. Evaluation protocols inspired by different applications that are indicative of the metric's performance are also presented. Section 4 presents an experimental analysis of different quality metrics and corresponding relevance to match scores providing a better understanding of the behavior of biometric quality metrics with respect to matching performance. In this experiment it is observed that in place of using an arbitrary set of quality metrics, a careful selection with respect of match scores can provide additional benefits to biometric systems. Finally, we also discuss the salient finding from our experimental evaluations and literature as well as future scope and directions. Additionally, a brief overview of perceptual image quality assessment is presented in Appendix 1: perceptual image quality assessment and quality metric standards prevalent in biometrics literature are discussed in Appendix 2: biometric standards.
2 Biometric quality: factors, degradations, and features
An observer's perspective in assessing quality is an important aspect of QA[34]. For instance, the perception of an image can change with respect to the subject, the photographer, or by the interpretation of some third party. Similarly, the quality of a biometric sample can depend on acquisition system and the technology used for matching. For meaningful prediction of quality, the ideal pursuit is towards a quality metric that is consistent across any type of degradation and matching techniques. However, pragmatic solutions utilize some understanding of the degradation and matching techniques in their formulation.
This section describes the cause and effects of factors that influence quality of biometric samples. Further, the image features that are typically used in automatic image analysis of biometric samples are studied. Finally, a general framework for quality assessment in biometrics is presented.
3 Review: quality assessment in fingerprint, iris, and face
Several techniques have been proposed in literature to assess the quality of a biometric sample that is affected by aforementioned degradations. In this section, a literature review of quality assessment algorithms pertaining to three popular modalities, viz., fingerprint, iris and face, are presented, along with the review of key techniques to evaluate quality assessment algorithms.
4 Analysis of quality metrics
Quality metrics have been extensively used to improve the robustness and accuracy of biometric systems. Several fusion and context-switching approaches are proposed based on the intuition that quality can be indicative of the utility of a biometric sample. However, as discussed in Section 2, the role of a quality metric in improving the performance of a biometric system is not always implicit. Hence, an arbitrary quality metric 'q,' defined in abstraction in various formulations of multibiometrics, must be investigated more closely. In this section, a representative set of image and biometric quality metrics is evaluated to understand their relationship with each other and with match scores. For the evaluation, match scores obtained from commercial matchers are used on WVU multimodal biometric database.
4.1 Database and evaluation protocol
As discussed in previous sections, quality metrics can be either image-based or modality-specific. A representative set of quality metrics of both types are chosen for evaluation. Specifically, four image quality approaches and a biometric quality approach (that may each contain multiple measures) are considered for the evaluation. The abbreviations associated with each of the quality metrics are presented in Table6 and a brief description is presented below. The techniques are all no-reference quality metrics and have low computational complexity when executed on a typical desktop machine. A detailed discussion of the computational complexity of each technique is available in the references:
Further, three modality-specific quality metrics are also used:
4.2 Experimental analysis
Two key ideas are evaluated in this study: (i) the relationship between different quality metrics and (ii) the relationship of the quality of a pair of biometric samples with their match score. All match scores are converted to similarity measures for easy visualization. Some key insights can be drawn for both image-based and biometric-specific quality metrics as follows:
Spearman correlation values for all quality metrics for face, fingerprint, and iris images are shown in Tables7,8,9 respectively. The quality score from gallery and probe pair is combined as. Low Spearman correlation is observed between the quality metrics in consideration indicating that they measure diverse aspects of quality. For instance, no-reference quality measures A in 8×8 blocks in the image. On the other hand, ES measures the gradient difference at edge boundaries, to measure blurring. Even though both are measures of blurring, the difference in approaches leads to low correlation between them.Scatter plot in Figures13,14,15 illustrates genuine and imposter match scores against each quality metric in consideration. A three-dimensional plot of match scores versus quality of gallery and probe clearly illustrates the characteristic relation between them.
Table 7
Spearman correlation between face quality scores
| | SE | ES | B | A | ZC | P | F | BR |
| --- | --- | --- | --- | --- | --- | --- | --- | --- |
| SE | 1.00 | 0.14 | -0.02 | -0.02 | -0.03 | -0.11 | -0.07 | 0.12 |
| ES | | 1.00 | -0.06 | 0.09 | -0.12 | -0.04 | 0.08 | -0.12 |
| B | | | 1.00 | 0.97 | -0.15 | -0.06 | 0.31 | -0.57 |
| A | | | | 1.00 | -0.15 | -0.07 | 0.29 | -0.56 |
| ZC | | | | | 1.00 | -0.10 | -0.11 | -0.33 |
| P | | | | | | 1.00 | 0.08 | 0.08 |
| F | | | | | | | 1.00 | -0.27 |
| BR | | | | | | | | 1.00 |
Table 8
Spearman correlation between fingerprint quality scores
| | SE | ES | B | A | ZC | RE | NFIQ | BR |
| --- | --- | --- | --- | --- | --- | --- | --- | --- |
| SE | 1.00 | 0.12 | 0.12 | 0.17 | 0.00 | 0.52 | -0.02 | 0.12 |
| ES | | 1.00 | -0.21 | -0.19 | -0.18 | 0.05 | 0.03 | -0.08 |
| B | | | 1.00 | 0.94 | -0.40 | -0.03 | -0.30 | 0.61 |
| A | | | | 1.00 | -0.30 | -0.04 | -0.33 | 0.68 |
| ZC | | | | | 1.00 | 0.03 | 0.22 | -0.37 |
| RE | | | | | | 1.00 | 0.08 | 0.00 |
| NFIQ | | | | | | | 1.00 | -0.27 |
| BR | | | | | | | | 1.00 |
Table 9
Spearman correlation between iris quality scores
| | SE | ES | B | A | ZC | DF | M | O | L | S | PC | Q | BR |
| --- | --- | --- | --- | --- | --- | --- | --- | --- | --- | --- | --- | --- | --- |
| SE | 1.00 | 0.02 | 0.25 | 0.29 | 0.18 | -0.09 | 0.03 | -0.07 | 0.01 | -0.11 | -0.10 | 0.13 | -0.05 |
| ES | | 1.00 | 0.00 | -0.01 | -0.16 | -0.06 | -0.06 | -0.03 | 0.01 | 0.13 | 0.02 | 0.09 | -0.01 |
| B | | | 1.00 | 0.97 | 0.33 | -0.53 | -0.15 | 0.05 | 0.18 | -0.08 | -0.03 | 0.48 | -0.23 |
| A | | | | 1.00 | 0.38 | -0.49 | -0.12 | -0.02 | 0.16 | -0.15 | -0.09 | 0.45 | -0.19 |
| ZC | | | | | 1.00 | -0.09 | 0.29 | -0.05 | -0.23 | -0.43 | -0.22 | 0.11 | -0.02 |
| DF | | | | | | 1.00 | 0.12 | -0.12 | -0.20 | -0.15 | -0.13 | -0.57 | 0.14 |
| M | | | | | | | 1.00 | -0.08 | -0.15 | -0.04 | -0.10 | -0.23 | 0.09 |
| O | | | | | | | | 1.00 | 0.02 | 0.56 | 0.92 | -0.27 | 0.03 |
| L | | | | | | | | | 1.00 | 0.07 | 0.06 | -0.09 | -0.03 |
| S | | | | | | | | | | 1.00 | 0.74 | -0.12 | -0.06 |
| PC | | | | | | | | | | | 1.00 | -0.30 | 0.05 |
| Q | | | | | | | | | | | | 1.00 | -0.24 |
| BR | | | | | | | | | | | | | 1.00 |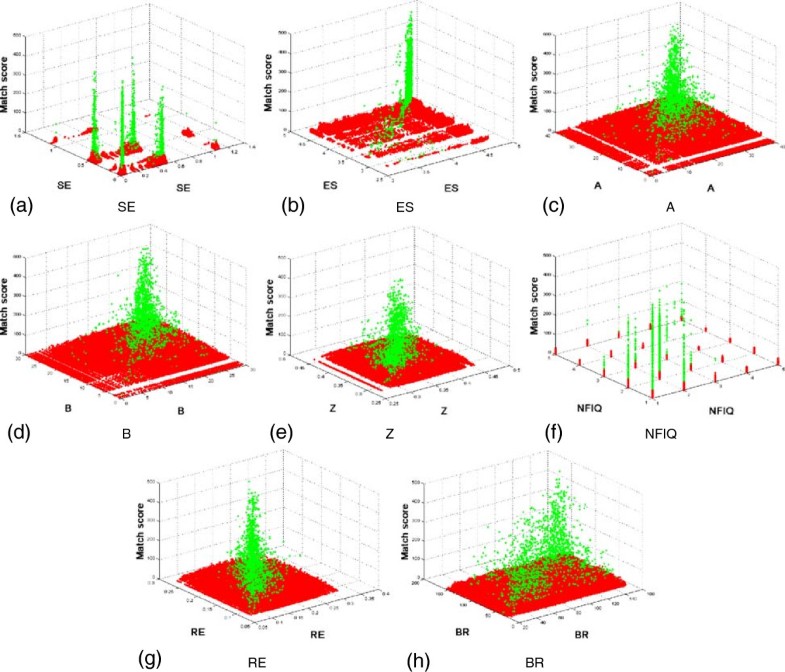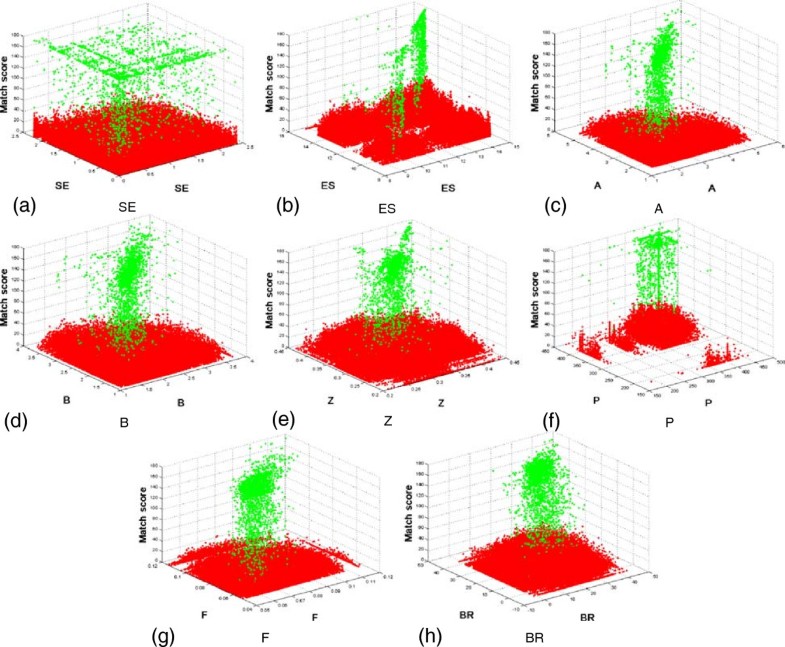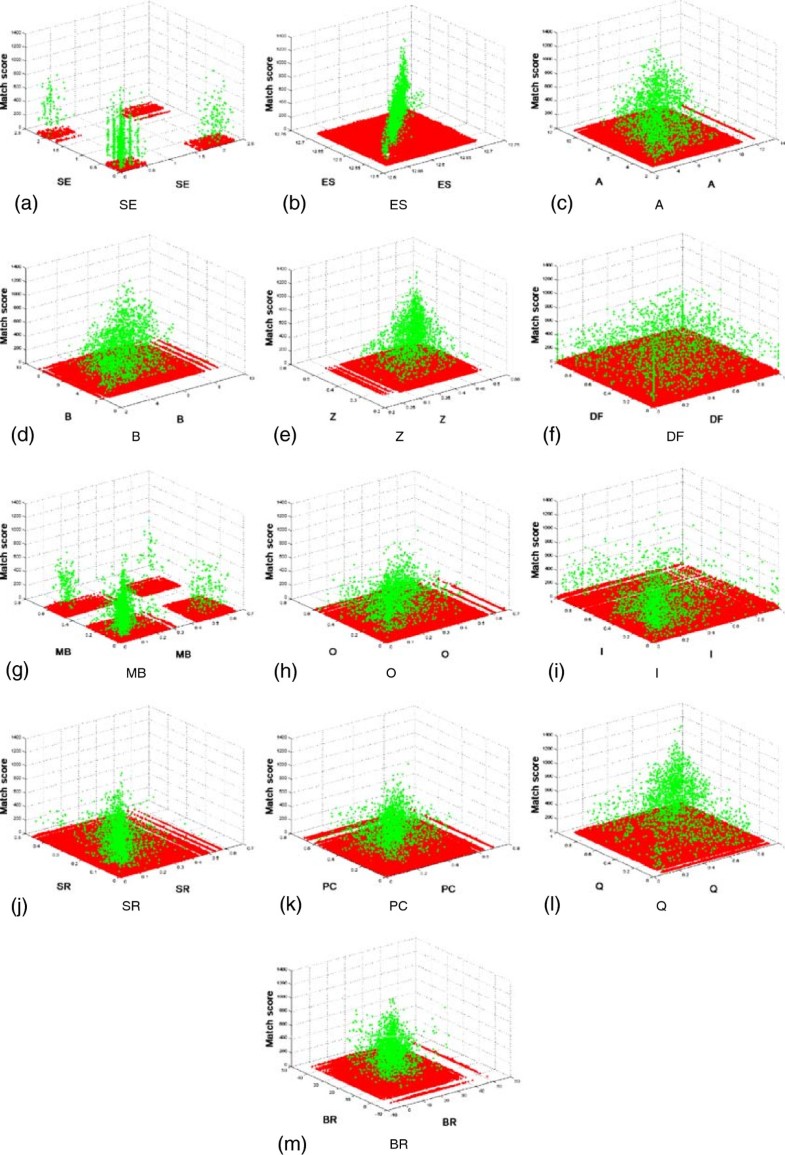 For all three modalities, no relation is observed between quality scores and imposter match scores. A similar observation is made in the case of fingerprints in[42].

In case of certain quality scores such as Activity, Zero-Cross rate, and Focus, genuine match scores are found only in specific quality bins. Hence, any pair exhibiting quality in this range during test phase induces more confidence in matching[97]. Such simple quality measures provide an additional information to improve classification. For example, in case of A of fingerprints, the values pertaining to genuine scores are observed in the range of 15 and 25.

For face and iris modalities, quality metrics that measure prominence of edges better map to genuine scores. For instance, ES and RE provide more confidence to genuine score than other metrics such as DF. Further, spatial no-reference measure (BR) correlates with activity measures and also characterizes the genuine scores for face and fingerprint.In order to evaluate the relevance of quality scores in augmenting or predicting match scores, an illustration of the cumulative density function (CDF) is presented in Figure16. The CDF of certain quality scores are more similar to the obtained match scores, such as RE, B, O, and I as compared to ES, BR, and Z.

To test the relationship between the quality scores and match scores obtained from each modality, a linear regression analysis is performed between the genuine scores and quality scores. As discussed previously, the quality scores from gallery and probe are combined as. Further, the data is randomly split into nonoverlapping train and test sets. The mean squared error (MSE) of each modality, over ten times random cross-validation, is shown in Figure17. It is observed that even with 10% of the data as training samples, genuine scores from matchers can be predicted with quality metrics using a simple linear model. To analyze the quality of fit of the regression model, analysis of variance (ANOVA) is performed to assert the effect of each quality metric in consideration as match score predictors. The analysis indicates that ES, A, DF, MB, O, PC, Q, and BR are effective with p value less than 0.01 for iris modality. On the other hand, SE, ES, B, A, and Z are more effective in estimating match scores for fingerprints. We also observe that only P and ES are able to estimate match scores of the face.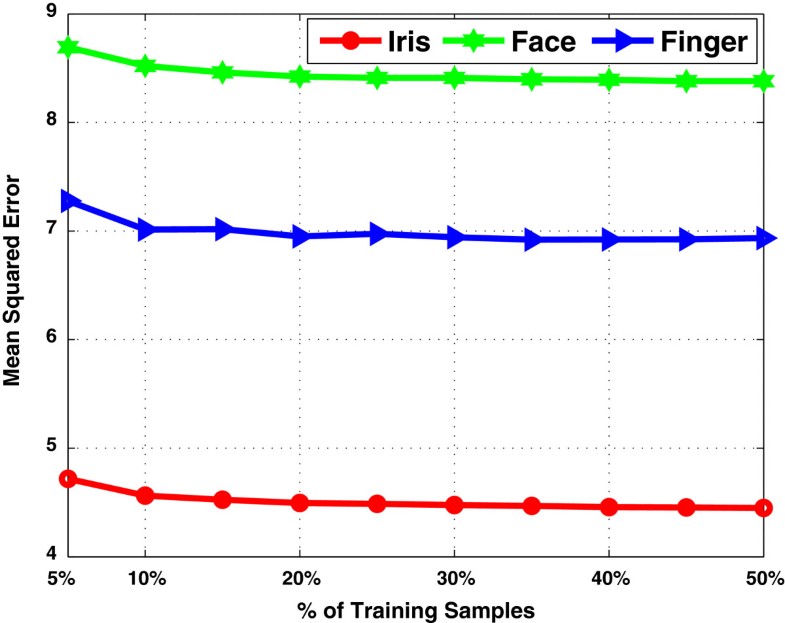 In this study, it is empirically established that a direct relationship exists between certain quality metrics and match scores (which can also be viewed as classifier confidence). This encouraging result sanctions the use of quality metrics in multibiometric schemes such as quality-based fusion and context-switching. However, as observed from the scatter plots, the choice of quality metrics is an important factor.
4.3 Discussion
Traditional image quality metrics measures certain aspects of an image important for good visual perception. On the other hand, biometric quality assessment measures the potential of the sample for recognition. As shown in literature, such quality metrics not only help in improving data collection but also provide additional information at different stages of a biometric system. Based on the literature review and experimental analysis, here, we collate the important observations pertaining to biometric quality assessment:
The prominent features used in quality assessment are orientation of edge features. While a strong case can be made for the performance of these features, research has shown potency of color-based and intensity-based features as well.

There is a need for better evaluation framework for biometric quality assessment metrics. High correlation with match score performance along with statistical tests can help towards better evaluation. The good, bad, and ugly distribution of database[79] is an interesting method for evaluating the performance of quality metrics for performance prediction.

Researchers must emphasize on the computational cost in the development of quality assessment approaches, which must be lesser or comparable to the matching time.

Quality metrics used for quality-based multibiometric fusion approaches must be carefully selected. As discussed in Section 4, not all quality metrics are useful for match score prediction. Quality metrics that measure different kinds of degradations, including modality-specific metrics, must be considered.

In differential processing techniques such as context switching, quality metrics can be important cues for selection of recognition modules. Based on the modality in consideration, additional factors such as age and gender may also be considered as cues[98].

It is our assertion that a better understanding of the behavior of biometric quality, in terms of naturality, fidelity and utility, can help in the development of more meaningful quality measures. Such quality metrics may also enhance the performance of quality-based multibiometric frameworks proposed in literature.

Face quality is affected by pose, illumination, and expression apart from image degradations such as noise and blur. Other covariates such as aging, disguise, and occlusion degrade the performance relative to a reference sample.

The quality of a match pair is a function of the quality of both gallery and probe images[39]. Further, high-resolution frontal face images do not directly imply high-quality biometric sample or confident match.

Important findings from the results of the FRVT 2006[80] and MBE[86] can help towards development of better quality assessment techniques.

For instance, a slight gender bias is observed in the performance of the algorithms, with samples of female subjects performing better than male subjects in controlled environment. Also, the evaluations found that samples obtained from individuals of a certain race perform better than others, with East-Asian races performing the best.

A strong correlation has been observed between simple image quality measures and performance of the top three algorithms of the vendor test[7]. Precisely, a high correlation has been observed between the recognition rates and a simple gradient energy-based focus measure.

The performance of samples captured in indoor studio-like conditions is better than the performance of samples taken in uncontrolled outdoor conditions. While this result is expected, it is interesting to note that this penalty in performance decreases with relaxed false acceptance rates.

The quality of a fingerprint sample is largely governed by the sensor in deployment. It is observed that the common factors include scars, burns, dryness, and temperature. Auto capture is a common feature in modern fingerprint sensors, requiring real-time quality assessment of the presented sample. Therefore, most quality metrics evaluate ridge clarity and number of detected minutia.

The performance of iris as a biometric is hugely dependent on the quality of captured sample. The micro-features of iris texture are easily contaminated by adverse illumination, lenses, glasses, or disease. The most prevailing approach for iris quality measurement continues to be the fusion of assessment of several known quality factors.

Due to the requirement of low computational time, auto capture in iris sensors is usually based on confidence of segmentation. A major drawback of existing approaches is in the assumption of good quality segmentation before quality assessment. However, same factors that affect biometric quality are also known to effect iris segmentation.

Current research uses typical image processing algorithms that evaluate image degradations due to noise, compression, or illumination. However, a quality metric that entails a greater insight of the usefulness of the biometric sample in consideration can improve the performance of these systems by providing more discernible quality cohorts.
5 Conclusions
Quality assessment of biometric samples is an important challenge for the biometrics research community. In this survey paper, a clear distinction is made between the image quality and biometric quality of a biometric sample to capture modality-specific intuitions of quality assessment. It is our assertion that quality metrics are an important ingredient in improving the robustness of large real-world biometric systems. In an attempt to demystify the definition and work of biometric quality, several factors that affect a biometric sample are presented. Different image features utilized in literature for quality assessment, evaluation processes, and match score predictability are discussed. Further, a literature survey of the quality assessment techniques in three biometric modalities reveals that techniques often focus on naturality alone. It is imperative that quality assessment entails a notion of fidelity of capture and modality-specific utility as well. Further, the performance of a biometric quality assessment metric in terms of computational complexity must also be discussed more actively in research. The development of quality assessment algorithms of biometric samples that are computationally inexpensive to compute yet correctly encode quality will be the sine qua non of real-world large-scale deployments. Using quality assessment metric cannot, however, be a panacea for the recognition of poor quality images. Beveridge et al.[99] place a bound on the extent to which quality metrics can improve the performance of matching systems when they are used as performance predictors.
Appendix 1: perceptual image quality assessment
The assessment of the quality of an image is important to measure and control its degradation during acquisition, compression, transmission, processing, and reproduction[1]. Several quality assessment algorithms exist in image processing literature, which pursue different philosophies, performance, and applications. A majority of these methods are motivated towards accurate perceptual image quality i.e., quality as perceived by the sophisticated HVS. Two distinct approaches exist in literature to model the HVS: a bottom-up and a top-down approach[1]. The first approach is based on the replication of various mechanisms of the HVS which entails a deep understanding of its anatomy and psychophysical features. Many are categorized and summarized by Wang and Bovik[1]. The second approach treats the performance of the HVS as a black box, dealing with only the input to and output from the HVS. Both approaches are important; however, optimized solutions often lie in a middle ground of both approaches to this problem.
Depending on the amount of information required, quality assessment algorithms can be segregated as
full-reference
(FR),
no-reference
(NR), and
reduced-reference
(RR) quality assessment. A detailed discussion of each of these categories is presented next.
1.

Full-reference or FR: This category of algorithms require a distortion-free or perfect quality version of the same image, the 'original image,' in order to assess the quality of the input images. These approaches perhaps have received most interest from the community due to wide applicability in areas of quality of service (QoS) in delivery of image-based content. Most FR bottom-up quality assessment methods share a similar framework known as the error-visibility paradigm [1]. The strength of error computed between the given image and the original (reference) image is weighted based on known features of the HVS. This ensures that the quality metric validates those errors which have the maximum affect on human perception. A generic error-visibility-based quality assessment framework consists of three phases discussed below:

(a)

Preprocessing: The input reference and distorted image undergo a preprocessing stage, usually comprising of spatial registration, color space transform (to YCbCr), and filtering. It is assumed that reference and given images become properly aligned. Even small errors in registration can lead to largely incorrect prediction of quality. Sometimes, some point-wise nonlinear transformations can be applied to reduce the dynamic range of the luminance. These preprocessing techniques are also often have channel-specific parameters, as different channels have different characteristics.

(b)

Channel decomposition: Motivated by the frequency and orientation-specific neurons in the visual cortex, the image is usually decomposed into multiple channels using decomposition techniques such as Fourier decomposition, Gabor decomposition, DCT transform, or separable wavelet transform. Each of these decomposition techniques differs in their mathematics, implementation details, and suitability to task; however, there is no clear consensus on which decomposition is better than the rest.

(c)

Error normalization and pooling: After decomposition of both reference and given image, the error is calculated as the (weighted) difference between both sets of coefficients. These errors are often normalized in a perceptually meaningful way [1].
The FR top-down quality assessment algorithms have been very successful in a wide range of applications primarily due to their simplicity in design. A popular approach in literature is the
structural similarity
. This quality assessment paradigm utilizes the fact that natural images are highly structured. Hence, any unstructured information in the image is a quality degradation. A spatial domain implementation of this idea is the
structural similarity index metrics
(SSIM)[
100
]. Given a distorted image (
x
) and reference image (
y
), the SSIM index of quality depends on the comparison of
x
and
y
by three measures: luminance, contrast, and structure.
2.

No-reference or NR: Blind or no-reference quality assessment is a more difficult problem as there is no reference image for comparison. The human visual system is able to perform blind assessment primarily due to immense prior knowledge and superior understanding of what an image is. Some distortions in an image can be assessed effectively without reference, for example, blurring and blockiness during image compression. In general, for NR quality assessment, it helps to have prior knowledge of the expected degradation process on the image. A NR perceptual quality assessment algorithm for JPEG compression is proposed by Wang et al. [95]. This method primarily measures distortions in an image due to compression (such as blockiness and blurring). It is a combination of blockiness and activity estimation in both horizontal and vertical directions.

3.

Reduced-reference or RR: Quality assessment with reduced references is a relatively newer aspect of image quality assessment research. Here, the ancillary channel (usually noise-free, but not necessarily) transmits features of the original image that can be used to determine the quality of the image at the receiver end. This quality assessment paradigm is developed to monitor the quality of video streams transmitted through various noisy channels. An early technique in literature computes reference information from a random set of preselected pixel values. At the receiver end, the MSE of pixel values of the original and distorted image is be computed to obtain quality. Gao et al. [101] propose using multiscale geometrical analysis and compute a concise feature set that is normalized to improve HVS consistency. This feature vector (used as reference) encodes structural information that is perceived by HVS.
The primary method of representing biometric information of an individual is by an image. As noted above, most image quality assessment research is motivated towards perceptual quality of an image. Nevertheless, several important insights can be drawn from this matured research area towards a quality metric relevant to biometrics. For a detailed review of existing image quality assessment, readers are referred to[1, 2]. An important difference being that biometric quality relates to the performance of automatic biometric systems rather than the human visual system. In fact, this constraint can have several advantages such as ease of evaluation, and algorithms can be easily tested when compared to testing with human subjects. Also, most recognition algorithms are better understood internally than the human visual system; hence, there is no need to account for various cognitive anomalies.
Appendix 2: biometric standards
A large number of commercial and public biometric systems/solutions have lead to the standardization of several processes. This ensures inter-operability among different vendors and ensures easy integration. Here, some leading biometric standards are presented[
14
,
102
]:
1.

CBEFF: The Common Biometrics Exchange File Format (CBEFF) [102], developed in 2001, facilitates exchange of biometric data including raw and processed biometric sample. The standardization is achieved through three major sections: Standard biometric header (SBH), Biometric Data Block (BDB), and Signature Block (SB). Further, this standard presents a nested structure with same or different modalities. This ensures a single block structure per template in multimodal or multisample systems. Within the BDB block, there is an optional field called Biometric Data Quality. The block provisions for a single scalar quantity (0 to 100) based on the ANSI/INCITS-358 standards of 2002 (discussed next). Additionally, the field also notes if the quality value is of a nonstandard variety.

2.

BioAPI: This standard describes the specifications of an Application Programming Interface (API) in order to accommodate for a large number of biometric systems, sensors, and applications. This API is designed for system integration and application development in biometrics. The bioAPI 1.1 standard describes in Section 2.1.46 [14], a structure called bioapi_quality that indicates the quality of the biometric sample in the biometric identification record [14]. Since there is no 'universally accepted' definition of quality, bioAPI has elected to provide this structure with the goal of framing the effect of quality on usage of the vendors. The scores are based on the purpose (another structure in bioAPI called bioapi_purpose) indicted by the application (e.g., capture for enrollment/verify, capture for enrollment/identify, and capture for verify). Additionally, the demands upon the biometric vary based on the actual customer application and/or environment (i.e., a particular application usage may require higher quality samples than would normally be required by less demanding applications). Quality measurements are reported as an integral value in the range of 0 to 100. These quality scores have the following interpretation:
0 to 25: Unacceptable - the biometric data cannot be used for the purpose specified by the application (bioapi_purpose). The biometric data must be replaced with a new sample.

26 to 50: Marginal - the biometric data will provide poor performance for the purpose specified by the application and in most application environments will compromise the intent of the application. the biometric data should be replaced with a new sample.

51 to 75: Adequate - the biometric data will provide good performance in most application environments based on the purpose specified by the application. The application should attempt to obtain higher quality data if the application developer anticipates demanding usage.

76 to 100: Excellent - the biometric data will provide good performance for the purpose specified by the application. The application may want to attempt to obtain better samples if the sample quality (bioapi_quality) is in the lower portion of the range (e.g., 76, 77, …) when convenient (e.g., during enrollment).
BioAPI states that the primary objective to include quality is to provide information on the suitability of the sample, i.e., the quality metric is used simply to decide to neglect a particular sample.
3.

e-Governance standards: The Government of India has established biometric standards for identification and verification in various e-Governance applications [103]. These standards are largely based on the ISO/ IEC 19794-5:2005 international best practices. While they are primarily designed for visual inspection, they can be improvised for future use as input to automatic systems. Further, these standards are being implemented for Adhaar project by the Unique Identification Authority of India (UIDAI) [104].
Biometric standardization is much needed in the community to ensure easy exchange of ideas and information, with the community still struggling with problems of interpretability. One reason could be that most standardization committees are closed grouped and are not available publicly.
Declarations
Acknowledgements
This research is supported through a grant of Department of Electronics and Information Technology, Government of India.
Authors' Affiliations
(1)
IIIT-D, New Delhi, India
Copyright
© Bharadwaj et al.; licensee Springer. 2014
This article is published under license to BioMed Central Ltd. This is an Open Access article distributed under the terms of the Creative Commons Attribution License (http://creativecommons.org/licenses/by/2.0), which permits unrestricted use, distribution, and reproduction in any medium, provided the original work is properly credited.