An empirical comparison of real-time dense stereo approaches for use in the automotive environment
EURASIP Journal on Image and Video Processing
2012
2012:13
Received: 16 March 2012
Accepted: 3 July 2012
Published: 16 August 2012
Abstract
In this work we evaluate the use of several real-time dense stereo algorithms as a passive 3D sensing technology for potential use as part of a driver assistance system or autonomous vehicle guidance. A key limitation in prior work in this area is that although significant comparative work has been done on dense stereo algorithms using de facto laboratory test sets only limited work has been done on evaluation in real world environments such as that found in potential automotive usage. This comparative study aims to provide an empirical comparison using automotive environment video imagery and compare this against dense stereo results drawn on standard test sequences in addition to considering the computational requirement against performance in real-time. We evaluate five chosen algorithms: Block Matching, Semi-Global Matching, No-Maximal Disparity, Cross-Based Local Approach, Adaptive Aggregation with Dynamic Programming. Our comparison shows a contrast between the results obtained on standard test sequences and those for automotive application imagery where a Semi-Global Matching approach gave the best empirical performance. From our study we can conclude that the noise present in automotive applications, can impact the quality of the depth information output from more complex algorithms (No-Maximal Disparity, Cross-Based Local Approach, Adaptive Aggregation with Dynamic Programming) resulting that in practice the disparity maps produced are comparable with those of simpler approaches such as Block Matching and Semi-Global Matching which empirically perform better in the automotive environment test sequences. This empirical result on automotive environment data contradicts the comparative result found on standard dense stereo test sequences using a statistical comparison methodology leading to interesting observations regarding current relative evaulation approaches.
Keywords
Stereo VisionForeground ObjectDriver Assistance SystemMatch CostStereo Data
1 Introduction
As automotive transport is one of the most important means of transportation in the modern world there is considerable interest in the advancement of both driver assistance systems, in order to improve both driving efficiency and safety, and the potential for autonomous driver-less vehicles. Dense stereo vision is a passive sensing technology offering a 3D view of the current environment making it a very attractive sensing component of such systems. In general such approaches consist of stereo matching between two on board camera sensors and the calculation of the scene depth map using triangulation based on the difference in relative position of objects/features in both camera images.
In general there are a range of proposed dense stereo methods [1–5] but the relative evaluation and comparative study of such techniques is limited [6–8].
Notable is the work of [6] which did not only provide a comparison of different algorithmic elements but also prepared a testing and ranking methodology where various algorithms can be easily and openly tested. In general this methodology highly stimulated the development of stereo vision algorithms but also focused attention on achieving good performance on a somewhat engineered image test set of static scenes. This test set is very different from the imagery occurring in the deployment of stereo vision systems in the automotive environment which we encounter in this study.
Later comparative work [7] has focused on real-time dense stereo algorithms. However this later study concentrated on a virtual automotive image sequence without the noise and illumination problems clearly apparent in the real world automotive cases we consider here.
The problem with both of these studies [6, 7] is that they use either artificially generated or artificially engineered non-automotive data for evaluation. The nature of this type of imagery can be significantly different from the real world imagery, such as that in automotive stereo deployment, which we consider here and contains various types of noise that can impact algorithmic results. In this study, it is thus necessary to use real world imagery in order to empirically evaluate the effect of such aspects on particular algorithms within a real world environment. It is also important to focus the evaluation around common dense stereo applications in real-world scenarios such as obstacle detection instead of the statistical pixel-wise compliance with test sets ground truth data. In this study it is driven by the expectation of the sensing capability of a driver assistance or autonomous vehicle subsystem.
By contrast the recent work of Klette et al. [8] relates its evaluation to the use of ground truth data but purports, as we do in this work "the complexity of real-world data does not support the identification of general rankings of correspondence techniques on sets of basic sequences that show different situations." Notably Klette et al. [8] concentrates on the wider aspects of stereo correspondence within the automotive environment and considers approaches achievable both in real-time and non real-time processing. The use of ground truth is limited and the ranking of algorithms that is performed is based on global statistical measures. Such measures are bias towards the correct disparity calculation of large textured scene regions (e.g. background) at the expense of the clarity of smaller, closer non-textured objects (e.g. other vehicles/pedestrians).
Here our study concentrates on comparing the performance of five chosen real-time algorithms [1–5] using data spanning from the Middlebury de facto test samples [6], synthetic data [7] and real world automotive stereo imagery. As has been previously reported [9] the performance of dense stereo algorithms highly depends on the imagery used and thus this comparison focuses on the factors that make these results differ in the translation from lab to real world scenarios. We cover a differing set of algorithms from [8], considering real-time requirements within the current state of the art, and base our evaluation, in this empirical study, on semantic scene interpretation in-place of global statistical analysis.
As we see in this study, the most significant and problematic feature of our real world automotive stereo data is into camera illumination variance which has to be limited for the dense stereo algorithms to work effectively. In this study we use a variation of Sobel operator [10] to remove this illumination problem but this can also affect overall algorithm performance due to noise amplification. This mutually supports the concurrent findings of [8] regarding future evaluation requirements.
From the five algorithms evaluated [1–5] we find that the best empirical performance was achieved by the Semi-Global Matching technique [2] which contradicts the results obtained over the Middlebury de facto test samples [6] and similarly differed from testing on the virtual automotive stereo imagery [7] where a Cross-Based Local Approach [4] empirically gave the most satisfactory results. This contradiction between real-world to basic test sample analysis further supports the findings of [8].
In this work we do not explicitly use ground truth comparison as in the comparative work of [8]. In general the use of ground truth data within real-time temporal (i.e. video) evaluation of stereo is limited to comparison against ground plain and simple background/foreground separation models [11, 12]. Following that purported in [8] we look to the concept of semantic stability, as a conduit to the ready and reliable segmentation of foreground scene object (e.g. pedestrains/vehicles).
It is notable that with real world automotive stereo imagery the advantage of more complex and computationally expensive dense stereo techniques (requiring GPU computation for real-time performance [4, 5]) is much less significant than in the case of the laboratory test set results [6]. We present a series of results comparing the performance of these algorithms on controlled environment stereo test sets [6], real world stereo imagery captured from an automotive stereo setup developed as part of this work and additionally from independent automotive stereo data [9].
2 Dense stereo vision
Stereo vision is a passive sensing technology for 3D measurement based on two perspective projections (i.e. camera images) of a given scene. This has been an active research area, with significant algorithm development over the past decades [6]. In dense stereo vision the distance (depth) to scene objects is calculated at each and every pixel location within the image. While this makes it computationally expensive, compared to its sparse stereo counterparts [13], recent increases in available computational power now make it possible within real-time bounds.
The general principle is to calculate the difference (here denoted as disparity) in the position of scene objects in both images (left and right) from which the scene distance (depth) is roughly inversely proportional to the disparity. Prior to this scene depth calculation the camera setup has to be calibrated to facilitate the a priori determination of various parameters characterising the stereo camera setup. In every 3D measurement cycle a pair of images (left/right) are first captured using synchronised cameras and then transformed to a standard geometry (rectification) from which inter image pixel matching is performed and the resulting calculated disparity mapped to distance [14].
Calibration and rectification as well as disparity to distance mapping are well studied using established procedures [14–16] so here we assume that the input images are rectified (i.e. features aligned horizontally) and all that remains is disparity map (depth) calculation. Therefore our treatment of dense stereo is reduced to the problem of finding the dense correspondence between pixels in both left and right images.
Let D be the disparity map where D(x y)=d means that the pixel (x y) in left image is matched with the pixel (x−d y) in the right one. Most methods require a restriction on this disparity range. In particular the maximum possible disparity which depends both on the cameras and the potential depth of the scene [1, 2, 4, 5]. An alternative is given by the formulation of Unger et al. [3] where an iterative algorithm is presented that does not require such an assumption. We include examples of both such approaches in this evaluation.
The determination of the disparity map is formulated as a minimisation problem in which we look to minimise the overall matching costs between corresponding pixels. The best match
D
best
is defined [
6
] as the one minimizing this matching cost
E
(
D
):
where Edata(D) is the sum of the matching costs between corresponding pixels and Esmooth(D) is a penalising term for large disparity jumps within the disparity map, following the assumption that "the physical world consists of piecewise-smooth surfaces"[6].
The methods of finding an optimal approximation of Dbestcan be split into local and global methods. Global methods generally use one of the established optimization techniques (the best currently being graph-cut [6]) to explicitly find Dbest. However these methods are computational expensive and as such not currently an option for a real-time stereo requirement. By contrast local methods consider only a localised part of the image when approximating the disparity and minimise E(D) only implicitly (by minimising E(D) locally to obtain the best disparity Dbest).
The excellent taxonomy-comparison-overview has been done by Scharstein and Szelinki [6] and similarly by Van der Mark and Gavrila [7] with a concentration on real-time methods. Both studies consistently identify the following breakdown of dense stereo matching approaches: preprocessing, pixel-based matching cost, cost aggregation, disparity search and post-processing. To this end we similarly follow this outline in our initial overview of dense stereo work in this area. Notably the preprocessing and post-processing are optional steps intended to improve the overall quality of the resulting disparity.
3 Algorithm selection
The algorithm selection was intended to give coverage to most of the common place stereo vision techniques thus the chosen five algorithms in this study represent a broad range of ideas within the field. Both major disparity selection methods (WTA and DP, see section 2.4) as well as different aggregation methods, such as fixed support area, adaptive shape support area and weighted fixed support area have representations in the final algorithm choice.
In this and subsequent sections the chosen algorithms are mentioned numerously. It is thus beneficial to use shorthand abbreviations and those in use are subsequently presented in Table
1
.
In the following sections the chosen algorithms and their implementations are briefly presented.
4 Evaluation stereo data
In this study a range of stereo imagery is used for evaluation including that from the Middlebury Stereo Collection [6], virtual automotive stereo sequences [7] and also two sets of real-world stereo data originating both from this study and the prior independent study of [9].
4.1 Middlebury stereo test data
The Middlebury stereo data collection results from the prior stereo survey work of Scharstein and Szeliski [6]. It provides a wide range of stereo image samples with associated ground truth. In this study we select a subset of four basic examples for comparison. This reference stereo data set is established as a de facto standard test reference set for the evaluation of dense stereo algorithms. In this study it is used both to verify the implementations of our chosen algorithms and additionally provide a reference backdrop against our real-world study. Notably the Middlebury stereo data contains high contrast imagery with little to no illumination difference between the image pairs.
4.2 Virtual automotive stereo data
There are a number of artificially generated stereo imagery sets available including those applicable to automotive stereo vision. A representative one is that used for comparison study of Mark and Gavrila [
7
] which is a publicly available short video sequence. This data has additional distortions and noise added for enhanced realism but in general the overall signal to noise ratio is very low [
7
]. Nevertheless it is included in this study as a good example of representative automotive stereo data with the shapes and patterns commonly found in such an environment. The inclusion of this test data set in this study is to provide a halfway medium between that of the laboratory test sets (Section 4.1) and the real-world automotive stereo data (Section 4.3) to provide a greater depth to our evaluative results. Examples of this data set are shown in Figures
5
and
6
.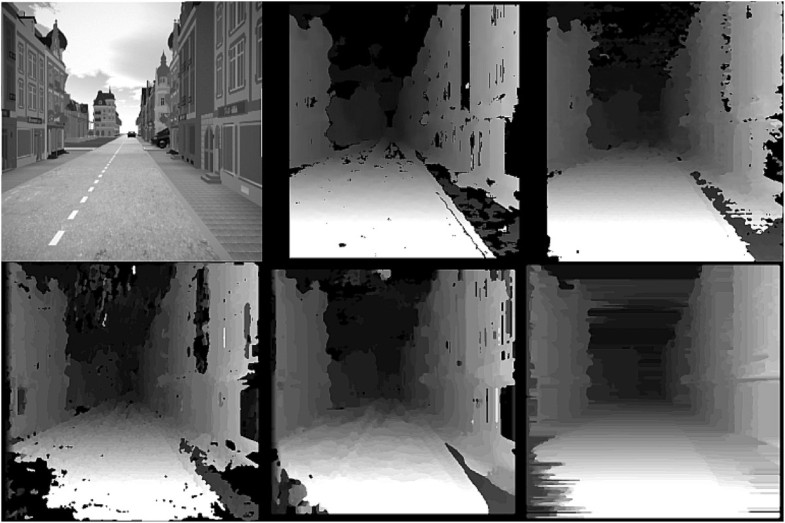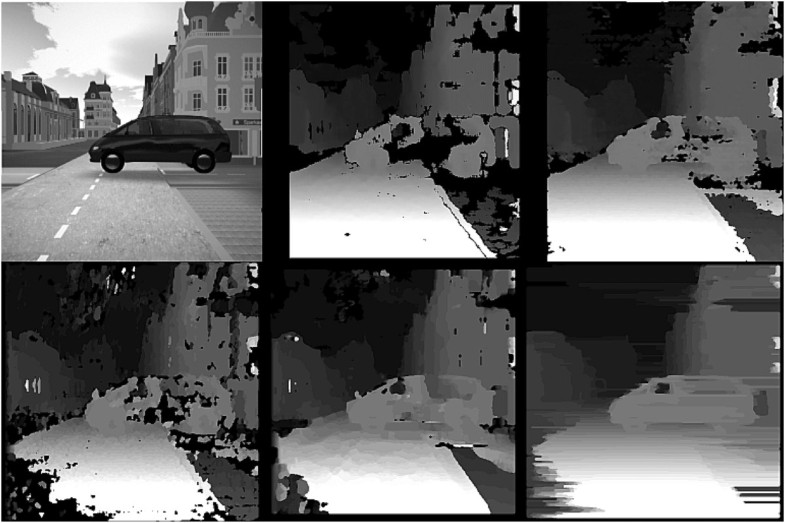 4.3 Road environment stereo data
This stereo imagery set is definitely the most challenging with a number of potential issues that affect stereo correspondence: motion blur, camera synchronization, illumination variance and low image contrast. For the purpose of this comparison study two sources of real environment data have been utilised: independent stereo imagery from the Enpeda project [9] and stereo data captured in and around Cranfield, Bedfordshire, UK for the explicit purposes of this study.
4.3.1 Enpeda project imagery
The Environment Perception and Driver Assistance (Enpeda [9]) project provides a number of different stereo data sets.
This stereo imagery contains more image noise and a significant increase in untextured scene regions that (compared to the stereo imagery of Sections 4.1 and 4.3) can be challenging to some stereo correspondence approaches. The illumination difference present in the imagery makes straightforward pixel matching challenging. However, in contrast to the stereo data from our capture (Cranfield University stereo imagery) there are no reflections visible as the stereo rig was mounted outside of the vehicle. In general the overall level of image noise is lesser than in the case of the Cranfield University stereo imagery.
4.3.2 Cranfield stereo imagery
In addition to the publicly available data sets for automotive stereo vision [
7
,
9
] local capture was also performed using a stereo rig explicitly constructed for this study. The stereo rig carrier vehicle was a Ford C-MAX saloon car (2010) (Figure
7
a). The internal view of Figure
7
b shows the internal mounting of two analogue output CCD type cameras (camera: Sony 1/3
″
HQ1 CCD / X-Vision IXC1HQDNE DSP) on the windshield using a dual camera suction mount. Despite shielding some mild windscreen reflection and illumination variance between the images was suffered. This was compensated for by the
x
-Sobel preprocessing utilised in all of the stereo approaches evaluated.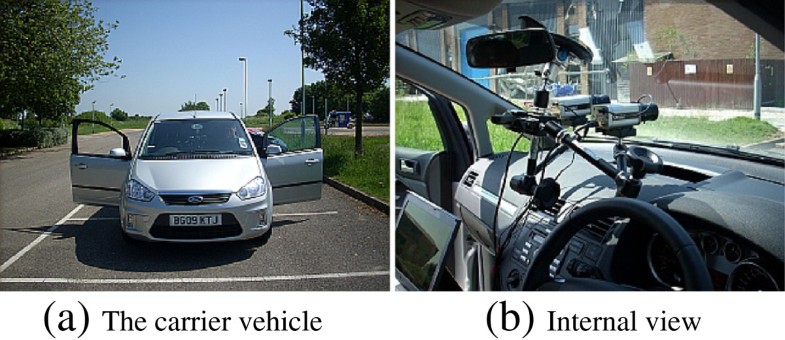 The range of stereo data captured includes environments such as the rural university campus, village and town environments as well as open road and dual carriageway (multi-lane highway).
5 Evaluation and discussion
Our evaluation, in contrast to the earlier work of [8], considers the semantic interpretation of the resulting disparity map in terms of object cohesivity, connectedness and separation within the environment.
As earlier works have shown the alternative of ground truth evaluation is limited to global statistics [8] over sparsely labelled ground truth (e.g. [11, 12]). This is inherently bias to the corrected of the (often highly textured) scene background. Here we attempt to qualitatively evaluate the ease of semantic disparity image interpretation with a bias towards the clarity and temporal stability of scene foreground objects (e.g. pedestrians/vehicles/street furniture). It is after all these which present key challenges for future driver assistance systems using stereo sensing. Qualitatively evaluating such foreground objects within such sequences is an area for future work.
As many visual comparisons of our five chosen algorithms are presented throughout this chapter as figures, we present a permanent layout key of the resulting depth maps in Table
2
. The names of the algorithms relate back to the key presented earlier in Table
1
and are numerated from one to six as per the bracketed numbers.
We present a range of Figures (Figures
8
,
9
,
5
,
6
,
10
,
11
,
12
and
13
) as appropriate stills from the sequences to illustrate our evaluation criteria and in addition a corresponding set of videos available at
http://www.cranfield.ac.uk/∼toby.breckons/demos/autostereo/
to further illustrate any temporal aspects.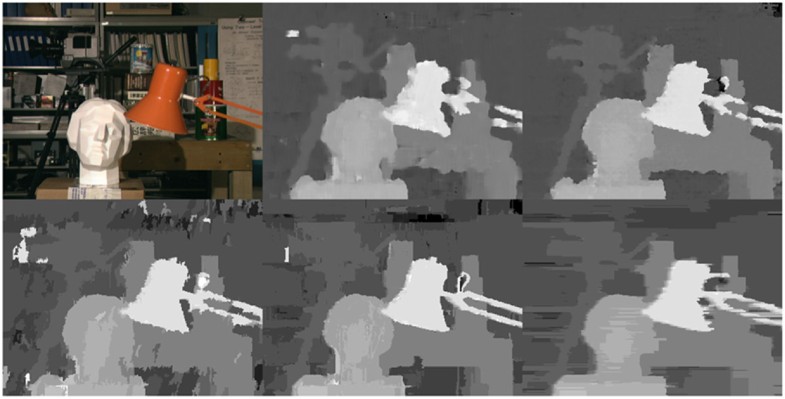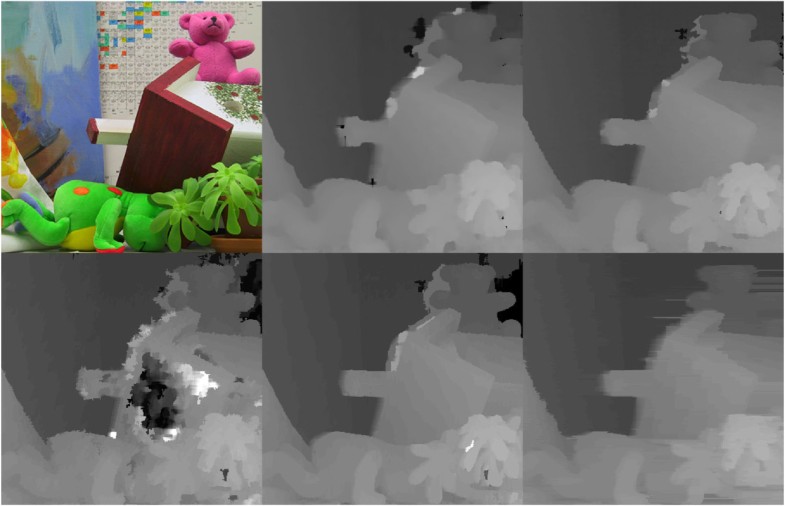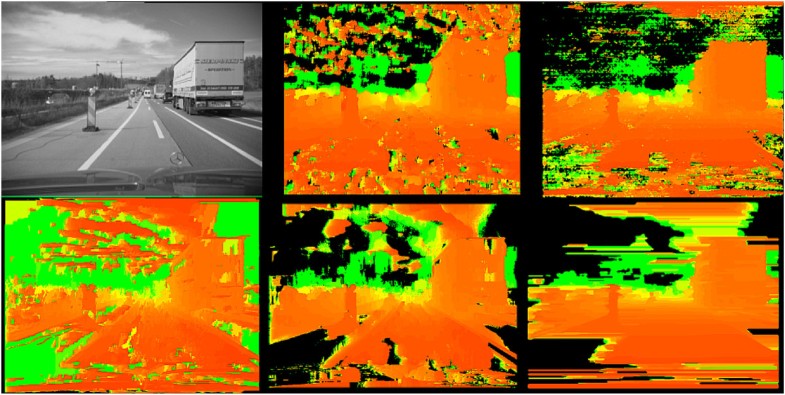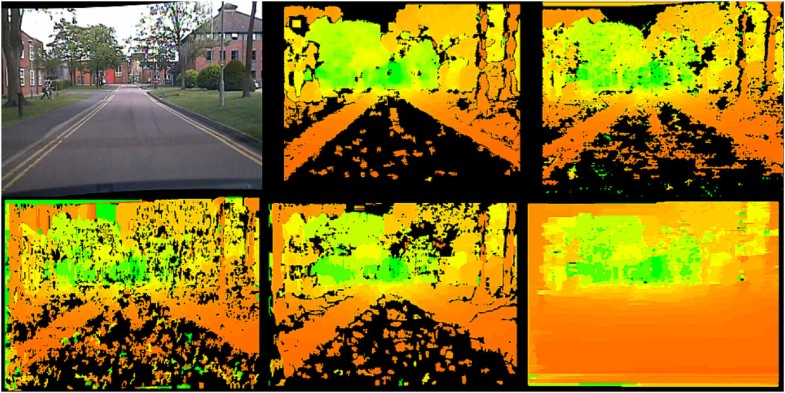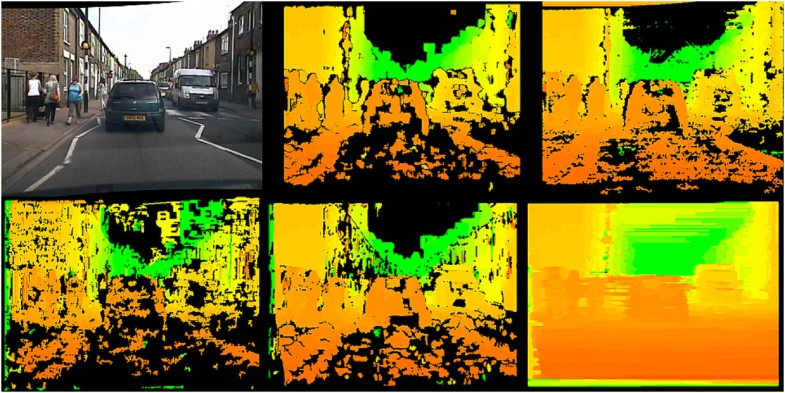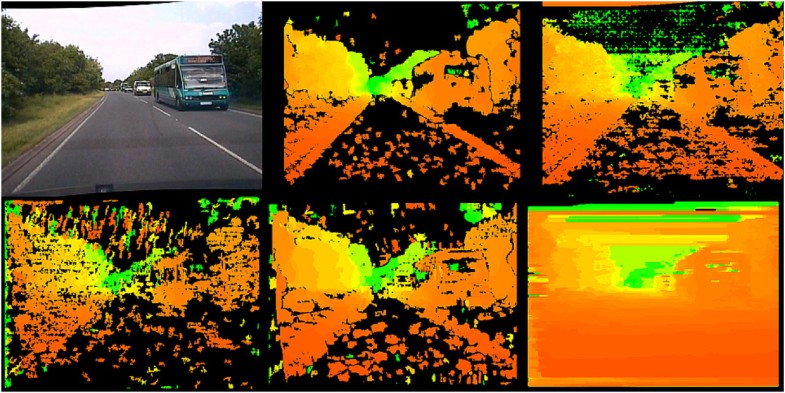 6 Conclusions
A number of important conclusions emerge from the results presented in this work. Firstly Semi Global Matching (SEMI) [2] performs the best in almost every aspect of the disparity calculation however the difference between it and much simpler and faster Block Matching (BLOCK) [1] is not substantial. Furthermore the disparity maps of all the WTA approaches [1–4] are roughly similar while in the case of the simple stereo data of Middlebury the difference was very significant. The difference that we see in all of these approaches is that the noise in automotive data makes the performance very different from the statistical comparison of the de facto Middlebury test set [6]. Furthermore, from our analysis of relative real-time performance, it is questionable as to whether the quality gain in the automotive environment from BLOCK to SEMI is worth the additional computational effort. Prior work in automotive stereo has similarly considered such algorithm comparison in statistical terms [8] alone whereas here we present an empirical study based primarily on the requirements of foreground object separation/detection requirements for use in driver assistance systems against the backdrop of required computational effort.
Overall we have clearly identified a significant difference between the laboratory condition stereo imagery results obtained on the statistical evaluation of the de facto Middlebury stereo test imagery [6], the virtual world automotive stereo imagery [7] and that achieved under real world automotive stereo conditions. This difference between laboratory test conditions and the deployment of the stereo algorithms in the real world automotive environment should be considered for stereo use in applications such as obstacle detection, vehicle guidance and driver assistance systems. Prior work on statistical evaluation methodologies [6, 8] is biased towards good performance on large scene areas (i.e. background) at the expense of important foreground objects.
Future work will investigate the inclusion of further algorithms and also consider common variations in weather conditions typical of the automotive environment in addition to quantitative methodologies for stereo algorithm evaluation that overcome the background bias identified in [6, 8].
Authors' Affiliations
(1)
School of Engineering, Cranfield University, Bedford, UK
(2)
University of Wroclaw, Wroclaw, Poland
Copyright
© Mroz and Breckon; licensee Springer. 2012
This article is published under license to BioMed Central Ltd. This is an Open Access article distributed under the terms of the Creative Commons Attribution License (http://creativecommons.org/licenses/by/2.0), which permits unrestricted use, distribution, and reproduction in any medium, provided the original work is properly cited.