Research Article

Open Access
Impairment-Factor-Based Audiovisual Quality Model for IPTV: Influence of Video Resolution, Degradation Type, and Content Type
EURASIP Journal on Image and Video Processing
2011
2011:629284
Received: 2 November 2010
Accepted: 2 March 2011
Published: 15 March 2011
Abstract
This paper presents an audiovisual quality model for IPTV services. The model estimates the audiovisual quality of standard and high definition video as perceived by the user. The model is developed for applications such as network planning and packet-layer quality monitoring. It mainly covers audio and video compression artifacts and impairments due to packet loss. The quality tests conducted for model development demonstrate a mutual influence of the perceived audio and video quality, and the predominance of the video quality for the overall audiovisual quality. The balance between audio quality and video quality, however, depends on the content, the video format, and the audio degradation type. The proposed model is based on impairment factors which quantify the quality-impact of the different degradations. The impairment factors are computed from parameters extracted from the bitstream or packet headers. For high definition video, the model predictions show a correlation with unknown subjective ratings of 95%. For comparison, we have developed a more classical audiovisual quality model which is based on the audio and video qualities and their interaction. Both quality- and impairment-factor-based models are further refined by taking the content-type into account. At last, the different model variants are compared with modeling approaches described in the literature.
Keywords
Packet LossVideo QualityMean Opinion ScoreSubjective TestAudio Quality
1. Introduction
In order to achieve a high degree of user satisfaction for current and upcoming video services like video on demand (VoD), internet protocol television (IPTV), and mobile television (MoTV), perceived quality needs to be estimated both in the network planning phase and as part of the service monitoring. Quality assessment can be achieved using audiovisual subjective tests or by instrumental methods, which yield estimates of audiovisual quality as perceived by the user. If properly conducted, quality tests with human subjects are the most valid way to assess quality, since it is about human perception. However, since subjective tests are time consuming, costly, and do not allow to assess the quality during real-time service operation, instrumental assessment methods are often preferred. Those instrumental methods are based on audiovisual quality models.
Several studies on audiovisual perception have been conducted starting in the 80s (summarized in Kohlrauch and van de Par [1]). However, the first audiovisual quality models to be found in the literature appeared as late as in the 90s. At this time, they addressed either analog degradations, such as audio and video noise—this is the case for Bellcore's [2, 3] and Beerends' models [4]—or compression artifacts, such as blockiness—this is the case for France Telecom's [5], NTIA-ITS' [6, 7], and Hands' [8] models. For an overview of audiovisual quality models covering analog and compression degradations, see [9]. The interest in modelling audiovisual quality is currently rising again, reflected, for instance, by standardization activities such as the Multimedia Phase II project of the Video Quality Expert's Group (VQEG), which intends to evaluate audiovisual quality models for multimedia applications (unfortunately, to the knowledge of the authors, no citable document describing the VQEG Multimedia Phase II has been published at the time of writing this paper). In addition, Ries et al. [10] and Winkler and Faller [11] have recently developed audiovisual quality models for mobile applications, but the reported model versions do not yet cover the effect of transmission errors. This latter point is problematic since, in the case of the time-varying degradation due to transmission errors, the impact of audio and video quality on the overall audiovisual quality as well as their interaction might differ from the case of compression artifacts. In [12], Belmudez et al. address the impact of transmission errors in addition to compression and frame rate artifacts but for interactive scenarios and small video resolutions, which is not suitable for our application. None of the above-mentioned models addresses HD video, a format for which we expect video quality to play a more important role than for smaller formats. As a consequence, we have developed a new audiovisual quality model which covers all IPTV-typical degradations—mainly audio and video compression artifacts and packet loss—and which is applicable to both SD and HD. Based on the quality perception tests conducted during model development, we have analyzed the influence of the degradation type and of the audiovisual content on the quality impact of audio and video.
For modeling audiovisual quality, we will follow a new approach in which audiovisual quality is computed from audio and video impairment factors instead of audio and video qualities, as it is done in most previous studies. The impairment factors are the quality-related counterpart of technical degradations, that is, the transformation of technical degradations onto a perceptual quality scale in terms of impairments. In the following, we will use the term "impairment-factor-based"—or "IF-based"—for the model based on impairment factors, and the term "quality-based"—or "Q-based"—for the model based on audio and video qualities. The concept of impairment factors is based on the findings by Allnatt for broadcast TV [13], yielding the assumption that certain kinds of impairment factors may be considered as additive on an appropriate (perceptual) quality rating scale. This impairment factor principle has been adopted by the so-called E-model, a parameter-based network planning quality model standardized by the ITU-T [14] for speech services. More recently, it has been used in the so-called T-V-Model developed by our group [15, 16] for predicting video quality in the case of network planning and quality monitoring of IPTV services. NTT followed a similar approach in [17], but their model has been developed for interactive multimedia services such as video telephony, yielding psychological factors not applicable in the case of IPTV, such as "feeling of activity".
The remainder of this paper is structured as follows. Section 2 details the audio, video, and audiovisual subjective tests we conducted to obtain the data the models are based on. Test results are analyzed in Section 3, and the audiovisual quality models developed using the results are presented in Section 4. In this section, the impairment-factor-based models are evaluated against both known (training) and unknown (evaluation) subjective test data, and are compared with quality-based models trained on the same subjective data. The performances of our models are compared with the performances of other quality-based models as they are reported in the literature. Finally, in Section 5 we conclude and give an outlook on future modeling steps. This paper extends the work presented in [18] by providing a deeper insight on the comparison of the models' performance, by addressing the SD resolution in addition to the HD one, by sharpening the analysis of the degradation-type impact on audiovisual quality, and by analyzing the quality impact of the audiovisual content type.
2. Experimental Design
Audio, video, and audiovisual subjective tests have been conducted using audio-only, video-only, and audiovisual sequences, respectively. The source material consists of five audiovisual contents of 16
s
duration each. Video-only and audiovisual tests were conducted separately for the two video resolutions SD and HD. The audiovisual contents are representative of different TV programs. The video contents differ in their amount of details and complexity of structures and movements, and the audio contents in terms of audio category and genre. The resulting audiovisual content types are described in Table
1
.
Table 1
Audiovisual content descriptions.
| ID | Video | Audio |
| --- | --- | --- |
| A | Movie trailer | Speech on music |
| B | Interview | Speech |
| C | Soccer | Speech on noise |
| D | Movie | Classical music |
| E | Music video | Pop music with singer |
In order to simulate typical IPTV degradations, the five source contents were processed offline according to the test conditions listed in Table
2
. This results in 49 audio test conditions for each of the five audio contents, leading to 245 audio sequences to be rated by the subjects; 36 video test conditions for each of the five video contents, leading to 180 video sequences; 49 audiovisual conditions for each of the five audiovisual contents, leading to 245 audiovisual sequences. Apart from the audio-only test, all numbers are given separately per video resolution. As it is typical of IPTV services, we have used an MPEG2-TS/RTP/UDP/IP packetization scheme. Here, seven MPEG2 transport stream (TS) packets are contained in one RTP packet, and each contains either audio or video. For our tests, multiplexing was done for the already decoded files, instead of using ecologically valid multiplexing at TS-level. Note that this choice was made to ensure that the resulting model will be valid in a variety of situations with different levels of audio and video degradations. This is especially reflected in the combinations of loss rates, where different settings have been used for audio and video.
Table 2
Test conditions used in the audio-only, video-only and audiovisual tests. CBR: constant bit rate, PLR: uniform packet loss rate, processing was done generating different loss traces; PLC: packet loss concealment.
| Parameters | Video | Audio |
| --- | --- | --- |
| Video-/audio-only test | | |
| Format | HD ( pixels) | wav (48 kHz, 16 bit, stereo) |
| | SD ( pixels) | |
| Codec | H.264; MPEG2 | MPEG-2 AAC L (aac); MPEG-1 LII (mp2) |
| | | MPEG-4 HE-AACv (heaac); MPEG-1 LIII (mp3) |
| CBR | H.264: Mbps (HD) | aac: kbps |
| | Mbps (SD) | heaac: kbps |
| | MPEG2: Mbps (HD) | mp2: kbps |
| | Mbps (SD) | mp3: kbps |
| PLR | % (freezing) | |
| | % (slicing) | codec-built-in (for details, see [19]) |
| PLC | | |
| Audiovisual test | | |
| Format | HD ( pixels) | wav (48 kHz, 16 bit, stereo) |
| | SD ( pixels) | |
| Codec | H.264 | MP2; AAC |
| CBR | Mbps (HD) | aac: 48 kbps |
| | Mbps (SD) | mp2: kbps |
| PLR | % (freezing) | |
| | % (slicing) | |
| PLC | Freezing; slicing | codec-built-in (for details, see [19]) |
Listening and viewing conditions were compliant to ITU-T Recommendation P.800 [
21
], and Recommendations ITU-R BT-500-11 [
22
] and ITU-T P.910 [
20
], respectively. To ensure that the processed, but uncompressed, material could be played out without playback artifacts, professional high-performance systems were used for audio and video presentation. Between 23 and 29 subjects participated in each test, and each subject was allowed to participate in only one test (audio, video, or audiovisual). An absolute category rating (ACR) was used for collecting subjective quality judgements. The subjects rated the quality using the continuous 11-point quality scale recommended in ITU-T Recommendations P.910 [
20
] and shown (attributes "schlecht", "dürftig", "ordentlich", "gut", and "ausgezeichnet" correspond to "bad", "poor", "fair", "good", and "excellent" in the English version of the scale) in Figure
1
. The uncompressed original audio and video were used as hidden references in the tests, but the scores for the hidden reference were not subtracted from the scores, that is, no hidden-reference removal was applied.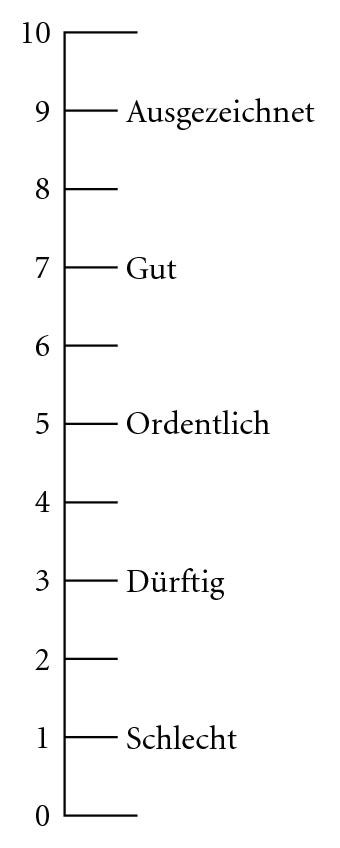 3. Subjective Test Results
For each of the five subjective tests (one audio, two video, two audiovisual), the scores were averaged over subjects, yielding mean opinion scores (MOS), were linearly transformed to the 5-point ACR MOS scale by aligning the numbers of the scales, and further transformed to the 100-point model scale using the conversion defined in ITU-T Recommendation G.107 [14].
Note that in the following, and unlike [18], we do not average the ratings across all contents but per content. This choice is motivated by two reasons: (a) the audiovisual quality model is to be applied on audiovisual sequences with various contents, and a predicted quality value per sequence is required; we thus want to capture the quality variation due to content; (b) the audiovisual quality model developed for all contents, that is, with one set of coefficients valid for all contents, is to be compared to an audiovisual quality model with different sets of coefficients for each content.
In order to have a first impression of the quality impact of audio and video on the overall audiovisual quality, we conducted a correlation analysis, correlating the audio quality

, the video quality

, and their interaction

with the audiovisual quality

(see Table
3
, column "All"). It can be observed that for both SD and HD, the interaction term is predominant (SD: correlation = 0.94; HD: correlation = 0.92). The video quality seems to have more impact on the overall audiovisual quality than the audio quality, especially for HD (SD: video correlation = 0.75, audio correlation = 0.51; HD: video correlation = 0.80, audio correlation = 0.47). This finding is expected, and it shows that the impact of video quality increases with the video format.
Moreover, the individual impact of the audio and of the video quality on the overall audiovisual quality depends on the quality of the other modality (video and audio). This is reflected by the slopes of the edges in Figure
2
: the audio quality

has a decreasing influence on the overall HD audiovisual quality

for decreasing HD video quality. In turn, the HD video quality

has a less strongly declining influence on the overall HD audiovisual quality with decreasing audio quality. Similar observations have been made for SD. Note that, for the sake of clarity, Figure
2
shows the ratings averaged over all subjects and over all contents, that is the per-condition ratings instead of the per-sequence ratings.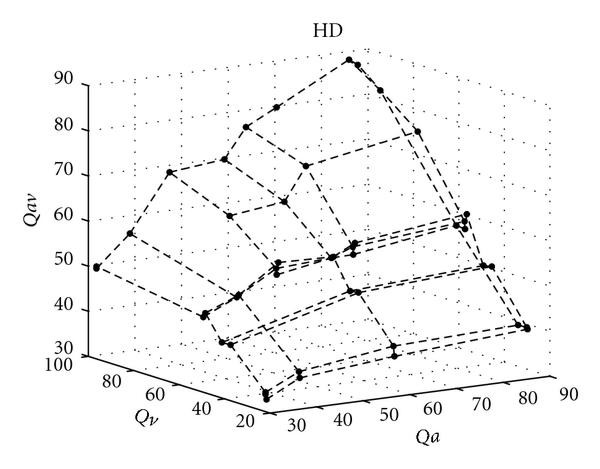 Using the results for all contents might hide that for some contents, the above statements are not valid anymore. As a consequence, we computed the same correlations as above, but used ratings per content (see Table 3, columns "A" to "E"). For the contents "A" to "D", the same observation as for "all" contents can be made. For content "E" (music video), the quality impact of audio seems to be higher than for the other contents, and closer to the quality impact of video (SD: correlation

; HD: correlation

). This observation especially applies to SD, confirming the impact of the video format.
One more aspect to be considered is how the degradation type influences the quality impact of audio and video on the overall audiovisual quality. In our case, the employed degradation types were audio and video compression, audio frame loss, and video packet loss. We want to know, for instance, if for a given level of audio and video qualities we obtain different audiovisual quality values for audio compression than for audio packet loss, even though both have resulted in the same audio-only quality in the audio test. This aspect will be discussed further in the following modeling section.
4. Modeling
From now on, we will refer to the quality impact of audio and video degradations as impairment factors. Therefore, we define
(i)
5. Conclusions and Outlooks
Based on the results of five quality perception tests, we have presented different audiovisual quality models for IPTV services for each SD and HD video resolution: a content-blind and a content-aware quality-based model, and a content-blind and a content-aware impairment-factor-based model. By definition, the content-blind models use the same set of coefficients for all contents while the content-aware models have one set of coefficients per content (see Tables 4 and 5). All models have been developed using the same subjective test data. Based on a correlation analysis of the test results (see Table 3) and the comparison of regression coefficients for different model variants, we have shown that both the audiovisual content type and the degradation type have an influence on the perceived audiovisual quality, with different effects between SD and HD.
As shown by regression analysis of our data in terms of the quality-based model, the audiovisual quality interaction plays the main role for audiovisual quality, both in case of SD and HD. However, a clear difference can be observed for the role of the video-only quality: while a nonzero coefficient was found for one content only in case of SD, all but one content lead to nonzero coefficients for video-only quality in the case of HD. Obviously, the video part has more importance in this case.
The advantage of an impairment-factor-based rather than a quality-based approach could be substantiated by our regression analysis for both SD and HD, mainly due to the more fine-grained inclusion of audio: while audiovisual quality was not found to be dependent on the degradation type for video, it was shown to be more affected by audio frame loss than by audio coding, in spite of the equal role of the two degradation types for audio-only quality. This difference is assumed to be due to the video-only-like perception mode in an audiovisual context, where the users' attention is explicitly drawn to the audio quality only when transient events such as loss events occur.
These findings are directly linked with the performance of the respective models: the SD and HD content-blind impairment-factor-based models perform better than the other models on unknown data with, for HD, a Pearson correlation of 0.95 and an rmse of 0.57 on the 11-point scale used in the subjective tests. Both impairment-factor-based variants perform better than the quality-based variants, and they provide a more fine-grained diagnosis of the audiovisual quality.
However, the proposed models have some limitations: when the audio and video qualities and impairment factors are predicted from audio and video quality models, the impairment-factor-based variants are less robust to audio and video quality prediction errors than the quality-based variants. More studies are necessary for identifying the thresholds of audio and video quality prediction errors at which the impairment-factor-based variants start to perform worse than the quality-based variants.
The main limitation may, however, be the fact that content-dependent models also require content-specific datasets from which they are derived. Of course the question arises at what point of specificity to stop to avoid overfitting of the models and to cease the otherwise neverending task of subjective tests. We tried to overcome this limitation by focussing on the content types that so far appear to be the most popular ones broadcasted via IPTV: movies, sports, music videos, and so forth. With regard to video quality degradation type, we would like to differentiate slicing and freezing for the interaction between video and audio qualities. At last, more analyses are necessary for extending the audio- and video-model components to more diverse degradations such as other loss distributions, video and audio encoder and decoder settings, and the audiovisual model to audiovisual synchronization artifacts. Since the impairment-factor-based approach was developed for a range of coding and loss settings, however, it is expected that it will be applicable to many of these cases as well.
Authors' Affiliations
(1)
Deutsche Telekom Laboratories, Berlin Institute of Technology, Berlin, Germany
Copyright
© M. N. Garcia et al. 2011
This article is published under license to BioMed Central Ltd. This is an open access article distributed under the Creative Commons Attribution License, which permits unrestricted use, distribution, and reproduction in any medium, provided the original work is properly cited.