Research Article
Open Access
Design and Optimization of the VideoWeb Wireless Camera Network
EURASIP Journal on Image and Video Processing
2010
2010:865803
Received: 2 January 2010
Accepted: 16 August 2010
Published: 18 August 2010
Abstract
Sensor networks have been a very active area of research in recent years. However, most of the sensors used in the development of these networks have been local and nonimaging sensors such as acoustics, seismic, vibration, temperature, humidity. The emerging development of video sensor networks poses its own set of unique challenges, including high-bandwidth and low latency requirements for real-time processing and control. This paper presents a systematic approach by detailing the design, implementation, and evaluation of a large-scale wireless camera network, suitable for a variety of practical real-time applications. We take into consideration issues related to hardware, software, control, architecture, network connectivity, performance evaluation, and data-processing strategies for the network. We also perform multiobjective optimization on settings such as video resolution and compression quality to provide insight into the performance trade-offs when configuring such a network and present lessons learned in the building and daily usage of the network.
Keywords
Face RecognitionMultiobjective OptimizationVideo StreamCamera NetworkWireless Router
1. Introduction
We describe the design and development of a new laboratory called VideoWeb to facilitate research in processing and understanding video in a wireless environment. While research into large-scale sensor networks has been carried out for various applications, the idea of massive video sensor networks consisting of cameras connected over a wireless network is largely new and relatively unexplored. The VideoWeb laboratory entails constructing a robust network architecture for a large number of components, including cameras, wireless routers and bridges, and video-processing servers. Hardware and equipment selection needs to take into account a number of factors, including durability, performance, and cost. In addition, VideoWeb requires a number of software applications including those for data recording, video analysis, camera control, event recognition, anomaly detection, and an integrated user interface.
Challenges for the design of VideoWeb include creating a wireless network robust enough to simultaneously support dozens of high-bandwidth video cameras at their peak performance, providing power and connectivity to cameras, building a server farm capable of processing all the streaming data in realtime, implementing a low-latency control structure for camera and server control, and designing algorithms capable of realtime processing of video data.
The paper is organized as follows. In Section 2, we cover related work and contributions of this paper. Section 3 discusses the requirements and specifications used in designing the system and discusses the technical challenges and solutions for actual implementation. Section 4 delves into the performance metrics used to evaluate the system. Section 5 concludes with closing comments and lessons.
2. Related Work and Contributions
Many wireless camera platforms have been proposed [1–3], and emerging research in the design of wireless camera networks includes those with customized camera hardware nodes (e.g., CITRIC [4], eCAM [5]) including iMote2 and WiCa-based networks [6, 7], as well as networks with carefully-calibrated cameras [8].
This paper makes the following contributions.
(1)

We expand upon [9] by exhaustively detailing the design considerations made in building the VideoWeb wireless network in order to provide a general guideline for those looking to build their own network. We also discuss lessons learned from building and using the VideoWeb network so that others may benefit from our experience.

(2)

We make the case for IP cameras and server-side processing by designing and implementing a system utilizing network cameras running on a softwarereconfigurable server and network architecture. While we use conventional IP cameras without on-board camera processing, the configuration of the server-side processing is user-configurable and allows on-the-fly changes such as going from tiered-processing (e.g., low-level processing servers do object detection and send silhouettes to mid-level processors which generate object signatures and broadcast to high-level servers) to 1-to-1 camera-to-server processing which simulates the behavior of on-camera processing networks.

(3)

We describe performance metrics on which to evaluate a video network's performance and show how multiobjective optimization can be used in order to discover Pareto-efficient settings for configuring the network.
3. Building a Camera Network
4. Experiments for Performance Characterization and Optimization of the Video Network
4.1. Measurement Software
Software that comes with most IP cameras ranges from small camera control programs to full surveillance station applications. However, even the most expensive or sophisticated of these vendor applications can be unsuitable since they are usually targeted toward security applications and recording, playback, and camera control are often their sole function. Evaluating performance using these applications is subjective and raises the need for our own statistic-recording implementation.
A custom program was written to fulfill this function. Given an IP address and port number, the application proceeds to
(1)

establish a connection with the camera

(2)

attempt to download the M-JPEG video stream

(3)

parse the stream into individual JPEG frames

(4)

record realtime statistics about the stream.
The program records a number of statistics and measurements including bandwidth, shortest lag between two frames, and the average, minimum, and maximum amount of bandwidth required for each frame. The implementation is in C++ and uses the generic control framework written earlier.
4.2. Optimizing Camera Configuration
Depending on the task or application, there are numerous "optimal" ways to configure a network. For instance, maximizing video resolution and quality may be paramount for biometrics, particularly in face recognition where a large number of pixels on the face is beneficial to identifying features. Surveillance and alarm systems, on the other hand, may find reliability more important. For instance, it may be more important that every moment is recorded with minimal skipping (not only for evidence in the event of an incident, but also because security applications often employ vision-based motion detection). Object tracking in turn, may benefit most by sacrificing resolution in exchange for a high sustained frame rate.
Configuring the network may consist of changing camera parameters (e.g., resolution, compression) as well as physical network parameters (e.g., number of cameras per bridge, number of bridges per router, number of routers per square foot). The later is helpful in introducing a metric for minimizing labor and monetary cost. We define 5 metrics for measuring camera network performance, the first two of which are used as configuration parameters.
(1)

Resolution (in pixels). This measures the size of each video frame in pixels (the higher, the better). This parameter consists of 4 levels on the Axis cameras (704 480, 704 240, 352 240, and 176 120).

(2)

Video Compression. This parameter represents the amount of lossy video compression applied to the video by the camera. For M-JPEG streams on the Axis cameras, this represents JPEG compression and ranges from 0 to 100 (the lower, the better). In our experiments, we test 5 of these levels (0, 20, 30, 60, and 100).

(3)

Average Frame Rate (in frames per second). This measures the number of complete frames received per second, averaged over the duration of a measurement trial (the higher, the better). The frame rate may range from 0 to a maximum frame rate of 30 on the Axis cameras.

(4)

Standard Deviation of Frame Rate: This measures the consistency of the video. For instance, there may be two video streams both 20 frames per second each, but the first may output a constant 20 frames per second while the second video may be sporadic and go from 30 to 0 to 10, back to 30 and so forth (but still average to 20 in the end). This metric is useful in evaluating the stability of the video (the lower the deviation, the better) and is measured by recording the delay between every two frames (in seconds with millisecond resolution) and calculating the standard deviation.

(5)

Longest Lag Time between Two Complete Frames (in milliseconds). This metric records the longest amount of time taken between any two consecutive frames (the lower, the better). This is insightful for evaluating a video stream's reliability (that is, it measures the longest amount of time a camera is "blind"). In addition to a depressed frame rate, this may be attributed to dropped/partial frames by the camera or data corruption/dropped packets undergone during transit.
4.3. Multiobjective Optimization Using Pareto Efficiency
We use the concept of Pareto efficiency to define which configuration of parameters is "better" than another. While this does not always tell a user which configuration should be used for a particular application, it serves to reduce the large number of possible configurations by showing which of those are usually "inferior"; a user only has to consider a configuration from the (potentially) much smaller Pareto set rather than every possible combination.
4.3.1. Inferiority and Noninferiority
Let

be a vector of measurements of certain metrics for a camera and let

be another trial of measurements on the same camera, but under a different parameter configuration.

is said to be inferior to

if and only if
"Outperforms" is metric specific and means "greater than" or "less than" depending on how the metric is defined (e.g., a higher frame rate outperforms a lower frame rate and a lower lag outperforms a longer lag).

is said to be superior to or dominates

if

is inferior to

. Finally,

and

are both said to be non-inferior if neither is superior nor inferior to one another.
In order for a measurement

to be Pareto-efficient (amongst a set), it must be non-inferior to every other measurement in that set. That is, it possesses at least one advantage over every other measurement when compared one-on-one (e.g.,

has higher frame rate against

, lower lag against

higher resolution than

). The Pareto set is the set of all Pareto-efficient measurements and ideally, allows a user to discard a large percentage of inferior parameter configurations from consideration when setting the cameras.
4.3.2. Data Collection
Data collection consists of varying the resolution and compression parameters and recording the measurements from 37 cameras. In total, we iterate through 4 resolutions (704

480, 704

240, 352

240, and 176

120) and 5 levels of compression (0, 20, 30, 60, and 100) each. Five measurement trials are captured for each of the 37 cameras per configuration (100 trials total per camera). Each trial consists of streaming from the camera for 600 frames or up to 2 minutes (whichever comes first).
Camera footage is tested at 5 various points in the day across all cameras. This exposes the data to a variety of video footage ranging from bright open areas with upwards of 20 moving people in the scene, to dark and grainy footage of cameras monitoring lonely halls.
After data collection is completed, each camera is optimized individually to minimize camera, bridge, or router bias. This is done in O(

) via exhaustive search (where

is the number of trials to compare), comparing each measurement to every other measurement on the same camera. With 20 configurations and 5 trials per configuration, each camera produces a symmetric 100

100 matrix. The resolution/compression pairs which result in the Pareto-efficient measurements for each camera are later aggregated against the entire network.
4.4. Evaluation Results
After over 100 hours of data collection at varying times of day across two weeks, the Pareto sets for all 37 cameras are calculated (see Figure
6
for sample matrices of 8 cameras). Considering only configurations in the Pareto sets eliminates (on average) approximately half of the tested configurations as inferior and redundant.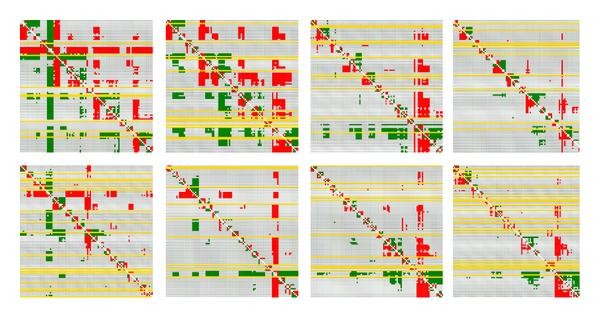 After aggregating the resolution/compression parameters of the Pareto sets for the entire camera network, we found that, surprisingly,
every
configuration tested was in the Pareto set for at least one camera. This suggests that there is no global network-wide consensus that any camera configuration is inferior to any other; every (tested) setting was Pareto efficient for at least some camera. Calculating the percentages of the Pareto set memberships, however, reveals that the cameras tend to exhibit a "preference" for certain configurations over others (see Figure
7
). This is in line with the previous observation that roughly half of the tested configurations are not preferred (less than a majority agreement between the cameras). It is not surprising to see higher percentages on configurations with either the maximum resolution or minimal compression since they already optimize at least one metric by definition. However, configurations such as 176

120/60% and 704

240/20% reveal local optimum which is potentially very useful for some practical applications of the video network. Using a more fine-tuned set of compression levels, we would likely be able to find more such points, aiding in the creation of a useful set of presets for specialized applications.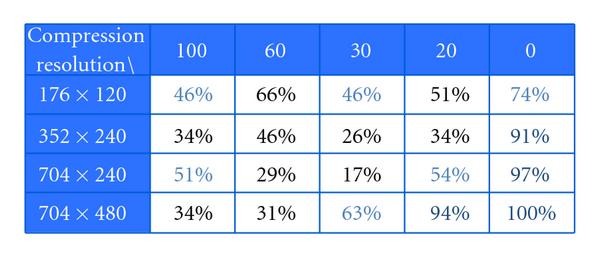 In order to evaluate the relative performance of the configurations, the measurements for each camera are normalized across all measurements on the same camera and then averaged on a per-configuration basis across all cameras using the same configuration. Figure
8
shows the relative performance of the top 8 configurations for the entire network. Intuitively, increasing either the resolution or decreasing the compression (resulting in higher bandwidth) has the effect of a reducing the frame rate, producing a more discontinuous video stream, and increasing maximum lag time. These top configurations can then be considered as candidates for a number of applications or environments. The max resolution/0 compression configuration in Figure
8(a)
, for instance, may be a good candidate for face recognition (so long as fast frame rate is not required), while face reconstruction may favor the max resolution/20% compression in Figure
8(c)
due to its substantial increase in frame rate. An alternative approach to this general network optimization, however, is to optimize specifically for certain tasks.

4.5. Task-Based Optimization
Instead of conducting exhaustive tests to find Pareto-efficient configurations, the presented multiobjective approach can also be used to optimize network parameters for specific applications or tasks. This can be done in much the same way as with the other performance metrics quantifying application-specific performance (e.g., face detection rate, smoothness of tracked objects trajectories) and adding them to the multiobjective metrics. Optimizing the network for face recognition at an airport, for instance, may be done by performing the same Pareto-efficiency tests on the precision and recall rates returned by a face recognition algorithm. In order to take advantage of the video produced across all the network configurations, it is recommended to record the streams during testing so that tasks which can be performed off-line can be optimized with greater flexibility (e.g., a face recognition algorithm can be continuously tuned and repeatedly tested against the dataset without actually having to reconfigure the network). Tasks such as continuous PTZ tracking on the other hand, would have to be performed alongside the live data streaming.
5. Conclusions
We have designed an softwarereconfigurable architecture for a wireless network of a large number of video cameras and implemented a working system by building the servers, installing the cameras, writing the software, and configuring the network to support it. Further, we gained insight into configuring the network's cameras by defining a set of metrics and discovering Pareto-efficient camera configurations by performing multiobjective optimization on a large volume of real data recorded by the system.
The idea persists that if one has a camera network with 30 FPS cameras, one will be able to obtain the said 30 frames per second regardless of network configuration or parameters. Though this may be true in a controlled test environment, the performance expectation should not be so optimistic for real-world wireless implementations. Even using the most preferred Pareto-efficient configurations on a non-congested network, it is shown that frame rates will most certainly suffer and that trade-offs must be made.
During a large workshop hosted in the building, however, it was observed that frame rates of the cameras would periodically drop and we later found that these drops coincided with breaks given during the workshop. Suspicious that a number of open and local 802.11g networks may be congesting our network, a cluster of bridges were upgraded from 802.11g to 802.11n. In daily usage, frame rates were seen to reach up to 20 FPS for even the most bandwidth-intensive configurations (such as 704

480 resolution with 0% compression) where they were previously achieving typically only 3 FPS (even when other bridges in the network were not in use). While this makes a case for upgrading to 802.11n, this also suggests that network congestion from other networks may play a large role in frame rates and that networks may wish to operate in a dedicated frequency range.
In situations when even hardware upgrades can still not achieve sufficient performance, however, we would like to emphasize that partial data is still important. Rather than having algorithms which assume that the data consists entirely of complete video frames (and are only capable of processing such frames), realtime computer vision algorithms should take advantage of as much information as is available to them; the constant stream of partial frames which may only be missing the last few rows of data can still be tremendously useful for a number of applications.
Declarations
Acknowledgments
This work was supported in part by NSF grants 0551741, 0622176, 0905671, and ONR grants N00014-07-0311, N00014-07-1-0931.
Authors' Affiliations
(1)
Center for Research in Intelligent Systems, University of California, Riverside, USA
Copyright
© Hoang Thanh Nguyen et al. 2010
This article is published under license to BioMed Central Ltd. This is an open access article distributed under the Creative Commons Attribution License, which permits unrestricted use, distribution, and reproduction in any medium, provided the original work is properly cited.