Restoration of online video ferrography images for out-of-focus degradations
EURASIP Journal on Image and Video Processing
2018
2018:31
Received: 24 August 2017
Accepted: 24 April 2018
Published: 9 May 2018
Abstract
Ferrography is a technology that can be applied in inspecting features of wear particles in machines and inferring their health status. With the development of online ferrography, which employs image processing to captured wear particle images, the inspection process has become automatic. However, it is found that images captured often contain out-of-focus degradations and low brightness. A restoration framework is here proposed to mitigate this problem. The main idea is to extract object edges, magnify with a non-linear gain factor, then combine with the input image to produce an enhanced image to facilitate further analysis. Parameters adopted in the process are optimized using a metaheuristic search where the image information content and brightness are maximized. Experimental results, obtained from processing real-world wear particle images in lubricant circuits, have shown qualitative and quantitative improvements over the input images.
Keywords
Online video ferrographyWear particle inspectionOut-of-focus restorationObject edge extractionNon-linear amplification
1 Introduction
Modern machines are being built with increasing complexity and growing cost. It becomes a general expectation that these machines can operate in an extended lifespan with a low percentage of outage time. Thus, it is in high demand that machine health condition is monitored and maintenance downtime is scheduled only when it is necessary. In order to fulfill these conflicting demands, accurate and online prediction of machine status is required.
It is often observed that machine faults are developed firstly through a graduate performance deterioration stage and then accelerate to a catastrophic stage. During the deterioration stage, machine components tend to wear out and wear particles are produced. Hence, it is possible to infer the machine health state from inspecting features of wear particles. This idea had led to the development of ferrography [1, 2].
Because wear particle sizes are small, it is a challenging task to isolate and examine an individual particle. In practice, wear particles flowing in the machine lubrication circuit are inspected [3, 4]. In its early development, ferrography relies on manually extracting an oil sample containing wear particles and placing them under a microscope to observe the shapes of particles under test [5, 6]. In addition, the amount and concentration of particles can be found to infer the machine health condition. Alternatively, particles may be separated by applying magnetization, but this method can only be used for metallic wear elements [7]. On the other hand, the use of electrostatics is a possible alternative [8]. These processes, although had been successfully implemented, are time consuming, and the assessment may be subjective. Automatic operation and systematic assessment procedures are therefore more desirable.
In order to make ferrography analysis automatic, online video ferrography (OLVF) systems had been developed [9]. This methodology uses a magnifying microscope and a camera to capture online videos of wear particles flowing in a short transparent length of the lubrication circuit. The captured images, which build the video, contain a large amount of wear particle information, for instance, color can be used to classify the degree of oxidation [10, 11]. The use of online video ferrography has some practical difficulties; signal and image processing routines are needed to enhance wear particle images. In this regard, wavelet transformation had been employed for engine wear monitoring [12]. When it is required to examine the characteristics of wear particles, segmentation [13], morphology [14], multi-view processing [15], three-dimensional reconstruction [16], object detection [17], and artificial intelligence [18] techniques are required.
Due to the influence of lubrication oil color and low transparency, OLVF images often possess low contrast (see [13, 19] and the images therein). Moreover, because of the fact that wear particles move randomly through the lubricant circuit, out-of-focus problems are encountered. Irrespective of the types of subsequent processes, it is a basic requirement that the captured wear particle images should be of high quality. These include high information content, sufficient separation of particles from the background, and be free of noise contamination [20]. One of the conventional approaches to produce high-quality images is to perform histogram equalization on pixel intensities [21]. The use of iterative methods, gamma correction, and homomorphic filtering has also been an attractive approach [22–24]. When the captured image has a poor quality, more sophisticated techniques need to be employed. For example, histogram equalization can be modified to operate independently on the dark and bright regions in the image [25, 26]. Other than these methods, non-linear transfer function-based mapping of input to output intensities can provide an increase in image contrast and remove uneven brightness distribution [27, 28]. Within the category of non-linear function mapping methods, the use of gamma correction as a power-law correction of intensities is a popular approach to enhance an image [29, 30]. In order to remove uneven illuminations, the multi-scale Retinex method can be applied globally or locally on the image [31–33]. When it is required to expose wear particles from its backgrounds in OLVF images, techniques based on extracting and magnifying object edges can be used [34, 35].
With the aim to solve the out-of-focus and low brightness problems in OLVF images, a restoration framework called online video ferrography out-of-focus restoration (OLVFOFR) is developed. Given the captured images from an OLVF device, wear particle edges are first extracted using a Laplacian high-pass filter. Then, using a power-law function, a gain profile is generated based on the pixel coordinate distance to the image center. This gain profile is further shifted and scaled in magnitude and then multiplied with the high-pass filter output. This product is passed to a magnitude clipper and finally produces the enhanced image. Parameters used in the process are obtained by the particle swarm optimization algorithm, ensuring that the output image contains sufficient contrast and brightness.
The rest of this paper is organized as follows. In Section 2, the development of the proposed restoration process is presented in detail. Experiments are described in Section 3, results are analyzed and discussions are given in the same section. A conclusion is drawn in Section 4.
2 Methods
A block diagram of the proposed OLVFOFR process is depicted in Fig.
1
. It contains two signal paths. One path is for the red-green-blue (RGB) color channels and the other for object extraction using the grayscale image. A feedback loop is incorporated to optimize the process parameters. Details of each functional block are presented in the following subsections.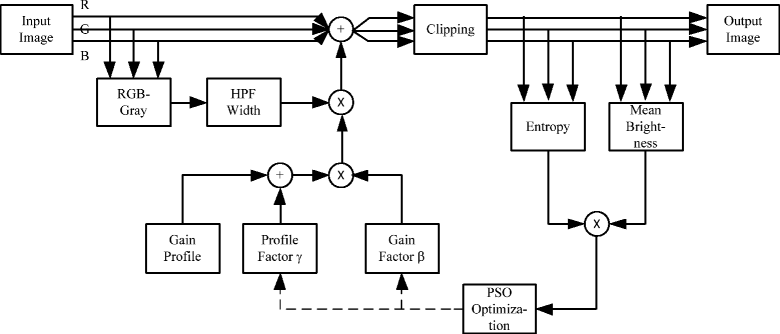 3 Results and discussion
Experiments were conducted using a collection of 100 test images obtained from an online video ferrography device [14, 15]. Various types of wear particles were inserted in a lubrication circuit and driven through a transparent channel where the camera was mounted. The images were stored in the 8-bit BMP red-green-blue color format and sized to 360 × 480 pixels height-by-width. The restoration process was carried out on a PC running the 64-bit Windows 7 OS, and the associated software program was developed on the Matlab 2016b platform.
The proposed method is compared qualitatively and quantitatively against popular image enhancement approaches. These include smoothed histogram equalization (SMHEQ) [21], adaptive image enhancement based on bi-histogram equalization (AIEBHE) [25], non-linear transfer function local approach (NTFLA) [27], adaptive gamma correction and cumulative intensity distribution (AGCCID) [29], adaptive multi-scale Retinex for image contrast enhancement (AMRICE) [31], and intensity- and edge-based adaptive unsharp masking (IEAUM) [34].
4 Conclusions
An image processing procedure OLVFOFR, for the restoration of online video ferrography images against out-of-focus degradations, has been presented. The algorithm first extracts wear particle edges appearing in the image and then amplifies them in accordance to the optimum scale and shift profile that is generated depending on the pixel distance to the image center. The enhanced image is obtained by combining the amplified edges with the original image. Out-of-range pixel magnitudes are compressed using a hyperbolic function and further normalized to within the permitted magnitude bounds. Results have shown that the enhanced images are free of viewing artifacts, having even background illuminations and enhanced exposure of wear particles. These desirable characteristics are essential in online video ferrography analysis. From the test of a large number of real-world images, it is also found that optimal algorithmic parameters rest on closed ranges, and these values can be applied directly in the proposed algorithm for more efficient implementation.
Abbreviations
AGCCID:

Adaptive gamma correction and cumulative intensity distribution
AIEBHE:

Adaptive image enhancement based on bi-histogram equalization
AMRICE:

Adaptive multi-scale Retinex for image contrast enhancement
IEAUM:

Intensity- and edge-based adaptive unsharp masking
NTFLA:

Non-linear transfer function local approach
PSO:

Particle swarm optimization
OLVF:

Online video ferrography
OLVFOFR:

Online video ferrography out-of-focus restoration
RGB:

Red-green-blue
SMHEQ:

Smoothed histogram equalization
Declarations
Funding
Financial support of this work is provided by the National Natural Science Foundation of China (NSFC) under grant numbers 51405385 and 51775406 and Shaanxi National Science Foundation of China (no. 2017JM5095).
Authors' contributions
WX conceived the idea, developed the method, and conducted the experiment. WX, TW, KY, XY, XJ, and NK were involved in the extensive discussions and evaluations and read and approved the final manuscript.
Ethics approval and consent to participate
Not applicable.
Competing interests
The authors declare that they have no competing interests.
Publisher's Note
Springer Nature remains neutral with regard to jurisdictional claims in published maps and institutional affiliations.
Open Access This article is distributed under the terms of the Creative Commons Attribution 4.0 International License (http://creativecommons.org/licenses/by/4.0/), which permits unrestricted use, distribution, and reproduction in any medium, provided you give appropriate credit to the original author(s) and the source, provide a link to the Creative Commons license, and indicate if changes were made.
Authors' Affiliations
(1)
School of Mechanical Engineering, Xi'an Shiyou University, Xi'an, Shaanxi, China
(2)
Key Laboratory of Education Ministry for Modern Design and Rotor-Bearing System, Xi'an Jiaotong University, Xi'an, Shaanxi, China
(3)
Nanjing Jinling Petrochemical Engineering Co., Ltd., Jiangsu, China
(4)
Key Laboratory of Electronic Equipment Structural Design, Xidian University, Xi'an, Shaanxi, China
(5)
School of Mechanical and Manufacturing Engineering, The University of New South Wales, Sydney, Australia