2D and 3D analysis of animal locomotion from biplanar X-ray videos using augmented active appearance models
EURASIP Journal on Image and Video Processing
2013
2013:45
Received: 31 January 2013
Accepted: 31 July 2013
Published: 12 August 2013
Abstract
For many fundamental problems and applications in biomechanics, biology, and robotics, an in-depth understanding of animal locomotion is essential. To analyze the locomotion of animals, high-speed X-ray videos are recorded, in which anatomical landmarks of the locomotor system are of main interest and must be located. To date, several thousand sequences have been recorded, which makes a manual annotation of all landmarks practically impossible. Therefore, an automatization of X-ray landmark tracking in locomotion scenarios is worthwhile. However, tracking all landmarks of interest is a very challenging task, as severe self-occlusions of the animal and low contrast are present in the images due to the X-ray modality. For this reason, existing approaches are currently only applicable for very specific subsets of anatomical landmarks. In contrast, our goal is to present a holistic approach which models all anatomical landmarks in one consistent, probabilistic framework. While active appearance models (AAMs) provide a reasonable global modeling framework, they yield poor fitting results when applied on the full set of landmarks. In this paper, we propose to augment the AAM fitting process by imposing constraints from various sources. We derive a general probabilistic fitting approach and show how results of subset AAMs, local tracking, anatomical knowledge, and epipolar constraints can be included. The evaluation of our approach is based on 32 real-world datasets of five bird species which contain 175,942 ground-truth landmark positions provided by human experts. We show that our method clearly outperforms standard AAM fitting and provides reasonable tracking results for all landmark types. In addition, we show that the tracking accuracy of our approach is even sufficient to provide reliable three-dimensional landmark estimates for calibrated datasets.
Keywords
Active appearance modelsX-ray videographyLandmark trackingAnimal locomotion analysis
1 Introduction
For many fundamental problems of ongoing research in biomechanics, zoology, evolutionary biology, and robotics, the key element is a thorough knowledge on animal locomotion [
1
–
8
]. Ideally, this knowledge is obtained by analyzing skeletal movements of locomoting animals. While many methods have been developed over time, the state-of-the-art approach for obtaining noninvasive
in vivo
measurements of the locomotor system is biplanar X-ray videography. In contrast to reflective marker-based methods, it allows for unobstructed observations at an unrivaled accuracy [
5
]. In general, the animal to be analyzed is placed on a treadmill and filmed from a side camera view (
lateral
camera) and a top camera view (
dorsoventral
camera) at a very high frequency, usually 1,000 frames per second. A typical experimental setup is shown in Figure
1
.

For an evaluation of acquired data, anatomical landmarks - usually skeletal joints of the locomotor system such as hip joints, knee joints, intertarsal joints, and phalangeal joints [6, 7] - have to be located in the images. Most evaluations to date solely rely on human experts (e.g., [5, 6]), which is an extremely time-consuming process and complicates the realization of large-scale studies. An automation of this process would therefore greatly benefit research in the aforementioned areas [9]. However, as almost all parts of an animal's skeletal system undergo severe self-occlusions during locomotion (cf. Figure 1), developing fully automatic tracking methods for this application is a challenging task.
In this paper, we address the issue of landmark tracking in X-ray sequences of grounded locomotion of birds. We present a novel method which, unlike previous approaches, is able to track all landmarks used in locomotion analysis and can overcome many other practically relevant drawbacks of existing methods (see Subsection 1.2) using a unified, consistent, and probabilistic framework that combines the complementing paradigms of model-driven and data-driven tracking.
1.1 Related work
For very simple scenarios of locomotion analysis, straightforward tracking approaches such as template matching can be applied [9]. Due to severe occlusions, however, template matching and a variety of other standard methods such as optical flow/KLT and its extensions [10–12], region tracking [13, 14], and SIFT-based tracking [15] were proven to be unsuited for X-ray analyses in the challenging scenario at hand [16, 17]. A more advanced approach for skeletal tracking is based on image registration between recorded X-ray images and backprojected CT scans [3, 18, 19]. However, in most cases this method is only feasible for medical applications, as a full CT scan is necessary for each subject to be analyzed.
An alternative, completely data-driven approach for robust template tracking in X-ray sequences was recently proposed in [16]. As standard template tracking fails due to the severe occlusions, the idea is to divide the template to be tracked into certain sub-templates. For each frame, all sub-templates are matched to the target image individually, and the results of these sub-templates are then merged to obtain one consistent parameter transformation for the whole template. The important difference between [16] and existing sub-template-based approaches such as [20–22] lies in the fusion of sub-template results. While previous approaches employ a hard decision between occluded and non-occluded sub-templates, the authors in [16] use a soft decision which exploits special properties of X-ray images. It has proven to be well suited for X-ray bone tracking under moderate occlusions (e.g., for the lower leg landmarks in the side view) [16]. However, due to its data-driven nature, landmarks undergoing severe occlusions (landmarks occluded by the torso, e.g., knee landmarks of the side view or feet landmarks of the top view, cf. Figure 1) cannot be handled.
To overcome such problems of data-driven approaches, model-driven methods generally are able to estimate landmark positions - even for total occlusions - by using global context. One prominent example of global models are active appearance models (AAMs) [23–25]. Besides many applications for human face modeling (e.g., [24, 26, 27]) and medical image analysis (e.g., [28, 29]), AAMs have also been successfully applied to landmark tracking in X-ray locomotion scenarios [17, 30]. One major problem in our scenario, however, is that the movement of the animals often is very complex. As a result, especially for the lower legs, landmark configurations during locomotion substantially differ from the mean landmark configuration, i.e., the motions are non-stationary [31, 32]. As discussed in [31] and [33], this situation drastically complicates the fitting of AAM-like models. Besides the non-stationary motion, another major problem is the non-discriminative texture information of the lower leg landmarks (cf. landmarks 12 to 15 and 19 to 22 in Figure 1b), which additionally complicates the fitting process of AAMs. Thus, the aforementioned standard AAM-based approaches only work when neglecting the set of non-stationary landmarks, as in [17, 30, 34].
To combine the benefits of data-driven and model-driven methods, several hybrid models were developed over time. One straightforward example are combined local models [35], where the shape is modeled globally, as for AAMs, but the texture is modeled locally around each landmark. A recently proposed probabilistic example of this approach are discriminative Bayesian active shape models [36], where many local detectors are used to estimate a global landmark configuration. Both approaches, however, model landmark motions similarly to AAMs and are thus very likely to suffer from the same problems as well.
1.2 Motivation
As mentioned in the last subsection, data-driven [16] as well as model-driven approaches [17, 30] exist for landmark tracking in X-ray locomotion analysis. However, all previously published works in this field suffer from at least one of the following shortcomings, which is a major drawback for the usage of these methods for actual zoological and biomechanical studies:
As a consequence, while model-driven as well as data-driven approaches exist for very specific landmark subsets, neither of them alone is applicable for the full tracking problem. The trivial option of simply merging their results is not an option, because on the one hand the landmark subsets would be tracked independently of another and hence would not be consistent. On the other hand, not all landmarks would be covered by these methods, as for instance the lower leg landmarks in the top view (
cf.
Figure
1
b). Our goal in this work is to overcome all drawbacks mentioned above and to present an approach which is holistic in the sense that all landmarks of the animal are modeled in one consistent framework. We base the approach on the fact that existing methods [
16
,
30
] are complementary, i.e., the first method works well on a landmark subset the second method is unsuited for and vice versa. Our main idea is to unify these 'subset approaches' within a probabilistic framework to obtain consistent estimates for all landmarks. While AAMs applied on the full set of locomotion landmarks yield poor fitting results, they are still well suited for modeling interrelationships between landmarks. Therefore, we use AAMs as base model for our approach. However, in contrast to standard AAMs, we augment the fitting process by imposing constraints obtained from sources such as subset methods [
16
,
30
]. We first derive a probabilistic framework that allows AAM fitting under arbitrary types of constraints. While similar approaches such as [
36
] and [
37
] only utilize positional priors, we aim to include additional constraints, e.g., the anatomical context or the epipolar geometry of the camera setup. As opposed to existing works in this field, this framework allows to consistently incorporate all landmarks of both camera views while combining the advantages of data-driven and model-driven approaches. In addition, we evaluate our approach based on 32 real-world datasets from three zoological studies [
6
,
7
,
34
], including 175,942 manually labeled ground-truth landmarks and birds of different morphology and locomotion characteristics, which by far exceeds the amount of data used in recent studies. An outline of our approach is shown in Figure
2
.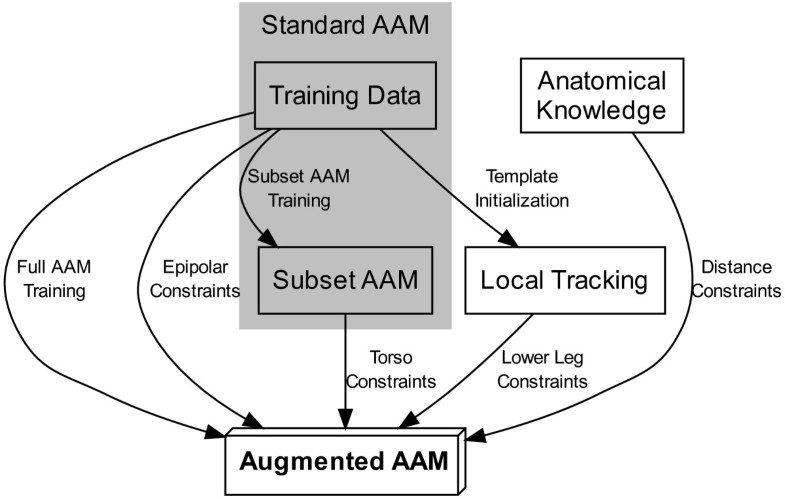 The remainder of this paper is structured as follows. First, an overview of standard AAMs is given in Section 2, as AAMs form the baseline of our method. In Section 3, we present augmented AAMs as our approach for landmark tracking in X-ray locomotion sequences. After deriving a general fitting framework, we describe the constraints used in our specific case. The validation of our approach is presented and discussed in Section 4.
2 Active appearance models
This section gives an overview of standard AAMs [23–25], which form the baseline of our augmented approach presented in Section 3. AAMs are parametric statistical models which describe the visual appearance of arbitrary object classes. The variation in object appearance is modeled by a shape component (represented by image landmarks) and a shape-free texture component. AAMs are trained from sample images with annotated landmark positions. Once learned, a trained model can be fit to unseen images automatically. In the following subsections, the basic training and fitting procedure of standard AAMs will be described.
2.1 AAM training
AAM training is based on annotated sample images, i.e.,
N
images with
M
corresponding landmarks , 1 ≤ 
n
 ≤ 
N
. As first step, the shape model is built by aligning the given shape samples with respect to translation, rotation, and scale via
Procrustes analysis
[
38
,
39
], resulting in shapes . The shape variations are then parameterized by applying
principal component analysis
(PCA) to the matrix , where is the
mean shape
. The result is a linear model which describes an arbitrary shape
s
based on its
shape parameters
b
s
, the
shape eigenvectors
P
s
, and the
mean shape
of all samples via
An example of an AAM shape model is shown in Figure
3
for an animal locomotion dataset used in this paper. It demonstrates that the movements of the lower legs are very complex in both camera views and thus cannot be handled well in the fitting process of standard AAMs.

The second step of AAM training consists of building a texture model. Firstly, each image is warped into a common reference frame - usually the mean shape . The shape-normalized images are then vectorized, resulting in the texture vectors . Afterwards, the very same PCA-based procedure as for the shape model is employed, which results in the linear texture model
where g is an arbitrary shape-normalized texture with texture parameters b g, P g are the texture eigenvectors, and is the mean texture of the samples.
To obtain a combined representation of both shape and texture, the third - albeit optional - step of AAM training is to merge shape and texture parameters into one parameter set. This is achieved by concatenating the variance-normalized shape and texture parameter vectors for each training sample and again applying PCA. Therefore, each object instance can then be represented by its combined parameters b c. The final parameter count, i.e., the dimension of b c, is then reduced by discarding parameters which explain only a small fraction of the total variance.
2.2 AAM fitting
The goal of AAM fitting is to find the model parameter vector that best fits an object instance shown in a given input image. Technically, the optimization criterion is to minimize the squared difference
δ
g
 = (
g
image
 − 
g
model
) between the given image and the synthesized appearance of the AAM instance, i.e.,
In its original formulation [23–25], this problem was solved in an iterative manner by assuming a linear relationship δ b c = A δ g between the necessary model parameter changes δ b c and the current image difference δ g, where A can be learned in advance. In general, however, such a simple constant relationship between δ b c and δ g does not exist, which can lead to suboptimal fitting results [40]. An alternative optimization approach for Equation 3 is the inverse compositional/project-out algorithm [40]. By decoupling shape and texture parameters, it allows for a very efficient alignment that eliminates many drawbacks of the original AAM fitting method.
Note, however, that our augmented AAM approach presented in Section 3 is independent of the actual optimization scheme - it is possible to base it on both the additive as well as the inverse compositional methods (cf. Subsection 3.1).
2.3 Multi-view extension
While standard AAMs can only be used for a single camera view, possible extensions are available for scenarios which contain more than one camera, e.g., [41] or [42]. In our case, a biplanar image acquisition is usual, albeit also monocular sequences exist. In addition, for many previously recorded datasets from biological studies such as [7], a calibration of the camera setup is not available. Therefore, in our locomotion scenario, it is generally not possible to apply any of the methods mentioned above, as they rely on certain assumptions about the scene. However, it is still possible to exploit relationships between multiple camera views using multi-view AAMs [43, 44], as shown in [30].
The construction of multi-view AAMs is closely related to standard AAMs. Let K denote the number of camera views. As first step, the aligned landmark vectors of all camera views are concatenated into one vector s n′. Afterwards, PCA is applied to obtain the multi-view shape model in the same manner as for standard AAMs. As for the multi-view landmarks, for each training sample the texture vectors of all views are concatenated to form the vector g n′ and PCA is applied. Note that this multi-view extension is used in exactly the same manner for augmented AAMs, which are presented in the following section.
3 Augmented AAM approach
In the following augmented AAMs, our extension of standard AAMs are presented. As stated in the motivation (cf. Subsection 1.2), the goal is to overcome poor fitting results in cases of non-stationary shape activities [31, 32] and non-discriminative texture information, which is particularly true for the locomotion analysis scenario presented in this paper. We achieve this goal by augmenting the fitting process of standard AAMs by including various types of constraints. A general overview of augmented AAMs is shown in Figure 2. It depicts the different components which contribute to the final system, whereas most parts are directly based on the given training data. An AAM trained on all landmarks of the training data forms the baseline of our augmented AAM ('full AAM training' in Figure 2). The fitting step of this AAM is then augmented using constraints derived from (1) a standard AAM trained only on the subset of stationary (i.e., torso and upper leg) landmarks, (2) local tracking methods for lower leg landmarks, (3) anatomical knowledge, and (4) the epipolar geometry of the scene.
In Subsection 3.1, we first derive a general framework for the inclusion of AAM fitting constraints. The remainder of this section gives a detailed description of the particular constraints used for the application on locomotion sequences. In Subsection 3.6, the necessary conditions of our approach and the generalization ability to other scenarios is discussed.
4 Experiments and results
The evaluation of our holistic approach for anatomical landmark tracking is performed on 32 real-world X-ray bird locomotion sequences. The datasets were recorded in the course of three large-scale zoological studies - namely [
7
], [
6
], and [
34
] - and comprise five species (quails, jackdaws, tinamous, bantams, and lapwings) which differ in morphology and locomotion characteristics. The acquisition of all sequences was carried out using a state-of-the-art biplanar high-speed X-ray system, based on the Neurostar
Ⓡ
X-ray device (Siemens AG, Munich, Germany). All images have a resolution of 1,536 × 1,024 pixels and were recorded at 1,000 frames per second. A total of 42,909 frames (approximately 125 GB of raw image data) was used in the course of this evaluation. Except for lapwings, all datasets have a biplanar camera setup and use the multi-view version of AAMs and augmented AAMs. Camera calibration allowing three-dimensional (3D) triangulation and evaluation of the tracking results is available for exactly one dataset. For each dataset, landmark positions manually located by human experts (biologists) are available, usually for every tenth frame of a sequence. Typical landmarks used for these datasets are depicted in Figure
1
. A total of 175,942 ground-truth landmark positions were used for the comparisons presented in this paper. The actual number of ground-truth landmarks defined for each image varies per dataset and ranges from 14 to 24, with typical values being 20 landmarks per image. An overview of the employed datasets is shown in Figure
4
.

We evaluate our approach based on the point-to-point error [52], i.e., the Euclidean error (in pixels for the 2D case and in millimeters for the 3D case) between manually located and automatically tracked landmark positions. For each sequence, an AAM was trained based on exactly one stride, using the provided landmark data. In any case, at most ten frames of a sequence were used for AAM training. Afterwards, all frames of the sequence were tracked using our presented augmented AAM approach.
5 Conclusions and further work
In this paper, we presented augmented active appearance models, a general approach for AAM fitting in cases of non-stationary shape motions and non-discriminative local texture information. Our method is based on a holistic, probabilistic framework which allows the inclusion of arbitrary fitting priors. We applied our approach to the challenging scenario of landmark tracking in X-ray animal locomotion sequences, for which until now only methods for specific landmark subsets existed. For this particular scenario, we presented various types of suitable fitting constraints that were included into our probabilistic framework. Extensive experiments based on 32 real-world datasets including 175,942 ground-truth landmark positions showed that our approach clearly outperforms standard AAM fitting and allows to reliably track all landmarks of interest. In addition, we could show that the accuracy of our approach is sufficient to provide reliable 3D landmark estimates for calibrated datasets.
For further work, an interesting and relevant point to consider is the scenario of non-cyclic locomotion, for instance birds running over obstacles. Another important problem we want to solve is how to transfer already trained models to different tracking scenarios, such as adapting a quail model to be able to track tinamous. Both points mentioned require an adaption of a given model to novel cases, and we plan to utilize methods from incremental learning [47] and domain adaptation for this task. Inspired by the promising results of 3D landmark estimation for calibrated datasets, another idea for further work is the inclusion of additional imaging modalities such as visible light cameras into the tracking process.
Declarations
Acknowledgements
The authors would like to thank Alexander Stößel from the Department of Human Evolution at the Max Planck Institute for Evolutionary Anthropology in Leipzig, Germany for providing the quail, jackdaw, and tinamou datasets. Furthermore, we would like to thank John Nyakatura from the Institute of Systematic Zoology and Evolutionary Biology with Phyletic Museum at the Friedrich Schiller University of Jena, Germany for providing the bantam and lapwing datasets as well as one additional quail dataset. This research was supported by grant DE 735/8-1 of the German Research Foundation (DFG).
Authors' Affiliations
(1)
Computer Vision Group, Friedrich Schiller University of Jena, Jena, Germany
Copyright
© Haase and Denzler; licensee Springer. 2013
This article is published under license to BioMed Central Ltd. This is an Open Access article distributed under the terms of the Creative Commons Attribution License (http://creativecommons.org/licenses/by/2.0), which permits unrestricted use, distribution, and reproduction in any medium, provided the original work is properly cited.