Blotch and scratch removal in archived film using a semi-transparent corruption model and a ground-truth generation technique
EURASIP Journal on Image and Video Processing
2013
2013:33
Received: 17 July 2012
Accepted: 16 May 2013
Published: 6 June 2013
Abstract
Abstract
This paper has two main contributions. The first is a Bayesian framework for removing two common types of degradations on video known as blotches and line scratches. Most removal techniques assume complete obliteration of the original data at the corrupted sites. This often leads to the introduction of restoration artifacts during removal. Our framework is based on modeling corruption as a semi-transparent layer. This model was introduced earlier by Ahmed et al. (ICIP 2009) for the problem of blotch removal. We show much more blotch removal results than the previous work, and we extend the semi-transparent corruption model to the problem of line removal. The second contribution of this paper is an automated technique for ground-truth generation from infrared scans of corruptions. Previous ground-truth generation efforts require manually inpainting the corrupted regions. The restoration results are evaluated by comparing the reconstructed data against the ground-truth estimates. Comparisons with current blotch and line removal techniques show that the proposed corruption removal framework produces better removal and generates less restoration artifacts.
Keywords
Blotch; line scratch; transparency; Bayesian matting; graph-cut; infrared; ground-truth
1 Introduction
The last century has witnessed an explosion in the amount of video data stored with holders such as British Broadcasting Company, Institut National Audiovisuel (INA, Paris, France), and Raotelevisao Portuguesa, Lisbon, Portugal. Beyond the cultural heritage these data represent, their value is increased by their commercial re-exploitation through digital visual media. This requires the archived data to meet a high level of visual quality. This, however, is usually not the case as the data are often visually degraded during their long-term storage under bad physical and climate conditions. This was a source of concern in the broadcasting community during the 1980s [1], which led to the emergence of a new market for the automatic restoration of digital visual data.
There are several forms of impairments on digital visual data [
2
]. Perhaps the most common impairments are 'blotches' and 'line scratches'. These impairments mainly rise due to dirt particles adhering to the film material or due to film abrasion. Blotches appear as temporally impulsive dark and bright spots which are distributed randomly over an image sequence (shown in green in Figure
1
). Line scratches appear as near vertical lines of high contrast that propagate through time (shown in blue in Figure
1
). Removing these impairments usually implies some kind of detection/correction process. Ideally, corrupted sites can be estimated using infrared scans (IR) of medium (see Figure
1
right) [
3
]. Infrared is transmitted through film but stopped by dust. As a result, the obtained scan is bright in original data regions and dark in dirt, ie., corrupted regions. A simple threshold operation is, therefore, sufficient to segment the corrupted sites from the rest of the image. However, much archived material is no longer available with IR scans; hence, automated digital detection algorithms remain important.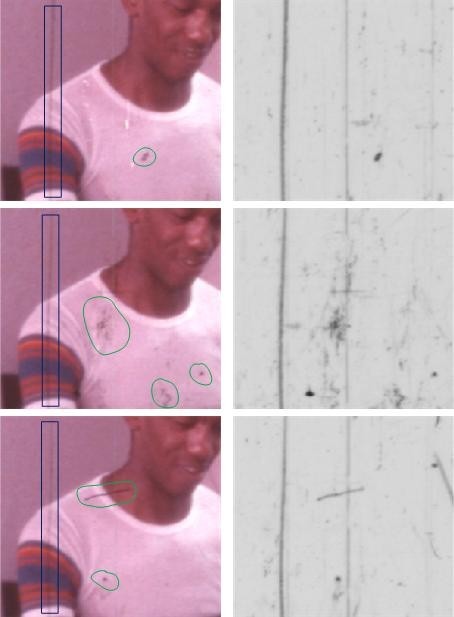 Automatic restoration algorithms for archived visual media have been studied since 1985 [1]. Several authors have since then proposed numerous detection/reconstruction techniques for blotches [4–8]. Most of these techniques detect blotches by looking for temporal discontinuities between the motion compensated frames at some point in their procedure. As a result, many clean regions often get classified as corrupted, where motion estimation fails. Line scratch detection is considerably more difficult due to their temporally consistent nature. Early scratch detection systems tended to use information from the current frame only [9–12], but the most successful technique uses detection over multiple frames [13]. However, it is still possible to confuse line scratches with true vertical lines in an image sequence, and again undegraded material is then passed for correction.
Any subsequent image correction technique must use nearby clean spatial and temporal information. A 'good' correction technique has two main features: (1) correcting only the corrupted portion of the data and (2) resynthesizing the original data correctly regardless of motion and texture complexity. Most of the existing reconstruction techniques assume complete loss of the original information at the detected sites. Hence, they must interpolate quite large areas; because of the shortcomings of the detection step, they tend to attempt to correct a substantial amount of clean data. The key point, though, is that false alarms in many of these techniques tend to occur where the motion and texture information is complex, especially where pathological motion occurs [14]. So in cases where there is motion blur due to fast moving objects, or self occlusion, or a vertical stripe moving behind a line scratch, there are a high degree of false alarms. These areas are precisely the areas where any image interpolator will fail in a video sequence. The fact that existing algorithms find it hard to recover from poor detection remains an obstacle to completely automated handling of these artifacts, and existing industrial software (http://www.thefoundry.co.uk) use a variety of ad-hoc processes to reduce artifact detection to a very conservative process.
However, a quick glance at Figure
1
shows that blotches and lines often do not completely obliterate the underlying area and are often not opaque at all. If we could build a model that would capture that observation, then it might be possible to improve detection precision and increase robustness to poor motion and texture. In a sense, this is related to estimating the level of corruption at a site as a continuous variable between 0 (no corruption) and 1 (totally lost). In this paper, we define the opacity of a blotch in frame
n
 at site
x
 as
α
n
(
x
) and propose a new linear model of corruption as follows:
Here, G n (x) is the observed corrupted intensity at a pixel site x in frame n. I n  is the clean original intensity at that site, and F is a constant intensity representing the underlying blotch color. In this paper, we will use F = 0 to model black or rather dark blotches/lines, and F = 255 will model brighter/sparkle. Hence, the model implies that the observed data is a linear mixture between the clean original data and a corruption color F. For color images, this model is applied for each RGB channel separately. Most techniques, however, model the corruption as either a completely opaque layer (α = 1) or as a purely transparent one (α = 0 for clean regions).
This model is clearly related to the image layer model used in the vast quantity of matting work starting with the seminal paper of Chuang in 2001 [15–20]. In matte extraction, an image is assumed to arise as the result of a linear mixture of foreground F and background elements. In our situation, one of the layers is known, and our problem is to estimate α and I to achieve restoration.
Note that the goal of this paper is to address the issue of
removal
 of the blotch or line once it has been detected. We do not address the issue of detection, even though the process of defect matte extraction discussed here can be thought of as a detection refinement step. In this paper, we present a unified Bayesian framework for blotch and line scratch removal using a semi-transparent corruption model. This model was briefly introduced in [
21
] for the problem of blotch removal. Aspects of novelty in this paper are as follows:
(1)

More results for blotch removal over [21]. This includes discussing system implementation/parameters in more detail and processing much more data.

(2)

A new technique for line scratch removal based on recursive filtering. This technique is not available in [21].

(3)

A new analysis of IR scans to create accurate ground truth for these kinds of studies. These analysis are not available in [21].
In the next section, we present an overview of the current state of the art blotch and line removal techniques. We then go on to propose the Bayesian framework and its solution. The results section also then contains new work in the exploration of IR film scans and discusses results in terms of real and artificial data.
2 Review of blotch and line removal algorithms
Previous approaches for removing blotches and line scratches have largely fallen into two categories. The first models the corruption as an opaque layer which obliterates the underlying original data completely [2, 22–26]. The second category models the corruption as a semi-transparent layer, assuming the survival of some original data in the corrupted sites [27–31]. Both categories require that the sites of corruption be detected first. Several automatic detectors have been introduced previously [5–8, 32], but in this paper, we are concerned with removal, not detection. Detection will, therefore, not be discussed in detail; comments on detection relevant for our purposes are left until later in this section.
3 Bayesian inference for semi-transparent blotch and line removal
A corrupted pel
G
(
x
) is modeled as a linear combination between the original data (background layer)
I
(
x
) and the corruption field
F
(
x
) (foreground layer) according to a blending factor
α
. This matting model was discussed previously and repeated here for clarity.
Here,
α
(
x
) is the mixing parameter, where
α
 = 1 represents complete obliteration of the underlying data. In this work, dirt is assumed to be the source of the corruption; therefore,
F
 is fixed. An RGB value of (0,0,0) or (255,255,255) can be used to model dark and bright blotches, respectively. This model is illustrated in Figure
2
(top row) with a synthetic example. Note that we assume that the detection of the missing patches has already taken place, or at least some kick start is available. As stated above, we use the SDIp here. Hence, small patches of
b
(
x
) = 1 have been delineated, and the problem then is to estimate the values of the original data
I
 in these patches. There are, therefore, two unknown parameters at each corrupted pel:
α
 and
I
; in a sense, the estimation of
α
 amounts to a refinement of the kick start detection field
b
(
x
). We will call
b
(·) as the the corruption mask and that indicates where
α
,
I
 are subsequently estimated.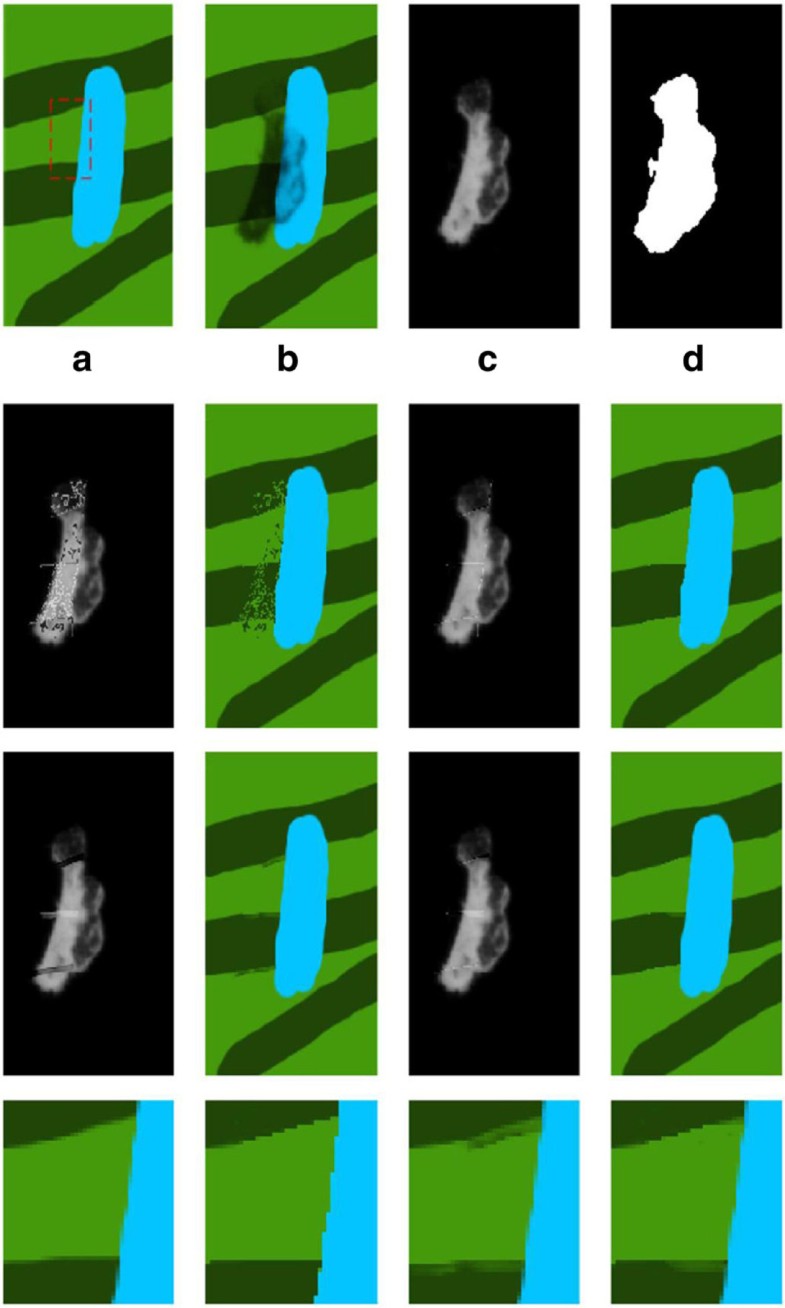 As stated previously, this model is related to the matting model of Chuang et al. [15]. Their foreground layer is our corruption layer F, and their background layer is our true original image I. α is the mixing parameter that combines both layers, and it is the matte in [15]. While the matting problem requires the solution of α,I and F, we know F. In addition, we have many more temporal priors that can be brought to bear on the problem.
4 Results
Image sequences used in this work can be found in
http://www.sigmedia.tv/Misc/TIPS2011
. Examples of frames from these sequences are shown in Figures
7
and
8
. Four standard definition (720 × 576) sequences are used to evaluate the performance of the blotch removal processes: LabB1, ArtB1, DanceB1 and DanceB2 with 100, 40, 100 and 60 frames, respectively. All sequences undergo fast motion and contain moderate texture. LabB1 is created by corrupting a clean sequence heavily using the relation
G
(
x
) = (1 - 
α
(
x
))
I
(
x
). Here,
α
 is the dirt opacity obtained from the IR scans. The other three sequences show real archived footage containing blotches. Similarly, four line sequences are used to evaluate the performance of line scratch removal: LabL1, DanceL1, DanceL2 and DanceL3, with 25, 25, 18 and 15 frames, respectively. Again, these show fast motion and contain moderate texture. LabL1 shows synthetic line scratches created in the same way as LabB1, and the others contain real line scratches. In all experiments, the value of
β
t
 is set to 1.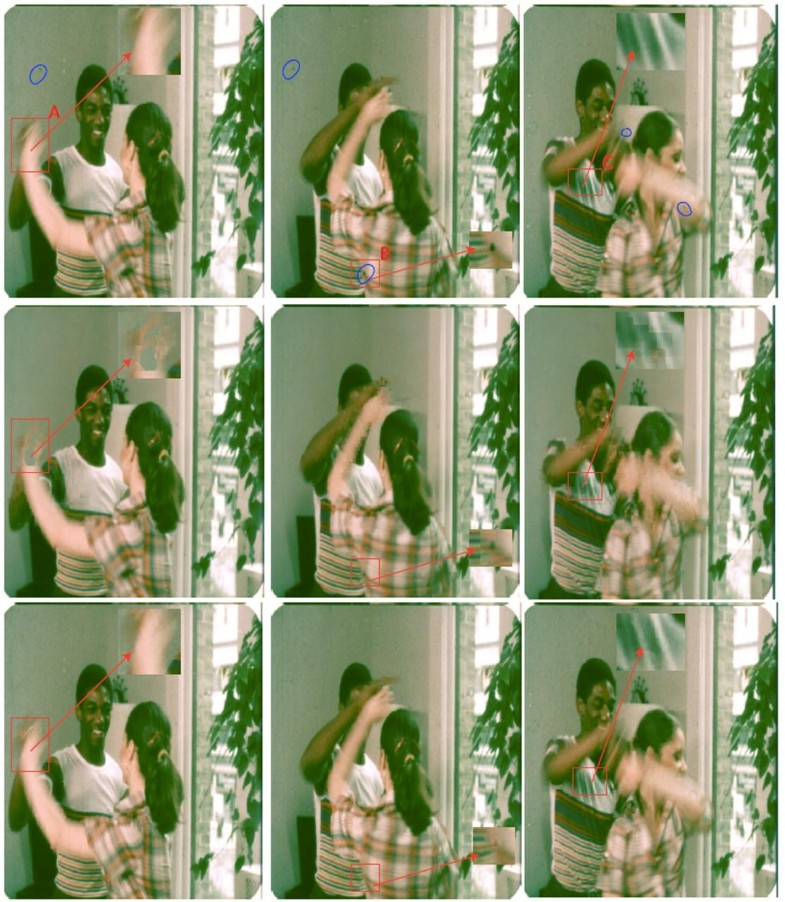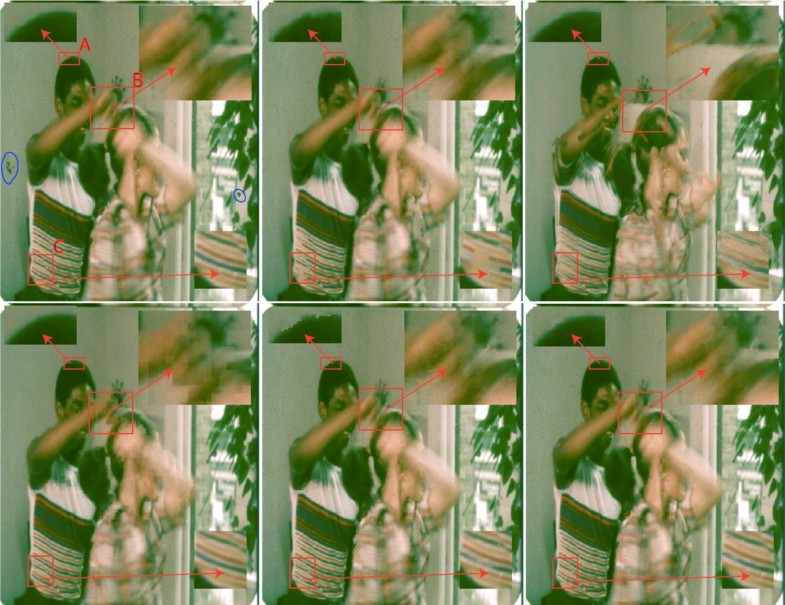 There are a large variety of blotch remover processes that have been proposed; hence, we compare our results with the JONDI estimator of Kokaram [2], since that is the most general of the frameworks proposed in the past and is the basis of many commercial blotch removal processes. For line removal, we compare the results against JOMBEI which is a spatial version of JOMBADI for line removal [24]. We also compare with one commercially available software suite called Furnace from http://www.thefoundry.co.uk. To illustrate the importance of the opacity term in generating accurate reconstructions, we compare the results against an implementation of BTBR-F which removes the effect of the opacity term, i.e., α is replaced by a binary index. This can be regarded as an implementation of image inpainting [38, 39]. We call this implementation BTBR-AOFF.
Evaluation of blotch removal techniques is traditionally difficult because of the lack of ground truth data. Ground truth is traditionally hard to come by since it can only generated by painstaking hand painting of missing patches. In this case, a model that considers semi-transparency is even more difficult. However, we have acquired IR scans of film material, which yield ground truth on real degraded sequences. These IR scans can also be used to synthetically corrupt known clean sequences. We can therefore measure performance in realistic situations. The next section briefly discusses how ground truth is acquired and then we go on to discuss algorithm performance over a variety of different material.
4.1 Ground truth acquisition
Corrupted sites are detected using a simple threshold operation on the IR scans of that material. Values of 210, 180 and 210 are used for the Art, Dance and LadyDoll sequences, respectively, where a pel is flagged as corrupted if it falls below the threshold. This thresholding operation yields the ground truth corruption mask
b
g
 for each sequence. We extract the ground truth opacities
α
g
 for each sequence by relating the actual grayscale value of the IR mask
R
to the estimated value of alpha under the mask. Estimates for alpha under the mask are generated using BTBR-F. Figure
9
shows the IR/corruption opacity plot for the Dance sequence. IR scans are spread over the range 0 - - 1 for the simplicity of illustration, where 1 denotes a highly corrupted region. Three different fitting functions are superimposed:
y
 = 
x
n
,
y
 = 
a
.
x
2
+
b
.
x
 + 
c
, and
y
 = 
γ
.
e
x
p
(
λ
x
) + 
k
. The quadratic function gives the best fit for both sequences; hence, we use that to transform IR greyscale values into ground truth opacities.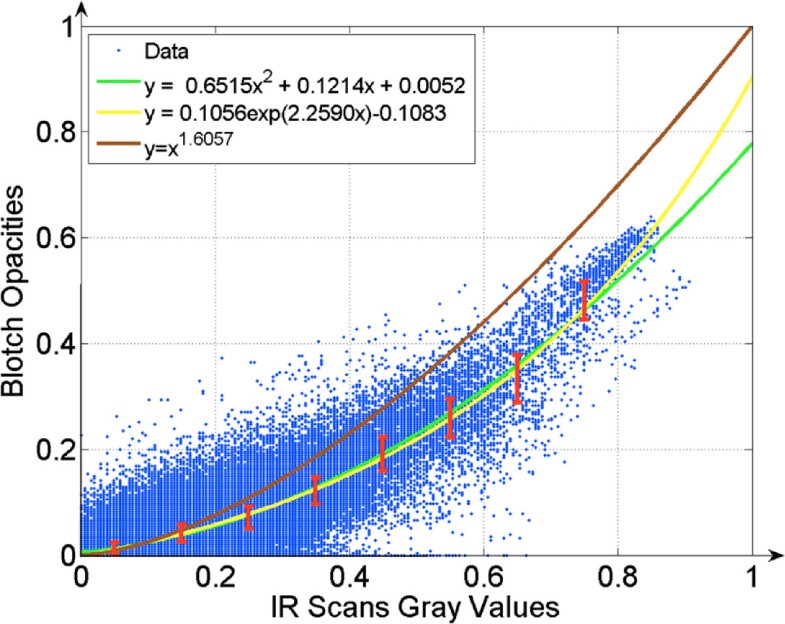 Figure
10
shows some blotches, their IR scans, the calculated dirt opacities using the derived IR/corruption relation, and the corresponding original data reconstruction. The function
y
 = 
a
.
x
2
 + 
b
.
x
 + 
c
is used as the IR/corruption relation, and reconstruction is achieved by inverting the effect of the dirt using the matting equation directly.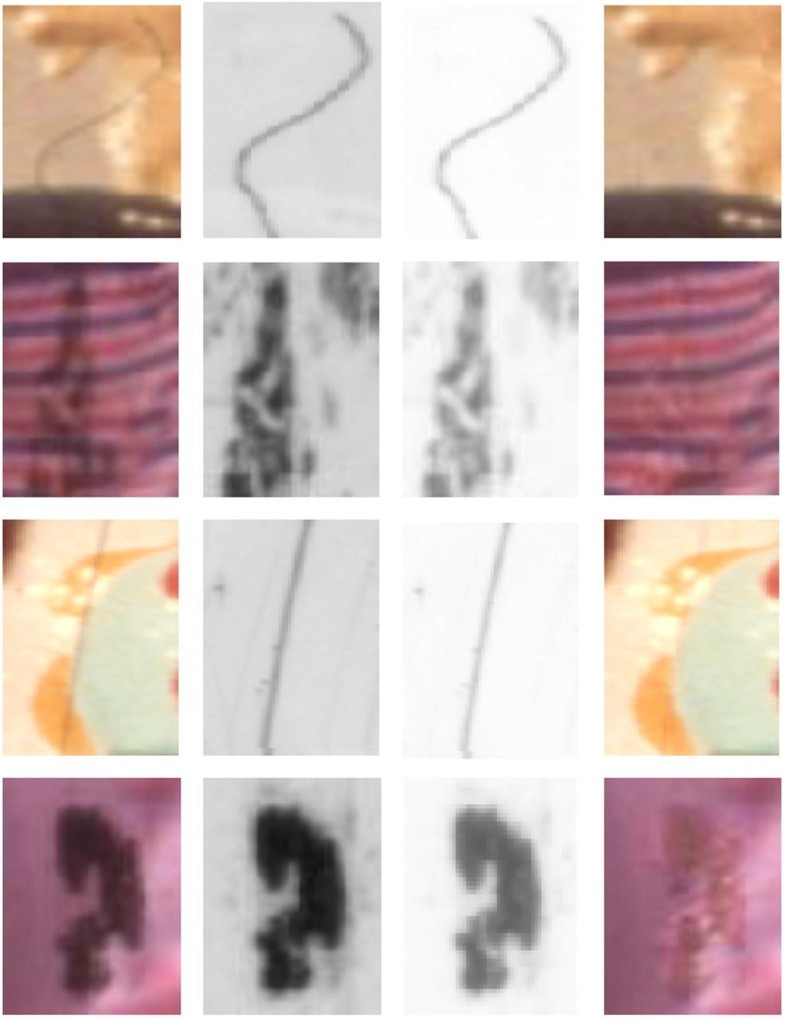 4.1.1 Image reconstruction fidelity
The structure similarity measure (SSIM) [50] is used to measure the reconstruction quality of the examined techniques. This is achieved by comparing the generated reconstruction against a ground truth estimate. In the case of the artificially corrupted sequences, the clean sequence is available. In the case of the real archived sequences, the IR scans are available, and those can be used as discussed above to generate the ground truth reconstruction. Comparison is only performed on sites classified as corrupted during the detection step, since only these sites will be affected by subsequent processing, and this limited measurement would emphasize the difference between different processed.
4.2 Reconstruction quality
Table
1
compares the reconstruction quality for blotch removal with ground truth for all the sequences, artificial (LabB1) and real. SSIM [
50
] is used here, where an SSIM of 1 means that the sequence is identical to the ground truth reconstruction, while SSIM = 0 implies that it is completely different. As can be seen, the average SSIM indicates that BTBR-F and JONDI are the best performing systems. However, the minimum SSIM indicates that JONDI performs worse than BTBR-F during their failure. This is shown in Figure
7
. We can see from that the reason JONDI fails is typically because of poor motion information, while BTBR-F is able to recover from this by the opacity term which turns off reconstruction in these regions. Furthermore, JONDI fails to remove opaque blotches that lie near dark regions (see red box B). This makes sense since JONDI at its heart performs a cut-and-paste operation combined with temporal frame averaging in some sense. Hence, the edges of the semi-transparent blotches are often visible after reconstruction. BTBR-F on the other hand models the corruption as a semi-transparent layer, therefore generates an accurate estimate of the regions of corruption. Figure
8
shows the performance of the other techniques. Its worth noting that even though all techniques perform well in removing blotches, they differ in their ability in preserving clean regions. BTBR and BBM preserve clean regions due to the opacity term; however, BTBR generates smoother results due to the incorporation of the background smoothness prior (see red box A). BTBR-AOFF shows that by turning off the opacity term, the system is no longer able to classify clean regions as uncorrupted. This could led to severe reconstruction errors (box C). JONDI generates blocky artifacts; however, it maintains regions of high texture (box C). Last, the Furnace generates severe errors especially in regions of pathological motion (see box B). Similar results are obtained for greyscale sequences, but they are not shown here for the lack of space.
Table 1
Reconstruction quality against ground truth for the examined blotch sequences
| System | LabB1 | DanceB1 | DanceB2 | ArtB1 |
| --- | --- | --- | --- | --- |
| Furnace | | | | |
| Average | 0.76 ± 0.08 | 0.83 ± 0.04 | 0.80 ± 0.06 | 0.77 ± 0.04 |
| Minimum | 0.44 | 0.64 | 0.64 | 0.69 |
| Maximum | 0.93 | 0.98 | 0.89 | 0.98 |
| JONDI | | | | |
| Average | 0.98 ± 0.01 | 0.94 ± 0.01 | 0.90 ± 0.02 | 0.98 ± 0.00 |
| Minimum | 0.94 | 0.89 | 0.84 | 0.96 |
| Maximum | 0.99 | 0.99 | 0.94 | 0.99 |
| BTBR-AOFF | | | | |
| Average | 0.84 ± 0.07 | 0.90 ± 0.02 | 0.90 ± 0.04 | 0.88 ± 0.04 |
| Minimum | 0.70 | 0.84 | 0.78 | 0.82 |
| Maximum | 0.94 | 0.94 | 0.95 | 0.95 |
| BBM | | | | |
| Average | 0.89 ± 0.03 | 0.94 ± 0.01 | 0.94 ± 0.02 | 0.94 ± 0.01 |
| Minimum | 0.82 | 0.91 | 0.86 | 0.93 |
| Maximum | 0.95 | 0.96 | 0.98 | 0.97 |
| BTBR-F | | | | |
| Average | 0.97 ± 0.01 | 0.96 ± 0.01 | 0.95 ± 0.02 | 0.98 ± 0.01 |
| Minimum | 0.93 | 0.93 | 0.89 | 0.97 |
| Maximum | 0.99 | 0.98 | 0.98 | 0.99 |
Figure
11
shows examples where BTBR fails in LabB1. Here, BTBR generates visual artifacts due to background reconstruction oversmoothness. As a result JONDI outperformed BTBR in some regions in this sequence (LabB1). This observation is recorded in Table
1
by the slightly better performance of JONDI over BTBR. However, only six of such artifacts were generated, each covering a region of no more than 20×20 pels. Hence, both JONDI and BTBR reconstructions still look qualitatively the same in the vast majority of this examined sequence.

Table
2
shows reconstruction SSIM for the line scratch sequences. We can see from the average and minimum SSIM that BTLR is the best performing technique. Figure
12
shows three frames of LabL1 and its BBM and BTLR reconstruction. It is clear that BBM generates noisy results due to the absence of spatial reconstruction smoothness (shown in blue). This noise manifests as flickering during video playback. Figure
13
shows comparison against other techniques. It is evident from the figure that BTLR outperforms all the other techniques. Even though Table
2
shows that JOMBEI and BTLR are of near performance, JOMBEI often blurs the corruption (see blue box A and C). This makes sense as JOMBEI uses spatial filtering in a way. BTBR-AOFF generates artifacts in clean regions due to the absence of the opacity term (box D). Furnace generates incomplete removal, and BBM generates noisy reconstruction as expected (box B). Similar results are obtained for greyscale sequences, but they are not shown here for the interest of brevity.
Table 2
Reconstruction quality against ground truth for the examined line sequences
| System | LabL1 | DanceL1 | DanceL2 | DanceL3 |
| --- | --- | --- | --- | --- |
| Furnace | | | | |
| Average | 0.92 ±0.04 | 0.85 ±0.05 | 0.88 ±0.03 | 0.92 ±0.03 |
| Minimum | 0.85 | 0.75 | 0.83 | 0.85 |
| Maximum | 0.97 | 0.92 | 0.93 | 0.95 |
| JOMBEI | | | | |
| Average | 0.95 ±0.01 | 0.92 ±0.02 | 0.91 ±0.02 | 0.95 ±0.02 |
| Minimum | 0.93 | 0.88 | 0.87 | 0.89 |
| Maximum | 0.97 | 0.96 | 0.96 | 0.96 |
| BTBR-AOFF | | | | |
| Average | 0.94 ±0.02 | 0.90 ±0.03 | 0.91 ±0.03 | 0.92 ±0.03 |
| Minimum | 0.87 | 0.85 | 0.88 | 0.85 |
| Maximum | 0.97 | 0.96 | 0.96 | 0.96 |
| BBM | | | | |
| Average | 0.94 ±0.03 | 0.91 ±0.02 | 0.90 ±0.02 | 0.92 ±0.02 |
| Minimum | 0.88 | 0.85 | 0.85 | 0.89 |
| Maximum | 0.98 | 0.84 | 0.9 | 0.94 |
| BTLR | | | | |
| Average | 0.96 ±0.02 | 0.92 ±0.02 | 0.94 ±0.02 | 0.95 ±0.02 |
| Minimum | 0.93 | 0.87 | 0.90 | 0.90 |
| Maximum | 0.98 | 0.96 | 0.96 | 0.96 |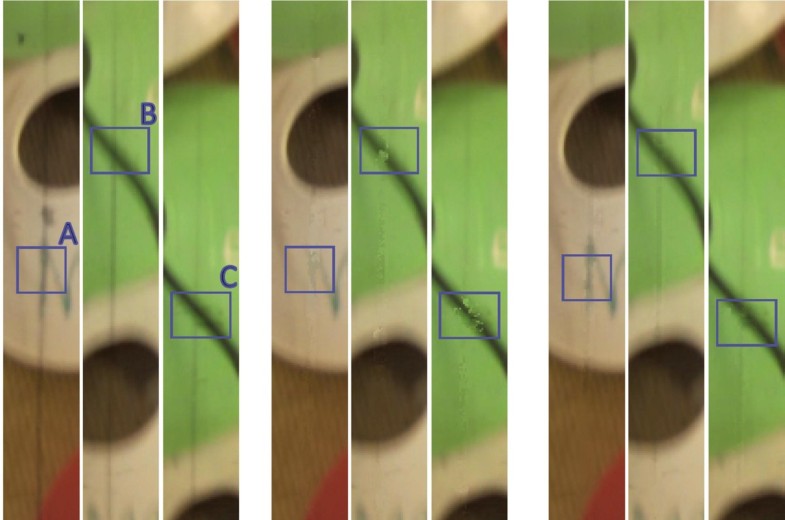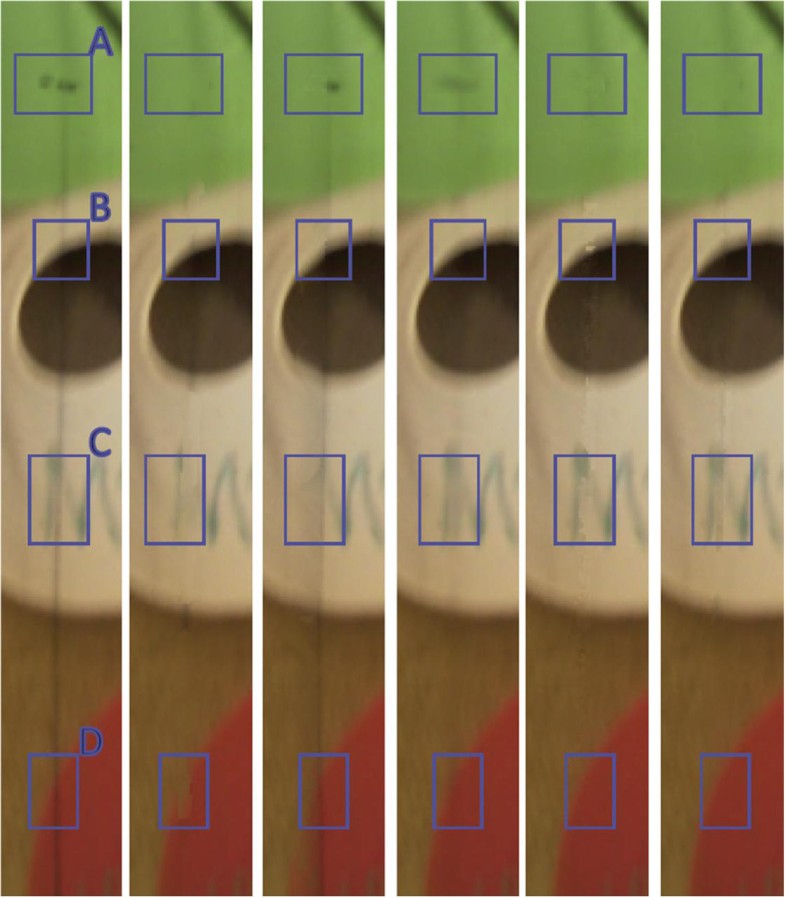 4.3 Evaluating detection refinement
Recall that SDIp is used as a kick start detection for BTBR. This detection is refined through
α
 estimation. Figure
14
shows ROC plots of BTBR and SDIp on processing DanceB1. ROC is calculated at 8 SDIp thresholds being 5:2.5:22.5 (MATLAB notations). Figure
14
shows that BTBR outperforms SDIp through significant reduction in false detection while nearly maintaining the correct detection rate. For example, in the SDIp threshold of 22.5 (last black marker), BTBR was able to reduce false detection by 0.1 while reducing correct detection by just 0.02. A significant false detection reduction for blotches is 0.1 is a significant cant false detection reduction for blotches.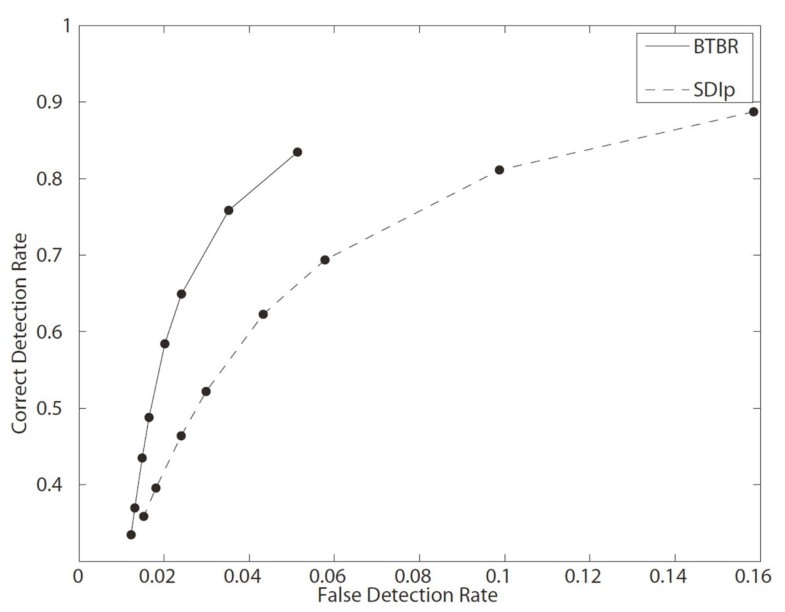 4.4 Luminance vs. RGB reconstruction accuracy
Two hundred fifty highly textured colored frames of size 576 × 720 pels are corrupted by artificial opacities. Frames are restored in both the luminance and the RGB spaces using BBM. Mean absolute error between the ground truth opacities and the estimated opacities are measured as 0.0548 and 0.0429 for the luminance and RGB reconstruction, respectively. Opacity estimation in RGB space is more accurate than that in the luminance space as RGB reconstruction exploits all color information. To examine the effect of the estimated opacities on background reconstruction, the structure similarity index (SSIM) between the clean sequence and the reconstructed original data was measured and found to be 0.884 and 0.921 for luminance and RGB reconstructions, respectively. Here, SSIM for the RGB reconstruction is carried out in the luminance channel. Results show that the background reconstruction in the RGB space is more accurate than in the luminance space.
4.5 Computational complexity
Estimation of the set of solution candidates for each pel is the most computationally intensive aspect of the algorithm, amounting to about 90% of the execution time for a single frame. The estimation of these candidates is an iterative process which terminates when convergence is reached and so consumes a lot of time. This process is repeated K times, where K is the number of solution candidates per pel. Therefore, for a corruption mask of N pels, the number of operations required to generate the solution candidates is N × K × P, where P is the average number of iterations to generate one solution candidate. The second most computationally intensive part of the algorithm is the use of QPBO graph-cut for optimizing the MAP function.
The average time for processing one colored standard definition frame with BTBR on a 2.33 GHz Quad Core Processor and with an unoptimized MATLAB code is 25.4 s. This is taken as the average of processing 50 frames with SDIp masks of threshold 7.5 and with 5 solution candidates. QPBO is implemented efficiently by using C++ and by processing only the regions of SDIp masks. The average time to process one colored standard definition frame with JONDI written in an optimized C++ code is around 10 s. Hence, BTBR is nearly as fast as JONDI. Further reduction in computation for BTCR is possible by reducing the size of the corruption mask and reducing the number of solution candidates. By reducing the number of solution candidates from 5 to 3, the the average time to process one frame dropped from 24.5 to 16.7 s. This however has a direct impact on the reconstruction quality especially in textured regions.
4.6 A note on system parameters tuning
All system parameters were fixed by simple tweaking, basically after examining just one frame, except the motion complexity threshold Q of Equation 10 and the amount of background/opacity reconstruction smoothness (see (β a ,β s ) in Equations 7 to 8). Q was fixed after examining seven frames. Here, three candidates of Q were examined being 15, 30 and 50. The value of 15 often pushed the solution towards the spatial candidate, while the value of 50 often pushed the solution towards the temporal candidate. However, it was clear that the value of 30 was able to combine both spatial and temporal solutions in a way that minimizes reconstruction error.
We have noticed through experimental observations that different values for the background/opacity reconstruction smoothness often generate different results. Hence, in order to fix the reconstruction smoothness levels, we had to first examine two sequence, LabB1 and ArtB1. The former sequence contains strong texture, while the latter does not. As a result, we generated a solution that chooses between two different smoothness values, one when the examined region contains a strong texture, and the other when it does not. The smoothness values were then fixed through the remaining sequences, and results outperformed existing techniques.
It can be concluded form the above discussion that even though most of the fixed parameters were trained on few frames (one in most cases), they were still able to perform well on all the examined sequences. Hence, we expect the fixed parameter values to perform similarly well on new sequences. We also expect the Q value of 30 to perform well since it showed significant improvement over the other examined values of 15 and 50. Lastly, the fixed values of reconstruction smoothness are also expected to perform well since they generated good results on all the examined sequences (eight in total), even though they were only trained on two sequences. However, a better tuning of the reconstruction smoothness parameters could improve results. This is particularity important in regions where it is hard to calculate the strength of the texture as regions covered by large corruptions.
4.7 A note on the fusion order
Figure
15
shows how the error of the MAP estimate changes as the number of QPBO graph-cut iterations increases. Here, the MAP error is the negative log of Equation
3
divided by the number of pairwise interactions of all the examined pels of the examined sequence. For Figure
15
, we examined five different fusion orders. The orders are written between brackets on the top right corners of the figures. The solution candidates are labeled by a number from 1 to 4. Here, label 1 denotes the solution candidate generating the highest likelihood, while label 4 denotes the solution candidate generating the lowest likelihood. Hence, fusion order (1,2,3,4) means that it first examines the candidate generating the highest likelihood, followed by the candidate generating the second highest likelihood, then by the candidate generating the third highest likelihood, and finally followed by the fourth and last candidate. Since four solution candidates exist per pixel, all candidates are examined by the end of the third graph-cut iteration. We kept re-examining the candidates by performing more iterations using the same fusion order so that we can examine the convergence of our approach. Figure
15
shows that all the examined orders eventually converge to the same solution after the third graph-cut iteration. Hence, there is no need to run further iterations since it will mainly just increase the computational load. In addition, Figure
15
shows that different fusion orders eventually lead to the generation of similar results by converging to similar MAP values.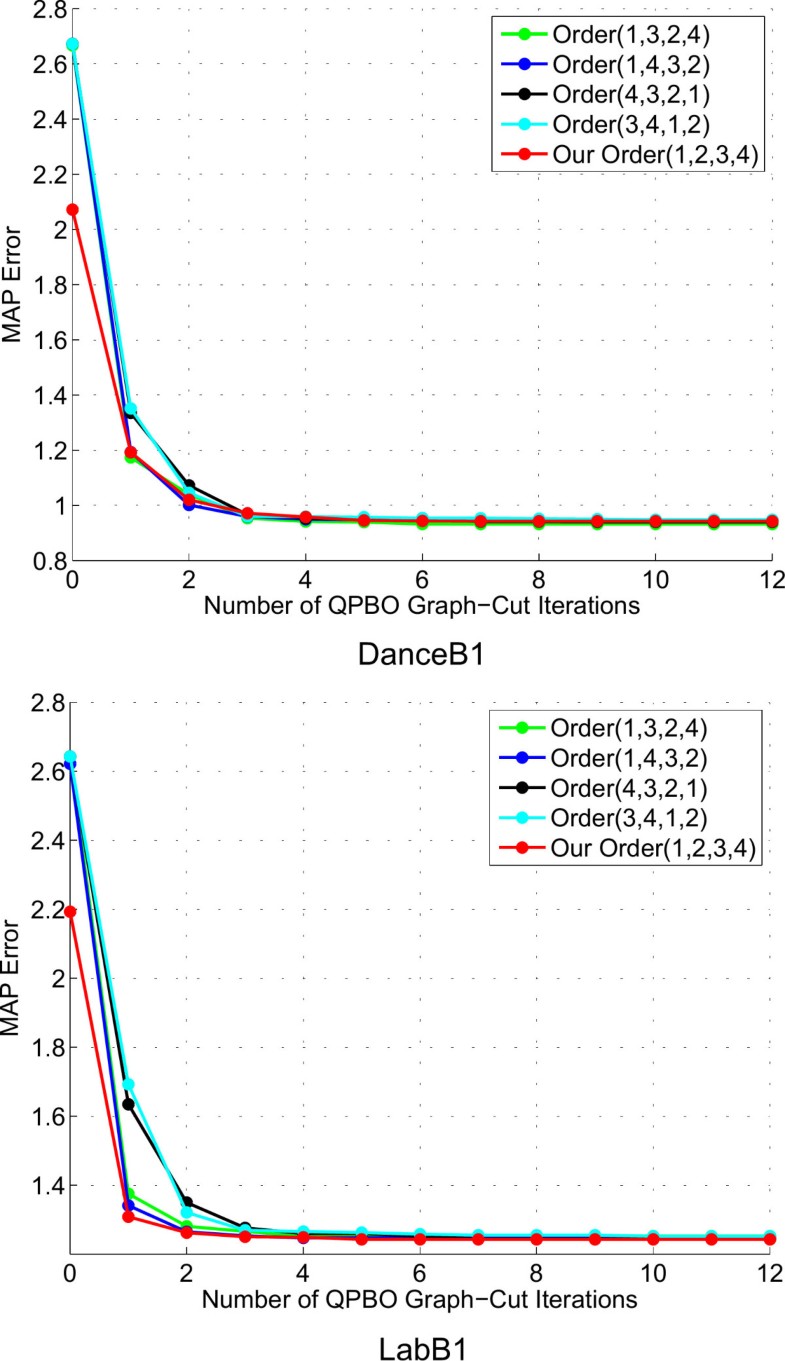 5 Conclusion
This paper has presented a new framework for removing dirt and lines from image sequences. It addresses the issue of incomplete blotch removal from image sequences when traditional blotch removers are used. It also allows the removal of semi-transparent damage in general from film sequences. The novelty here is in using a corruption model which explicitly generates a semi-transparent layer. Corruption removal is then addressed as the problem of separating the dirt layer from the original background layer through a variant of the matting problem. A Bayesian framework was presented exploiting both spatial and temporal priors. The algorithm is initialized with rough binary corruption masks which are refined into a non-binary opacity mattes. These mattes estimate the amount of dirt at each pixel and, therefore, disregards clean regions from the correction process.
The second contribution of this paper is in presenting a technique for generating ground truth estimates of the original data. A relation between dirt opacity and its IR scan is derived. This relation is then used to estimate the amount of dirt represented by IR scans through the means of a non-binary opacity matte. Results showed that the original underlying data can be estimated by inverting the effect of the this matte. The estimated data are a near ground-truth estimate of the original data.
We compared the performance of our corruption removal techniques against four blotch removal techniques (Furnace, BTBR-AOFF, JONDI and BBM) and four line removal techniques (Furnace, BTBR-AOFF, JOMEI, and BBM). Reconstruction quality was evaluated against the ground-truth estimates generated from IR scans. Results showed that our techniques generate better reconstruction over all the examined blotch and line removal techniques. This confirms that our dark corruption model is valid enough. In particular, the BTBR algorithms can remove the extremities of blotches very well, in comparison to the cut-and-paste operators used currently. Furthermore, because of the soft corruption model, we are able to bring more robustness to the PM problem without actually detecting PM explicitly [34–37]. Of course, a novel practical system would employ a PM detector with our BTBR to yield industrial strength performance.
A limiting factor of our technique is the inability of estimating the exact required amount of background smoothness for perfect reconstruction. This sometimes has an impact on the reconstruction quality as too much smoothness would cause neighboring regions to interfere with each other, while too little smoothness could lead to incomplete removal. It is clear that we could incorporate our model directly into the detection/reconstruction problem along the lines of JOMBADI [6]. That would imply the estimation of the texture parameters alongside detection and motion information. Although this might seem a daunting task, it provides much potential for future work.
6 Consent
Written informed consent was obtained from the patient for the publication of this report and any accompanying images.
Appendix
Derivation of the maximum likelihood estimate of BBM
Given observation noise in the compositing/observation model (see Equation
2
), the ML estimate w.r.t. the
j
th color cluster is then expressed as follows:
Here, given that
I
,
G
 and
F
 are the clean, observed, and dirt layers, respectively. is the mean and covariance of the
j
th background color cluster (see Section 3.2, first two paragraphs for more detail). Calculating the ML estimate is equivalent to minimizing the exponent of Equation
11
. Hence, given that
I
j
,
G
,
F
 are all three-color vectors, taking the logarithm of Equation
11
generates
Here, (I r,I g,I b), (G r,G g,G b), and (F r,F g,F b) denote the RGB components of I, G, and F, respectively. z m,n denotes the m-row n-column element of R-1. We dropped the j cluster index for clarity.
Solving for I
We solve for each color component of
I
 separately. To solve for
I
r
, we calculate the derivative of Equation
12
w.r.t
I
r
 and equate the result to zero as follows:
Setting
F
 = 0 to handle dark blotches and using the fact that
R
-1
 is symmetric, we get
I
G
 and
I
b
 are solved using the same approach by calculating and , and equating the result to zero. Performing the same steps of Equations
13
to
15
to
I
G
 and
I
b
 generates
Equations 16 to 17 can also be obtained by direct analogy with Equation
15
. We finally group Equations
15
to
17
together in one matrix operation as follows:
This is the same as Equation 5, where is the 3×3 identity matrix.
Declarations
Acknowledgements
This work has been supported by the Irish Research Council for Science Engineering and Technology's Embark initiative and Science Foundation Ireland (grant no. 08/IN.1/I2112). Some images used are courtesy of INA, Paris.
Authors' Affiliations
(1)
Boston University, Boston, USA
(2)
Trinity College Dublin, Dublin, Ireland
(3)
Google Inc., Mountain View, USA
Copyright
© Elgharib et al.; licensee Springer. 2013
This article is published under license to BioMed Central Ltd. This is an Open Access article distributed under the terms of the Creative Commons Attribution License (http://creativecommons.org/licenses/by/2.0), which permits unrestricted use, distribution, and reproduction in any medium, provided the original work is properly cited.