Research Article

Open Access
An Iterative Surface Evolution Algorithm for Multiview Stereo
EURASIP Journal on Image and Video Processing
2010
2010:274269
Received: 2 August 2009
Accepted: 3 March 2010
Published: 15 April 2010
Abstract
We propose a new iterative surface evolution algorithm for multiview stereo. Starting from an embedding space such as the visual hull, we will first conduct robust 3D depth estimation (represented as 3D points) based on image correlation. A fast implicit distance function-based region growing method is then employed to extract an initial shape estimation based on these 3D points. Next, an explicit surface evolution will be conducted to recover the finer geometry details of the recovered shape. The recovered shape will be further improved by several iterations between depth estimation and shape reconstruction, similar to the Expectation Maximization (EM) approach. The experiments on the benchmark datasets show that our algorithm can obtain high-quality reconstruction results that are comparable with the state-of-art methods, with considerable less computational time and complexity.
Keywords
Depth EstimationSurface EvolutionVisual HullOutlier RemovalShape Estimation
1. Introduction
Despite significant advancement in interactive shape modeling, creating complex high-quality realistic looking 3D models from scratch is still a very challenging task. Recent advancement in 3D shape acquisition systems such as laser range scanners and encoded light projecting system has made directly 3D data acquisition feasible [1]. These active 3D acquisition systems however remain expensive. Meanwhile, the price of digital cameras and digital video cameras keeps decreasing while the quality is improving every day, partially due to the intense competition in the huge consumer market. Furthermore, huge amounts of images and videos are added in internet sites such as Google, and so forth. Every day, a lot of which could be used for multiview image-based 3D shape reconstruction [2].
To date, there have been a lot of researches conducted in the area of multiview image-based modeling. The recent survey by Seitz et al. [3] gives an excellent review of the state of arts in this area. As summarized by [4], most of the existing algorithms follow a two-stage approach: (

) conduct depth estimation based on local groups of input images; (

) fuse the estimated depth values into a global watertight 3D surface estimation. The depth estimation step is often based on image correlation [5]. The main differences between existing algorithms are in the second stage, the data fusion step, which can be divided into two categories. The first type of data fusion reconstructs the 3D surface by conducting volumetric data segmentation using global energy minimization approaches such as graph cut [6–11], level-set [12–16], or deformable models [5, 17–19]. Recently, people have proposed other types of data fusion algorithms that are based on local surface growing and filtering [2, 20, 21]. Without global optimization, these types of data fusion algorithms can be computationally more efficient [22, 23].
Our algorithm also follows this two-stage process. We proposed an iterative refinement scheme that iterates between the depth estimation step and the data fusion step. This is similar in spirit of the Expectation Maximization (EM) algorithm. Moreover, we propose a novel outlier removal algorithm based on anisotropic kernel density estimation. Our data fusion algorithm integrates the fast implicit region growing with the high-quality explicit surface evolution; thus it is both fast and accurate.
The rest of the paper is organized as follows. In Section 1.1 we discuss the main differences between our approach and related existing works. Section 2 describes the details of our algorithm. The benchmark data evaluation is shown in Section 3. The paper concludes in Section 4.
1.1. Comparison with Related Works
Our work is most related to the works of Hernández and Schmitt [5] and Quan et al. [16, 24]. Hernández et al. proposed a deformable model-based reconstruction algorithm [5] that achieves one of the highest-quality reconstruction [3]. The depth estimation of [5] is conducted by rectangular window-based normalized cross-correlation (NCC). The estimated depth values are then discretized into an octree-based volumetric grid. Finally a gradient vector flow-based deformable model is applied to the volumetric grid to reconstruct the 3D surface.
Our depth estimation follows the similar pipeline of [5], with several modifications to further improve its efficiency. We will describe these modifications in Section 2.2. Furthermore, unlike [5], we represent the depth estimations as 3D points whose accuracy is not restricted by the resolution of the volumetric grid. Quan et al. [16, 24] also represent the estimated depth values as 3D points. However, unlike our method, they do not have an explicit outlier removal. Instead they rely on level-set-based surface evolution with high-order smoothness terms such as Gaussian/mean curvature to overcome noises, which may create surfaces that maybe too smooth to represent finer geometry details of the original object. Most recently, Campbell et al. [4] proposed an outlier removal algorithm based on the Markov Random Field (MRF) model which can achieve very impressive reconstruction results. On the other hand, our outlier removal algorithm is based on kernel density estimation and is conducted on 3D unorganized points instead of the 2D image space of [4].
To summarize, the main contributions of this paper are. (

) a novel iterative refinement scheme between the depth estimation and the data fusion, (

) a novel anisotropic kernel density estimation based outlier removal algorithm, (

) a novel data fusion algorithm that integrates the fast implicit distance function-based region growing method with the high-quality explicit surface evolution.
2. Algorithm
The entire algorithm (Figure
1
) consists of the following five main steps:
(1)

visual hull construction,

(2)

(3)

(4)

implicit surface evolution,

(5)

explicit surface evolution.
Starting from an initial shape estimation such as the visual hull (Step

), we will use this shape estimation to generate more accurate 3D points based on image correlation-based depth estimation (Step

), which can then be used to create a better shape estimation (Step

to Step

). In practice, two to three iterations between Step

and Step

will be sufficient to create a very good shape estimation. Figure
2
is a 2D illustration of the reconstruction process. Figures
3
,
4
,
5
, and
6
show the corresponding intermediate steps of one iteration of the 3D reconstruction process for the four benchmark datasets of [
25
], dino sparse ring, dino ring, temple sparse ring, and temple ring, respectively.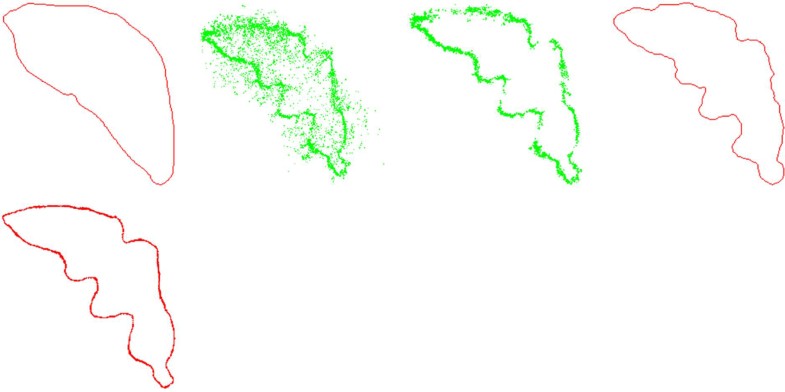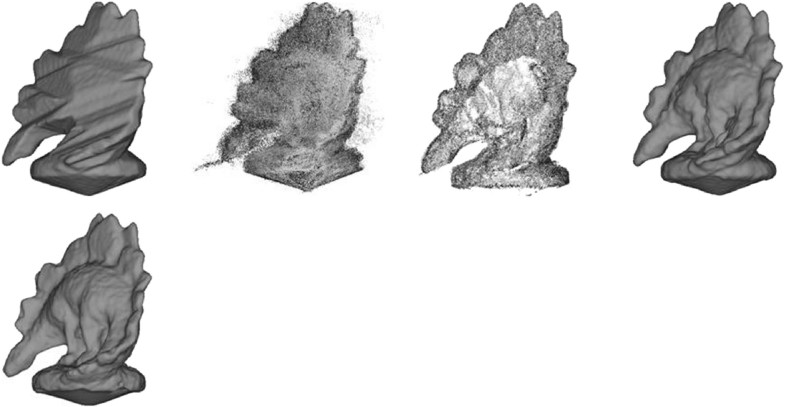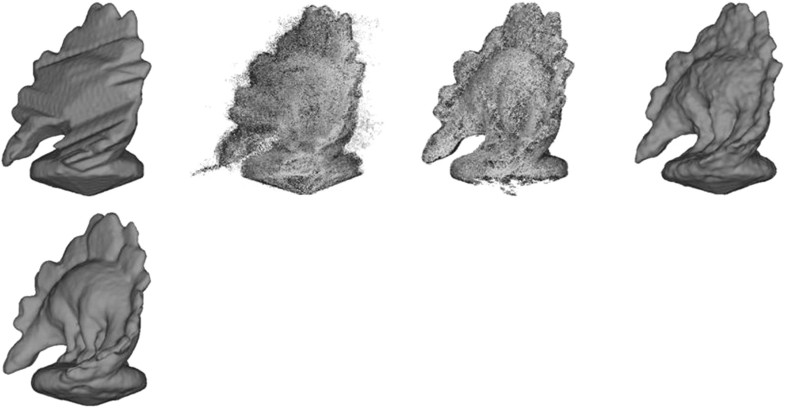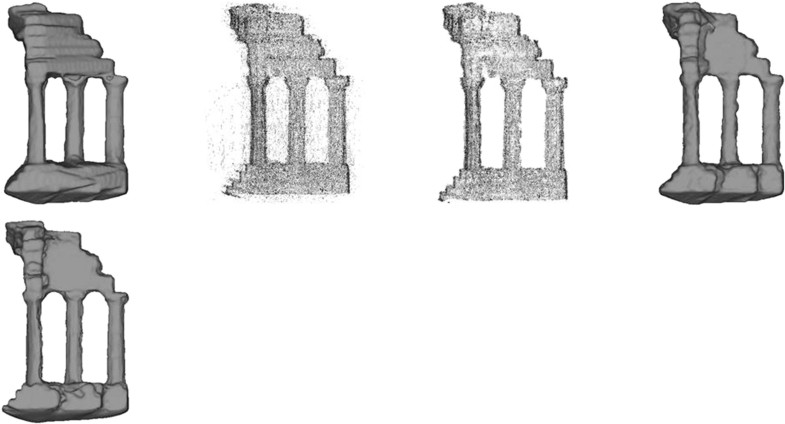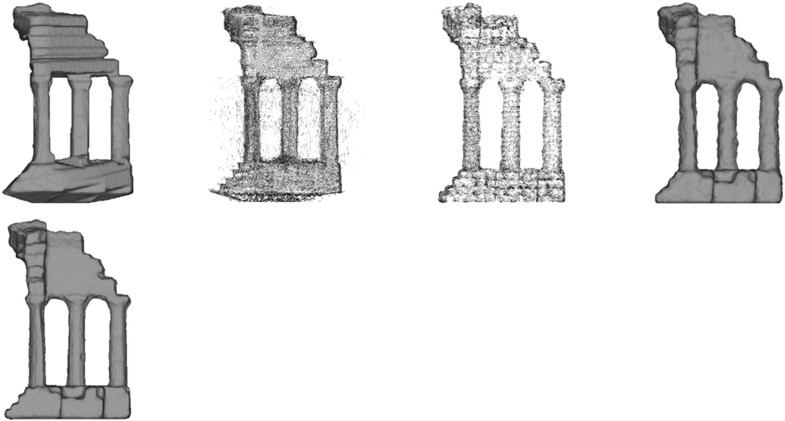 3. Benchmark Data Evaluation
We had applied our algorithm to the four benchmark datasets: temple ring, temple sparse ring, dino ring, and dino sparse ring from [
25
]. Table
1
shows the running time and the reconstruction accuracy obtained from the evaluation site [
25
]. The running time is based on a Pentium D Desktop PC with CPU 2.66 GHz, 2 GB RAM. Figure
8
shows the 3D rendering of our final reconstruction results copied from the evaluation website. Our result is listed under the name "SurfEvolution".
Table 1
Running time and reconstruction accuracy.
| Dataset | Running time (mins : secs) | No. of input images | Accuracy |
| --- | --- | --- | --- |
| Temple ring | 33 : 17 | 47 | 98.9% |
| Temple sparse ring | 29 : 06 | 16 | 96.8% |
| Dino ring | 36 : 45 | 48 | 97.7% |
| Dino sparse ring | 32 : 01 | 16 | 97.6% |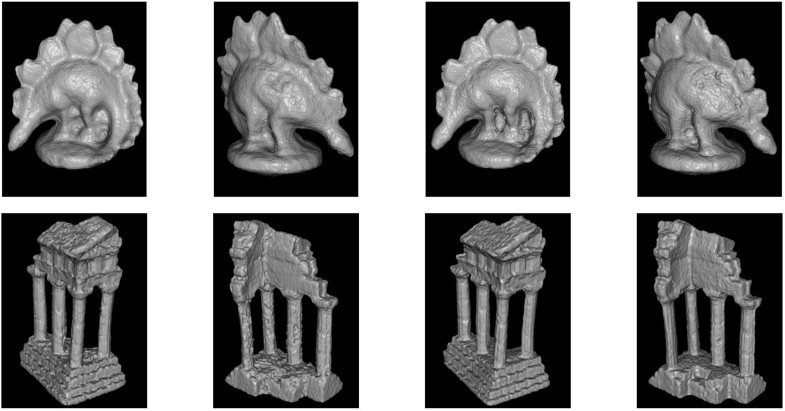 4. Conclusion and Future Work
In this paper, we propose an iterative surface evolution algorithm for 3D shape reconstruction from multiview images. The proposed novel iterative refinements between image correlation-based 3D depth estimation and surface evolution-based shape estimation can significantly reduce the computational time and improve the accuracy of the final reconstructed surface. The benchmark evaluation results are comparable with the state-of-art methods.
Currently, our method utilizes the visual hull for initial estimation. This requires image segmentation that may be difficult for some images. We would like to relax this requirement in the future. This might be possible since our algorithm uses the iterative refinement which should be able to start from any coarse shape such as a bounding box or a convex hull.
Declarations
Acknowledgments
The authors are very grateful for Seitz et al. [3] for providing them the datasets used in the paper and Daniel Scharstein for helping them evaluating the result on the benchmark datasets. Research was supported in part by the Leonard Wood Institute in cooperation with the U.S. Army Research Laboratory and was accomplished under Cooperative Agreement # LWI-281074, and by the NSF Grant no. CMMI-0856206. The views and conclusions contained in this document are those of the authors and should not be interpreted as representing the official policies, either expressed or implied, of the Leonard Wood Institute, the Army Research Laboratory, the Army Research Office, or the U.S. Government. The U.S. Government is authorized to reproduce and distribute reprints for Government purposes notwithstanding any copyright notation hereon.
Authors' Affiliations
(1)
Department of Computer Science, University of Missouri, Columbia, USA
Copyright
© Y. Xi and Y. Duan. 2010
This article is published under license to BioMed Central Ltd. This is an open access article distributed under the Creative Commons Attribution License, which permits unrestricted use, distribution, and reproduction in any medium, provided the original work is properly cited.