Review Article

Open Access
Distributed Video Coding: Trends and Perspectives
EURASIP Journal on Image and Video Processing
2010
2009:508167
Received: 3 July 2009
Accepted: 31 December 2009
Published: 11 April 2010
Abstract
This paper surveys recent trends and perspectives in distributed video coding. More specifically, the status and potential benefits of distributed video coding in terms of coding efficiency, complexity, error resilience, and scalability are reviewed. Multiview video and applications beyond coding are also considered. In addition, recent contributions in these areas, more thoroughly explored in the papers of the present special issue, are also described.
Keywords
Video CodeSide InformationEnhancement LayerCyclic Redundancy CheckDistribute Video Code
1. Introduction
Tremendous advances in computer and communication technologies have led to a proliferation of digital media content and the successful deployment of new products and services. However, digital video is still demanding in terms of processing power and bandwidth. Therefore, this digital revolution has only been possible thanks to the rapid and remarkable progress in video coding technologies. Additionally, standardization efforts in MPEG and ITU-T have played a key role in order to ensure the interoperability and durability of video systems as well as to achieve economy of scale.
For the last two decades, most developments have been based on the two principles of predictive and transform coding. The resulting motion-compensated block-based Discrete Cosine Transform (DCT) hybrid design has been adopted by all MPEG and ITU-T video coding standards to this day. This pathway has culminated with the state-of-the-art H.264/Advanced Video Coding (AVC) standard [1]. H.264/AVC relies on an extensive analysis at the encoder in order to better represent the video signal and thus to achieve a more efficient coding. Among many innovations, it features a

transform which allows a better representation of the video signals thanks to localized adaptation. It also supports spatial intraprediction on top of inter prediction. Enhanced inter prediction features include the use of multiple reference frames, variable block-size motion compensation, and quarter-pixel precision.
The above design, which implies complex encoders and lightweight decoders, is well suited for broadcasting-like applications, where a single sender is transmitting data to many receivers. In contrast to this downstream model, a growing number of emerging applications, such as low-power sensor networks, wireless video surveillance cameras, and mobile communication devices, are rather relying on an upstream model. In this case, many clients, often mobile, low-power, and with limited computing resources, are transmitting data to a central server. In the context of this upstream model, it is usually advantageous to have lightweight encoding with high compression efficiency and resilience to transmission errors. Thanks to the improved performance and reducing cost of cameras, another trend is towards multiview systems where a dense network of cameras captures many correlated views of the same scene.
More recently, a new coding paradigm, referred to as Distributed Source Coding (DSC), has emerged based on two Information Theory theorems from the seventies: Slepian-Wolf (SW) [2] and Wyner-Ziv (WZ) [3]. Basically, the SW theorem states that for lossless coding of two or more correlated sources, the optimal rate achieved when performing joint encoding and decoding (i.e., conventional predictive coding) can theoretically be reached by doing separate encoding and joint decoding (i.e., distributed coding). The WZ theorem shows that this result still holds for lossy coding under the assumptions that the sources are jointly Gaussian and a Mean Square Error (MSE) distortion measure is used. Distributed Video Coding (DVC) applies this paradigm to video coding. In particular, DVC relies on a new statistical framework, instead of the deterministic approach of conventional coding techniques such as MPEG and ITU-T schemes. By exploiting this result, the first practical DVC schemes have been proposed in [4, 5]. Following these seminal works, DVC has raised a lot of interests in the last few years, as evidenced by the very large amount of publications on this topic in major conferences and journals. Recent overviews are presented in [6, 7].
DVC offers a number of potential advantages which make it well suited for the aforementioned emerging upstream applications. First, it allows for a flexible partitioning of the complexity between the encoder and decoder. Furthermore, due to its intrinsic joint source-channel coding framework, DVC is robust to channel errors. Because it does not rely on a prediction loop, DVC provides codec independent scalability. Finally, DVC is well suited for multiview coding by exploiting correlation between views without requiring communications between the cameras, which may be an important architectural advantage. However, in this case, an important issue is how to generate the joint statistical model describing the multiple views.
In this paper, we offer a survey of recent trends and perspectives in distributed video coding. More specifically, we address some open issues such as coding efficiency, complexity, error resilience, scalability, multiview coding, and applications beyond coding. In addition, we also introduce recent contributions in these areas provided by the papers of this special issue.
2. Background
The foundations of DVC are traced back to the seventies. The SW theorem [
2
] establishes some lower bounds on the achievable rates for the lossless coding of two or more correlated sources. More specifically, let us consider two statistically dependent random signals

and

. In conventional coding, the two signals are jointly encoded and it is well known that the lower bound for the rate is given by the joint entropy

. Conversely, with distributed coding, these two signals are independently encoded but jointly decoded. In this case, the SW theorem proves that the minimum rate is still

with a residual error probability which tends towards 0 for long sequences. Figure
1
illustrates the achievable rate region. In other words, SW coding allows the same coding efficiency to be asymptotically attained. However, in practice, finite block lengths have to be used. In this case, SW coding entails a coding efficiency loss compared to lossless source coding, and the loss can be sizeable depending on the block length and the source statistics [
8
].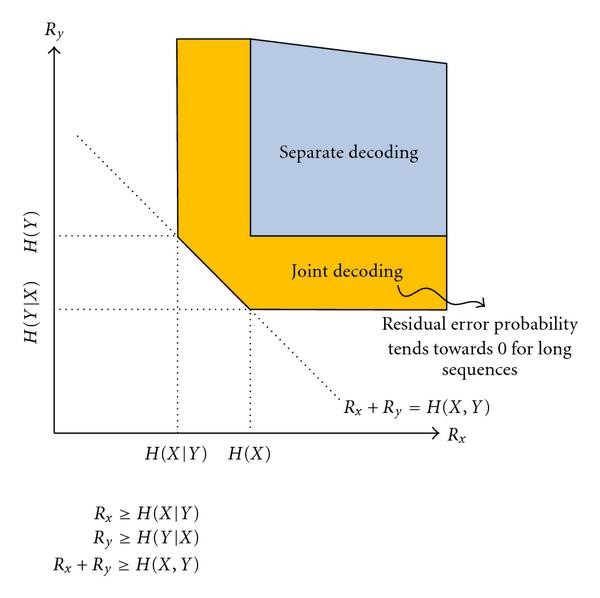 Subsequently, Wyner and Ziv (WZ) extended the Slepian-Wolf theorem by characterizing the achievable rate-distortion region for lossy coding with Side Information (SI). More specifically, WZ showed that there is no rate loss with respect to joint encoding and decoding of the two sources, under the assumptions that the sources are jointly Gaussian and an MSE distortion measure is used [3]. This result has been shown to remain valid as long as the innovation between X and Y is Gaussian [9].
3. Current Topics of Interest
The DVC paradigm offers a number of major differentiations when compared to conventional coding. First, it is based on a statistical framework. As it does not rely on joint encoding, the content analysis can be performed at the decoder side. In particular, DVC does not need a temporal prediction loop characteristic of past MPEG and ITU-T schemes. As a consequence, the computational complexity can be flexibly distributed between the encoder and the decoder, and in particular, it allows encoding with very low complexity. According to information theory, this can be achieved without loss of coding performance compared to conventional coding, in an asymptotical sense and for long sequences. However, coding efficiency remains a challenging issue for DVC despite considerable improvements over the last few years.
Most of the literature on distributed video coding has addressed the problem of light encoding complexity, by shifting the computationally intensive task of motion estimation from the encoder to the decoder. Given its properties, DVC also offers other advantages and functionalities. The absence of the prediction loop prevents drifts in the presence of transmission errors. Along with the built-in joint source-channel coding structure, it implies that DVC has improved error resilience. Moreover, given the absence of the prediction loop, DVC is also enabling codec independent scalability. Namely, a DVC enhancement layer can be used to augment a base layer which becomes the SI. DVC is also well suited for camera sensor networks, where the correlation across multiple views can be exploited at the decoder, without communications between the cameras. Finally, the DSC principles have been useful beyond coding applications. For instance, DSC can be used for data authentication, tampering localization, and secure biometrics.
In the following sections, we address each of these topics and review some recent results as well as the contributions of the papers in this special issue.
4. Perspectives
Based on the above considerations, in this section we offer some thoughts about the most important technical benefits provided by the DVC paradigm and the most promising perspectives and applications.
DVC has brought to the forefront a new coding paradigm, breaking the stronghold of motion-compensated DCT-based hybrid coding such as MPEG and ITU-T standards, and shedding a new light on the field of video coding by opening new research directions.
From a theoretical perspective, the Slepian-Wolf and Wyner-Ziv theorems state that DVC can potentially reach the same performance as conventional coding. However, as discussed in Section 2.4, in practice, this has only been achieved when the additional constraint of low complexity encoding is taken into account. In this case, state-of-the-art DVC schemes nowadays consistently outperform H.264/AVC Intracoding, while encoding is significantly simpler. Additionally, for sequences with simple motion, DVC matches and even in some cases surpasses H.264/AVC No Motion coding. However, the complexity advantage provided by DVC may be very transient, as with Moore's law, computing power increases exponentially and makes cost-effective within a couple of years the implementation that is not manageable today. As a counter argument to this, the time to have a solution with competitive cost relative to alternatives could be more than a couple years and this typically depends on the volumes that are sold and level of customization. Simply stated, we cannot always expect a state-of-the-art coding solution with a certain cost to be the best available option for all systems, especially those with high-resolution video specifications and nontypical configurations. It is also worth noting that there are applications that cannot tolerate high complexity coding solutions and are typically limited to intraframe coding due to platform and power consumption constraints; space and airborne systems are among the class of applications that fall into this category. For these reasons, it is possible that DVC can occupy certain niche applications provided that coding efficiency and complexity are at competitive and satisfactory levels.
Another domain where DVC has been shown to be appealing is for video transmission over error-prone network channels. This follows from the statistical framework on which DVC relies, and especially the absence of prediction loop in the codec. Moreover, as the field of DVC coding is still relatively young and the subject of intensive research, it is not unreasonable to expect further significant performance improvements in the near future.
The codec-independent scalability property of DVC is interesting and may bring an additional helpful feature in some applications. However, it is unlikely to be a differentiator by itself. Indeed, scalability is most often a secondary goal, surpassed by more critically important features such as coding efficiency or complexity. Moreover, the codec-independent flavor brought by DVC has not found its killer application yet.
Multiview coding is another domain where DVC shows promises. On top of the above benefits for monoview, DVC allows for an architecture where cameras do not need to communicate, while still enabling the exploitation of interview correlation during joint decoding. This may prove a significant advantage from a system implementation standpoint, avoiding complex and power consuming networking. However, multiview DVC coding systems reported to date still reveal a significant rate-distortion performance gap when compared to independent H.264/AVC coding for each camera. Note that the latter has to be preferred as a point of reference instead of Multiview Video Coding (MVC), as MVC requires communication between the cameras. Moreover, the amount of interview correlation, usually significantly lower than intraview temporal correlation, depends strongly on the geometry of the cameras and the scene.
Taking a very different path, it has been proposed in [83] to combine conventional and distributed coding into a single framework in order to move ahead towards the next rate-distortion performance level. Indeed, the significant coding gains of MPEG and ITU-T schemes over the years have mainly been the result of more complex analysis at the encoder. However, these gains have been harder to achieve lately and performance tends to saturate. The question remains whether more advanced analysis at the decoder, borrowing from distributed coding principles, could be the next avenue for further advances. In particular, this new framework could prove appealing for the up-and-coming standardization efforts on High-performance Video Coding (HVC) in MPEG and Next Generation Video Coding (NGVC) in ITU-T, which aim at a new generation of video compression technology.
Finally, while most of the initial interest in distributed source coding principles has been towards video coding, it is becoming clear that these ideas are also helpful for a variety of other applications beyond coding, including media authentication, secure biometrics, and tampering detection.
Based on the above considerations, DVC is most suited for applications which require low complexity and/or low power consumption at the encoder and video transmission over noisy channels, with content characterized by low-motion activity. Under the combination of these conditions, DVC may be competitive in terms of rate-distortion performance when compared to conventional coding approaches.
Following a detailed analysis, 11 promising application scenarios for DVC have been identified in [84]: wireless video cameras, wireless low-power surveillance, mobile document scanner, video conferencing with mobile devices, mobile video mail, disposable video cameras, visual sensor networks, networked camcorders, distributed video streaming, multiview video entertainment, and wireless capsule endoscopy. This inventory represents a mixture of applications covering a wide range of constraints offering different opportunities, and challenges, for DVC. Only time will tell which ones of those applications will span out and successfully deploy DVC-based solutions in the market place.
5. Conclusions
This paper briefly reviewed some of the most timely trends and perspectives for the use of DVC in coding applications and beyond. The following papers in this special issue further explore selected topics of interest addressing open issues in coding efficiency, error resilience, multiview coding, scalability, and applications beyond coding. This survey provides with a snapshot of significant research activities in the field of DVC but is by no means exhaustive. It is foreseen that this relatively new topic will remain a dynamic area of research in the coming years, which will bring further significant developments and progresses.
Declarations
Acknowledgments
This work was partially supported by the European Network of Excellence VISNET2 (http://www.visnet-noe.org/) funded under the European Commission IST 6th Framework Program (IST Contract 1-038398) and by National Basic Research of China (973 Program) under contract 2009CB320900. The authors would like to thank the anonymous reviewers for their valuable comments, which have helped improving this manuscript.
Authors' Affiliations
(1)
Multimedia Signal Processing Group, Ecole Polytechnique Fédérale de Lausanne (EPFL), Lausanne, Switzerland
(2)
School of Electronic Engineering and Computer Science, Peking University, Beijing, China
(3)
Dipartimento di Elettronica e Informazione, Politecnico di Milano, Milano, Italy
(4)
Mitsubishi Electric Research Laboratories, Cambridge, USA
Copyright
© Frederic Dufaux et al. 2009
This article is published under license to BioMed Central Ltd. This is an open access article distributed under the Creative Commons Attribution License, which permits unrestricted use, distribution, and reproduction in any medium, provided the original work is properly cited.